A Review of the eBookwise-1150 eBook Reader Device with 64MB Memory
Handheld eBook Reader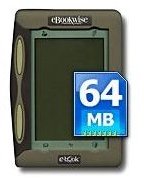 For book lovers all over the world, electronic handheld reading devices have emerged as an exciting new way to read books. It is transforming the entire book reading experience by bringing a complete library of books into the reader's palm, which can be carried, accessed and read anywhere, anytime. The eBookwise-1150 eBook reader device is one such innovative gadget that is ideal for keen book readers. This device comes with a 64MB pre-installed storage card that enhances its memory dramatically. So the user can literally store up to one hundred standard books in this small, handheld device. The unit is sleek and stylishly designed to give it a smart appearance as an accessory that can be carried around.
Photo Credit: Amazon
Technical Specs of the eBook-1150 (3 out of 5)
This ebook reader has a 5.5 inch diagonal backlit display with a 16 level greyscale for clear viewing. The battery life is long, and may go up to 15 hours depending on the usage of backlight. The unit includes a built-in modem and a USB port to download eBooks. The complete unit weighs only 18 oz which makes it very easy to carry around. Memory of the unit is 4 MB RAM, along with a 64 MB internal Flash for content storage and program memory. This internal memory is sufficient to store up to one hundred conventional books in eBook format.
The unit includes a Cirrus Logic ARM-7 central processing unit, and a re-chargeable Lithium-Ion battery. The display screen is backlit with an LCD touch screen and half-VGA resolution. The accessories that are included with the unit are a Stylus, power adapter, USB cable and phone cord, and a protective case. The modem for communications is Internal or v.34 33.5 Kbps.
Product Features of eBookwise-1150 eBook Reader Device (4 out of 5)
This product features a backlit screen that makes it convenient to read even in low lighting areas. Its state of the art electronic features provide a great reading experience compared to a conventional book. The reader can turn the pages or adjust the text orientation with the push of a button. Text size can be reduced or increased, pages can be bookmarked, passages can be highlighted and even notes can be scribbled just the way it is with a traditional book. The user can also search for keywords and hyperlinks to other portions of a book for easy navigation.
Another interesting feature of the device is auto-connect that allows the device to automatically connect to the server at pre-scheduled times to receive updated content. It also includes a personal online bookshelf that copies all the user's eBooks on the server's online shelf for easy and quick download whenever required. Another popular feature is the short-cut button on the eBook device that provides one-touch access to pre-selected features.
Value for Money (4 out of 5)
Compared to other eBook reading devices in the marketplace, the eBookwise-1150 is competitively priced. The display quality, storage capacity and user-friendly features make it a device that offers good value for money. The product can be purchased directly from the company's official website at a price of $99.95 plus shipping. The device is available for shipping only in U.S. and Canada.