Delstar eReader Review for Prospective Buyers
Delstar eBook Reader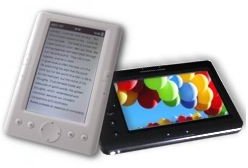 A digital eReader has become a hot commodity among book lovers around the world. It is changing the way people purchase, read, and store books in their collection. There are a large number of electronics brands that have introduced eBook readers on the market, considering the increasing popularity of the product. One such name is Delstar, which is available at an affordable price. This Delstar eReader review is about a device that offers a unique reading experience to the user. The company promotes it as the perfect on-the-go travel companion for anyone who travels to work or likes to read on a vacation. The product is designed in a way that makes it easy to carry and has a smart appearance as an accessory.
Photo Credit: Delstar.net
Technical Details of Delstar Booksmart (3 out of 5)
Delstar Booksmart eReader comes in color options of black or white. The screen size is 5 inches diagonally, and the screen is color TFT. It has rotation support for landscape and portrait modes. Text size is adjustable, making it easy for the reader. Screen resolution is 800 x 480 pixels, and screen orientation is horizontal as well as vertical. The product has an internal memory of 1GB to store a large number of eBooks. It also has an SD card slot that allows the user to expand the memory capacity further.
The product can read eBooks in multiple media formats. Images can be viewed in BMP and JPG formats, and audio can be played in MP3, AAC, WMA, and FLAC formats. The unit includes a built-in MP3 player, picture viewer, calendar, and radio. It runs on a Lithium Polymer re-chargeable battery with a life of 8 hours of continuous use in eReader mode. The unit can store approximately 700 eBooks with an average eBook size of 1.2MB.
Product Features of Delstar eReader (3 out of 5)
One of the key features of Delstar Booksmart eReader is that it not only serves as a reading device, but also functions as a music player and picture display device. It features an MP3 player and picture viewer, both of which are built-in. The display screen brightness is adjustable, so those who prefer a white background can increase the brightness from the settings. However, the standard beige color background is easier on the eyes for most readers. The display also has the option of reverse setting with black background and white text, which is more suited for night reading.
The unit includes a carry case which protects the screen against scratches and jolts. Software upgrades are available online which enable the eReader to read eBooks in various formats. The newer versions of the product are expected to include the upgraded software, which will eliminate the need for extra downloads.
Value for Money (4 out of 5)
Delstar Booksmart eReader offers a good screen size and sharp resolution, considering that it is a basic eReader product. It also includes MP3 player and picture viewer, which are useful value additions in such a basic product. The product has traditionally sold from Walgreens stores as well as Walgreens online store, but it is not available at Walgreens now. It can be purchased through Delstar's official website for a price of $129.99. The prospective buyer can contact the company via email for more information regarding online sales and discounts. Overall, the product delivers a fair value for money considering its low price.