What is so Special About the Pandigital eReader? Read Our Pandigital Novel Review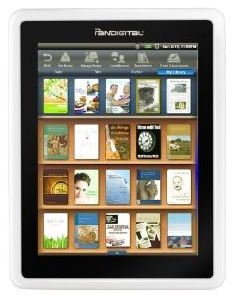 The digital revolution has changed the way one reads books, newspapers and magazines. With the arrival of portable electronic book readers, it is now possible to hold an entire library of books in one's hand and carry it anywhere. The Pandigital eReader is a multimedia device that belongs in this league. The Pandigital Novel enables purchasing books online from Barnes & Noble, downloading web content, and reading books and other content on its handheld screen. With this device one can practically carry hundreds of books and magazines anywhere one wants. It includes WiFi connectivity to keep the user connected with the rest of the online world.
Photo Credit: Amazon
Technical Details of Pandigital Novel (3 out of 5)
The Pandigital Novel 7" or 9" Color Multimedia eReader has a built-in memory storage capacity of 1GB to 2GB depending on the model. The electronic display screen is color TFT-LCD, with a resolution of 800 x 600 pixels. The unit is WiFi enabled, and includes a keyboard for inputs, USB port and power adapter. The process of the 9" model is 800 MHz which offers smooth functioning for apps and web surfing.
Both the 7-inch and 9-inch models have several identical features and functions. But a key difference in the 9-inch model is the addition of four hardware buttons and a more advanced touch screen. All models have the capability to read eBooks, play music and video games, send and receive email, install Android apps, perform Internet browsing, and view pictures, magazines and slide shows on the TFT color display.
Product Features of Pandigital eReader (4 out of 5)
The Pandigital Novel 9" model features a resistive touch screen with a resolution of 800 x 480. The unit includes a stylus that slips into the lower corner. It features a keyboard which makes it easy to input data, and the stylus is rarely used. The unit includes pre-installed applications for email, day planner, calendar, Facebook, web browser, dictionary, calculator, playing audio and video, and running slideshows.
Pandigital Novel has partnered with the Barnes and Noble eBook store which enables direct download of eBooks, magazines and journals via WiFi. The unit also supports pdf files bought from other vendors, and can also install other eBook reading apps due to the Android operating system. The unit includes an SD card slot for cards up to 32GB. Pandigital Novel's video application supports MP4 and can run YouTube videos as well.
Value for Money (4 out of 5)
Considering all the technical specs and features of Pandigital Novel, it offers a fair value for money for users on a budget looking for a large-screen Android tablet and eReader. In the 7-inch size, the product is sold at Amazon at a price of $139.99. Sears offers the 9-inch model for $219.99. It comes with one year limited warranty from the manufacturer. The only compromise with this product is that the screen resolution is not exactly the best available on the market. Video play is also slightly slow for some users. But within the price range, it is a worthwhile product with good features.