Top 10 Cheap High Tech Kitchen Gadgets for 2011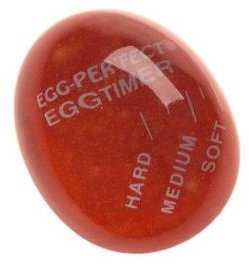 Norpro Egg Rite Egg Timer
The Norpro Egg Rite Egg Timer is an amazingly simple and effective device. All you do is drop it in the water with your eggs and watch as the surface color of the Egg Rite changes color. It is designed to heat up at exactly the same rate as the eggs and the easy-to-see indicator lines will let you see when the eggs are soft, medium, or hard boiled! Although this little gem is worth its weight in gold it'll only set you back $4.95.
Norpro Silicone Mini Pinch Bowls, 4 Piece Set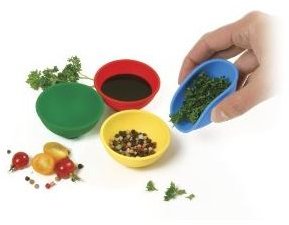 Also from Norpro comes the Mini Pinch Bowl set at $5.48. These four silicone bowls are perfect for measuring and pouring dry spices. Not only can they handle dry spices but they are great for condiments and sauces (and with four each person can have their own). A pinch on the sides of the bowl turns it into a perfect funnel. These bowls measure 1.5 inches by 2.5 inches are dishwasher-safe, heat-resistant to 500 degrees F and, to top it all off, FDA-approved.
DeMarle 2406 Silpat

This is one of those little miracles that once you use it you'll wonder how you ever got along without it. The DeMarle Silpat is a silicone baking mat that is both microwave and oven safe. Food slides right off without sticking at all. It is FDA, NSF, and Kosher certified and can be used in any oven up to 480 degrees F. When you're done wipe it off with hot, soapy water and hang it to dry. For $12.48 (which you'll probably save in oil or non-stick spray) you get all of the non-stick advantages without any of the greasy mess.
EatSmart Precision Pro - Multifunction Digital Kitchen Scale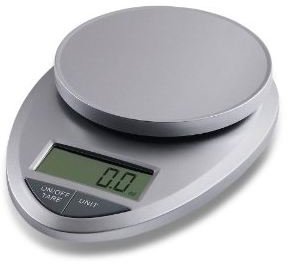 The $25.00 EatSmart Precision Pro digital kitchen scale is a cook's best friend. With a large LCD display that can be seen great from every angle and the ability to weigh items up to 11 lbs. at 1 gram increments, it is easier than ever to get precisely the right amount of each ingredient. It also has a tare function that allows the weight of a measuring cup or plate to be subtracted from the total weight, giving you only ingredient weight. As far as cheap kitchen gadgets go, this is one of the best. With over 1250 5-star reviews on Amazon.com there isn't much to say other than buy this one and do it soon.
Sunbeam Digital Instant Read Thermometer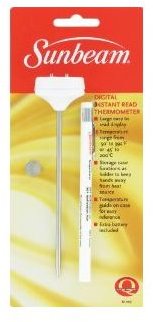 No more waiting to find out the temperature of your steak or chicken. This instant read thermometer by Sunbeam will save time and possibly save you from overcooking dinner while waiting for the old style thermometer to get up to temp. For $11.08 this is both a time and food saver.
Calculated Industries KitchenCalc 8300 Recipe Calculator with Digital Timer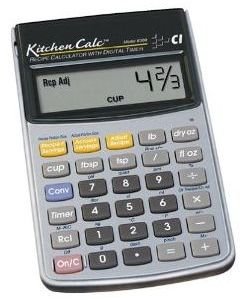 Do you have some recipes that you just don't make because they are meant for 6 people and there are only 2 of you? Do you hate doing math that involves fractions? If so the KitchenCalc is for you. For $20.56, the KitchenCalc will scale recipes automatically , convert ounces to grams and vice versa, work as a traditional calculator (with the addition of fraction buttons), and has a digital timer included. Robert Angelone, the publisher of Epicurus.com and restaurant consultant, gave this a 5-star review on Amazon.com.
Polder Digital Hourglass Kitchen Timer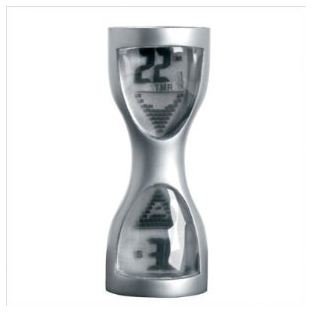 Looking for a cheap kitchen gadget that doesn't skimp on style? Look no further. The Polder Digital Hourglass Kitchen Timer is the new techie version of an old favorite, the egg timer. This $14.84 wonder has a 100-minute timer, a stopwatch, and a 12hour/24hour clock. Switching between functions only requires a simple flip.
Aerolatte 5 Milk Frother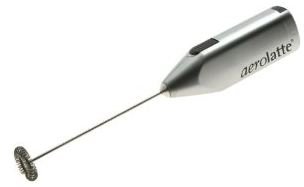 The Aerolatte 5 Milk Frother is available for $14.90. This is a nicely finished cheap kitchen gadget that can turn your kitchen into a coffee house! Make your own cappuccinos, hot chocolates, and lattes in under a minute. But the versatility doesn't stop there. Aerolatte includes a recipe sheet with several fruit smoothie recipes as well.
Progressive International GMMC-68 Microwavable S'Mores Maker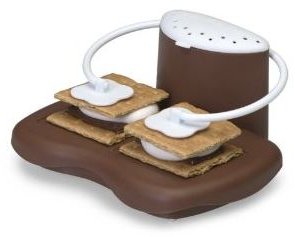 Have you ever wanted a s'more but didn't have an open fire, a stick, and the patience needed to twist that marshmallow to keep it from burning? This little kitchen gadget takes care of all that and it adds a bit of whimsy as well. For $9.99 you can make s'mores in your microwave. It cooks two s'mores in 30 seconds with handy arms that hold the tasty treats together and keep the marshmallows from over expanding. The unit is dishwasher safe and kid friendly. This is a great slumber party popcorn alternative.
7-Piece Magnetic Spice Rack and Decanters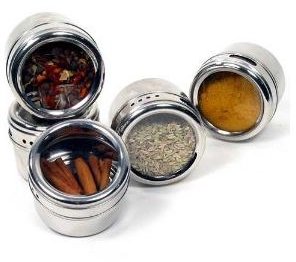 Magnetic spice racks, though not exactly new, are one of the best kitchen tech advancements in years. The 7-piece Rack and Decanter set from concept:kitchen comes with acrylic lidded spice containers that allow you to see the spice inside and a kickstand rack that can be set on the counter. Each lid swivels to expose a pour spout or sprinkle spout. At $14.50 it's a great cheap kitchen gadget.