Bistro Hand Mixer Comparison: Bodum Bistro vs. Wolfgang Puck Bistro Hand-Stand Mixer
A Kitchen Essential
A hand mixer is by far one of the most essential kitchen tools, especially if you are not a fan of lugging out your big stand mixer on nights when all you want to do is whip up a little whipped cream for your peach pie or ice cream sundae. Be sure to do a comparison of all the hand mixers out there before you make your decision. Two major brands have come out with hand mixers called "Bistro." Each of these hand mixers has its advantages but the question is which one will come out on top?
Bodum Bistro Handheld Mixer
The first brand which we will be discussing is the Bodum Bistro hand mixer. The Bodum is a powerful 170 watt machine with 5 different acceleration settings.
This hand mixer is made using stainless steel, plastic, elastic, and silicone, and it is coated in a new rubberized finish. The rubberized finish comes in five different colors, black, orange, red, green and white.
One of the best features of this hand mixer is its sleek and streamlined design. The body has a cylindrical shape while the base is flat. The flat base eliminates the annoying issue of having your hand mixer falling over every time you set it down. Another great feature is the one button release. With the click of one button, the egg beater attachments fall right off and can go straight into the dishwasher.
The Bodum Bistro handheld mixer can be found on several online websites such as, become.com, amazon.com, and chefsresource.com. This hand mixer's listing price is $59.95, but be on the lookout for online deals to save a few extra dollars.
Wolfgang Puck Bistro Handheld Mixer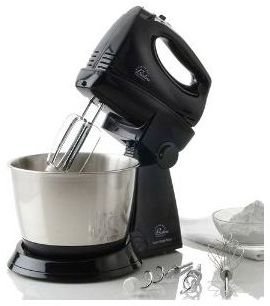 The Wolfgang Puck Bistro hand mixer is another wonderful appliance. The unique thing about this mixer is that it can go from hand mixer to stand mixer with just a click of a button. It has 10 different acceleration settings (double that of the Bodum Bistro), and the turbo button provides a power boost at any speed. It also comes with several add-ons such as a mixing bowl, mixer stand, turntable, two beaters, balloon whisk, two dough hooks, and a recipe book.
The Wolfgang Puck hand mixer comes in five different colors: black, white, red, blue, and orange. It can be found on several online sites such as hsn.com and amazon.com and its listing price is $69.90. However, there are always specials for this product and is more generally sold for $49.00.
The Most Bang for your Buck
The Wolfgang Puck Bistro Mixer definitely comes out on top. First of all, it is the least expensive out of the two brands we discussed today. Secondly, it has a whole host of features that the Bodum Bistro Mixer does not even come close to having. With the Wolfgang Puck Bistro Mixer, you are essentially getting two appliances (a stand mixer and a hand mixer) along with various other accessories for the price of one item. If you are looking to purchase a hand mixer, the Wolfgang Puck Bistro Hand Mixer is definitely the way to go.
References:
HSN.com: Wolfgang Puck Bistro Handheld Mixer
handmixerreviews.info: Best Buy Price Guarantee Bodum Bistro Electric 5 Speed Hand Mixer
Promotional images courtesy Amazon.com