5 Fantastic Robot Dinosaur Toys for Your Child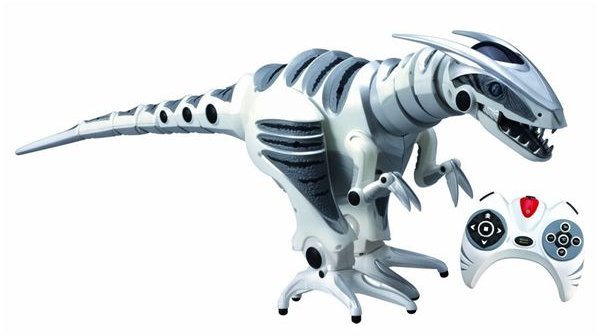 WowWee Roboraptor Robotic Dinosaur
The WowWee Roboraptorthe market Robotic Dinosaur is a fantastic dinosaur robot toy, and one of the best robot dinosaurs toys available on the
market. It comes fully assembled, measuring approximately 32 inches from nose to tail. It roams around the room with a sweeping tail, swiveling head, chomping jaw, and movable arms.
The WowWee Roborapter Robotic Dinosaur comes with impressive features. For example, its laser tracking system allows you to draw a path, and he will follow it. In addition to this, this robotic dinosaur can change his behavior. He can go into a cautious and nervous mode, predatory mode, playful or friendly mode, and in all these modes, it behaves very differently, allowing you to enjoy this toy thoroughly. Other features of this toy include an artificial intelligence (AI) personality, realistic body movement, and over forty preprogrammed functions. He is sensitive to objects so that he will stay away from a chair or table legs. He is quite steady on his feet and moves well on both hard and smooth surfaces.
The WowWee Roboraptor Robotic Dinosaur is the best robotic dinosaur with a solid body and lots of features. It is ideal for ages 8 and up, and priced at approximately $159–but worth the price tag.
Pleo Robot Dinosaur Review
The Pleo Robot Dinosaur measures 21 inches in length and stands 7 inches tall. The toy is well built and looks fantastic while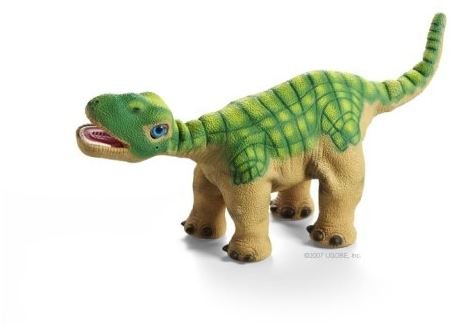 roaming around the room.
When the dinosaur stands up, the Hatchling Stage is activated. The Hatchling Stage is a mode in which the dinosaur starts to walk around while sensing his environment. In the Hatchling Stage, the dinosaur performs various actions for 45 minutes. For example, it plays different sounds every few minutes, whizzes around the room and takes short naps. Once the 45 minutes are over, the dinosaur stands still, and it is time to recharge the battery, which takes about an hour. Once recharged, the dinosaur enters in the Juvenile Stage, in which it exhibits a full range of different movements.
The Pleo Robot Dinosaur features touch sensors in the mouth, chin, back, head, feet and shoulders, a mini USB port for downloading new personalities, and a camera-based vision system to sense its path around by light.
The Pleo Robot Dinosaur is a cool thing to own. It costs US $449. It is very expensive, but with all the nice features that this rubber skinned robot dinosaur has, the price tag is not too high at all.
D-Rex Robotic Dinosaur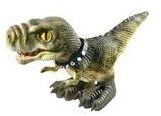 The D-Rex Robotic Dinosaur has reptilian-like skin, which looks quite real. It can walk, move its eyes, roar and makes different noises to let you know what he wants, including petting and feeding. The D-Rex Robotic Dinosaur comes with a cool remote control, and it is voice activated, too. Kids can control the dinosaur's movements, expressions, and realistic sounds–all with the remote control. The D-Rex dinosaur responds to touch and voice, attacks and obeys on command, and you can also program him to perform up to 30 different actions. The D-Rex Robotic Dinosaur is one of the coolest interactive robot dinosaurs available on the market. It measures 22" x 14" x 6 and has a sense of humor and is full of surprises.
The D-Rex Robotic Dinosaur is ideal for ages eight and above. It costs $109.95 and is a great item to give to your child or someone else for a special occasion.
ROBOTIME R/C Dinosaur T-Rex
The ROBOTIME R/C Dinosaur measures 14.5 x 10.9 x 2 inches. It is a real wood 3D puzzle that when assembled, becomes a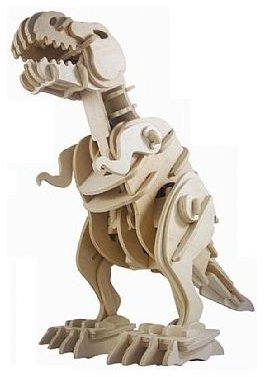 functional robotic dinosaur. The package contains 100 mixed small and large size pieces, and no glue or tools are needed to assemble the dinosaur. For kids, knowing that they have constructed a dinosaur will build self-esteem and confidence. Plus, making the dinosaur toy will also assist in the development of the child's problem solving and creating thinking skills.
The ROBOTIME R/C Dinosaur is operated with batteries. It is an original toy with high interaction and simulation. It snaps, walks and roars, and is activated by sound and motion. The package also includes a fully functional remote control.
ROBOTIME R/C Dinosaur T-Rex is one of the best robotic dinosaur toys for a child, and a nice gift to be presented. The toy is available to buy on Amazon for $40.24
4M Dinorobot
The Dinorobot is a wonderful kit, containing everything you need to build a stylized robot dinosaur toy. The package includes a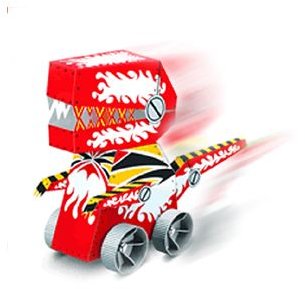 cardboard dinosaur body, four wheels, and a pack of mechanical pieces to assemble the unit. An instruction manual is also included in the package to help you join the pieces together.
Just assemble this dinosaur robot, stick together the cardboard body, add batteries, turn on Dinorobot, and watch it whiz across the room The dinosaur measures 15 cm x 8 cm x 30 cm when assembled, travels only forward, and is operated by a power switch.
The Dinorobot is a good toy for a child who is mad for robot dinosaurs, or for giving as a gift for birthdays or other occasions. The toy costs $11.95 and is a fun game for all kids ages 6 to 10 years old.
Screenshots by author courtesy of Amazon