What to Look for in a Collapsible Salad Spinner: Buying Guide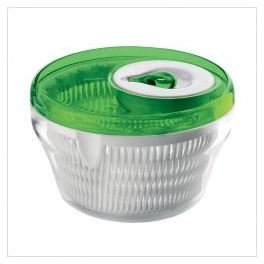 Introduction
Salad spinners are used to remove excess water found on vegetables after they have been washed. Vegetables can be served as part of a salad right after washing without straining or going through a spinner, but that would make them heavy, especially the leafy vegetables. Some people do not mind having a lot of water mixing in with their salad, but most people like to remove excess water from their salad before serving it. Salad spinners are there to help out these people, and for most of them, it is a great help if they can store the spinners easily without taking up too much space. That is where a collapsible salad spinner comes into play.
Types of Collapsible Salad Spinners
There are salad spinners that have collapsible handles or other parts, while others are completely collapsible. Being collapsible makes salad spinners very efficient to use and store. The problem with some salad spinners is that they take up too much space in the kitchen, and for something that is not always used, are considered to always be in the way. A collapsible salad spinner allows users to save space in their kitchen while providing a great way to dry their salads.
Advantages and Disadvantages of Collapsible Salad Spinners
Completely collapsible salad spinners provide an efficient way to spin salads with minimal effort, and they can be cleaned and stored in an easy manner as well. They are designed to perform like any other salad spinner. The value of their design really comes out when it is time to store them away since they can shrink to a third of their size when collapsed. This makes them pretty portable as well because they can become compact enough to be carried around comfortably while still being functional since they do not require electricity to function, unlike the electric salad spinner. Salad spinners that are only partly collapsible may offer a less compact form, but they can still be shrunk down to a size that is considerably smaller and more appropriate to be stored than when they are being used.
There is no apparent disadvantage in using a collapsible salad spinner other than the fact that it requires manual operation to work. If it suffers a great deal of damage, it may affect the way the spinner collapses, so extra care must be taken to ensure that this doesn't happen.
Recommendations
Like other types of salad spinners, the main feature of the collapsible salad spinner is its blades that are used to spin and dry the vegetables. Clear edges and lids are also found in this kitchen tool. It is usually made of durable plastic which ensures the spinner stays secure and protected from damage even with frequent collapsing and usage.
Your best bet for a collapsible salad spinner with these nifty features is the Guzzini Latina Salad Spinner at $35.99. It comes with a collapsible handle which saves you some storage space and allows other objects to be placed on its flat-top surface. To match your kitchen theme, there are four colors available: red, orange, green and white .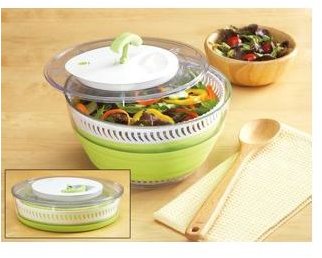 Another product is the salad spinner by Lillian Vernon at $16.49. This spinner can reduce up to 50% of its original size for a more compact storage. It may be used also as a self-retractable bowl container and a strainer.
Though there are more salad spinners available, most of them are not collapsible and other products have negative feedback, such as broken cords.
Photo Courtesy of Amazon.com and LillianVernon.com