Purchasing Guide: Tips on Buying a Kindle

The Amazon Kindle certainly has its fair share of competition, but if you are a Kindle loyalist your only trouble is deciding which of the Kindle siblings to choose. There are currently three versions of the Kindle ebook reader, namely the Kindle (Wi-Fi), Kindle 3G (Free 3G + Wi-Fi) and the Kindle DX–but how do you decide which to choose?
The Kindle (Wi-Fi) and Kindle are identical twins, with only the 3G feature differentiating them. All in all, the entire line of Amazon ebook readers is built around e-ink technology. Though the black and white display won't wow its users with awesome visuals, the e-ink technology, on which it is made, does give readers two distinct advantages, namely: better battery life (greater than 2 weeks) and great readability even in bright sunlight.
Buying a Kindle (Wi-Fi) vs. Kindle 3G (Free 3G + Wi-Fi)
All the Kindles can hold up to 3,500 books and documents, which should be much more than many users will need. The entry-level Kindle weighs a mere 8.5 ounces while the 3G model weighs just a shade more at 8.7 ounces. Both devices can also last more than a month without needing a recharge, which is great for travelers who don't want to bend their lives around the limitations of technology.
Of course, how long the battery lasts will depend on how much use is made of the Wi-Fi and 3G services, as wireless services can cut battery life by more than half. Though the Kindle Wi-Fi and Kindle 3G models are the cheaper options and have relatively small displays (6" when compared to the 9" on the DX), they are still solid e-readers in their own right. The fact that consumers can get a Kindle Wi-Fi for just $139, and the 3G model for just $50 more, should further add to their appeal.
Technical specifications for the Kindle Wi-Fi and 3G models:
Display size: 6" diagonal
Size: 7.5" x 4.8" x 0.335"
Weight: 8.5 ounces (Kindle Wi-Fi), 8.7 (Kindle 3G + Wi-Fi)
Battery life: 1 month
3G: on the Kindle 3G + Wi-Fi
Wi-Fi: Yes
Buying a Kindle DX
Larger is better they say, and in many cases that's true. At 9.7", the DX has what seems like twice the screen real estate, and not surprisingly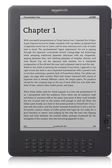 twice the weight of other Kindle models. Certainly, if you need an e-reader with enough room to display text in large fonts and more onscreen at any one time, then the Kindle DX is worth some consideration. It's true, though, that the tall $379 asking price will give most consumers some pause. That is more so the case, especially since the drool-worthy iPad isn't much more expensive (at just around $500 for the entry-level model). However, the fact that the model comes with free 3G data service makes the price seem more reasonable.
Display size: 9.7" diagonal
Weight: 18.9 ounces
Battery life: 2-3 weeks
3G: Yes
Wi-Fi: No
Choosing the Right Kindle
Kindles aren't just good for reading books, but can also be employed for reading magazines and newspapers as well. If you are in the mood to read a book, the Kindle Bookstore has more than half a billion books that you can purchase, download, and start reading in less than a minute.
But which Amazon Kindle ebook reader should you purchase? The answer will depend, in part, on how much you travel and whether you will need wireless data service to download content while you are away from a Wi-Fi connection. The DX has a larger screen that is great for viewing documents that were designed for large screens. If the DX's $379 asking price is too much for you, the other Kindles are just as competent and are easier to travel with owing to their smaller dimensions and lighter weight.
Travelers should consider the Kindle 3G; the budget conscious may find the Kindle (Wi-Fi) more appealing and those who work with large documents may consider the Kindle DX the only option worth considering.
Image Credits:
Kindle DX - kindle purchasing guide and buying a Kindle reader