Find the Best Kindle Cover: Amazon's Own Range and an Alternative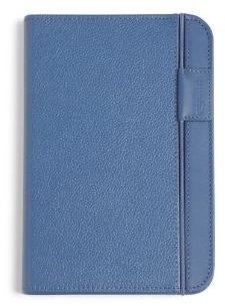 Introduction
Amazon may have led the way with covers for the Kindle ebook reading device but there are many other options too. When you are looking for a great Kindle cover, the starting point has to be your own needs, preferences and taste. After all, each of these covers has been designed to work well with the latest generation Kindle so the best cover is ultimately the one that suits your lifestyle.
The Official Amazon Kindle Leather Cover
This was my own first choice when it came to protecting my Kindle. It figures that when it comes to creating the best Kindle cover possible, Amazon has an interest in getting to the number one spot with Kindle owners. The Amazon leather Kindle cover is sturdy, well-made, and the Kindle clips in securely. The elastic fastening with leather tab holds it shut when not in use but lets you open it up just as quickly.
Perhaps the biggest selling point of these official Amazon Kindle covers, however, is the gorgeous range of colors. From the eternally stylish black, burgundy red and chocolate covers to the stylish steel blue and hot pink, the attractive burnt orange and the fresh apple green, the color choices match the 'modern but professional' image of the Kindle. The cover is currently priced at $34.99.
This popular Kindle cover has received top marks from customers (i.e. greater than 4 out of 5) in all of Amazon's ratings categories. These included quality, weight, ease of setup, construction and appearance.
The Official Amazon Kindle Lighted Leather Cover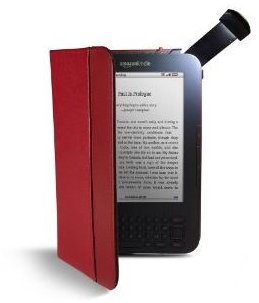 This cover has all the advantages of the regular leather cover described above plus it has a built-in reading light. This feature has been cleverly integrated into the case itself. You simply slide it out to use. The light is powered by the Kindle battery and switches on when you pull it out and off again when you push it back in.
The benefit of the built-in light is that you can comfortably read your Kindle in low-light situations such as in bed when someone else is sleeping or on a flight. If that is something you do a lot of, this could be the Kindle cover for you. Do note, though, that the reading light adds some weight to the cover. The lighted leather Kindle cover at $59.99 is also currently $25 more expensive than the regular leather cover.
The Amazon lighted leather Kindle cover was rated highly by Amazon customers on style, design quality, ease of use, convenience and functionality. The majority of customers also found it sufficiently lightweight for their needs.
M-Edge GO! Kindle Jacket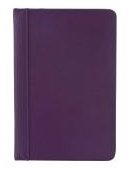 The GO! Kindle Jacket from M-Edge looks very much like Amazon's own Kindle cover from the outside. In terms of price too there is currently nothing between the GO! Jacket and the Amazon cover at $34.99. Once you open this ebook cover you will however notice some differences. Instead of clipping in to the cover, the Kindle slides into a pair of leather grips at the bottom corner and is then secured with a matching pair of elasticated grips at the top. Customers have found this very effective. It also gets thumbs up for being so lightweight and flexible.
The GO! Kindle Jacket comes in a range of classic and fashionable colors. Several of these are similar to the Amazon Kindle cover options but differ slightly in shade, for example the green and blue are both darker than their Amazon cover equivalents and the red is brighter. There is also an attractive purple and a fun crackled silver option. Note that, unlike Amazon, these covers are not made from leather but don't let that put you off – owners of the GO! Jacket love the quality and have found it hard to tell the difference. This may be also the best cover if you are a vegan since it has the looks of the Amazon cover but without any animal products.
CrazyOnDigital Kindle Leather Case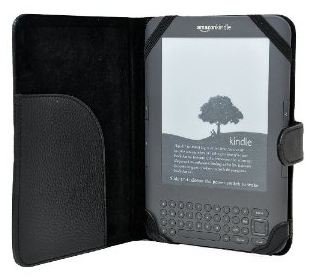 If you are on a budget you might prefer a less expensive alternative to the official leather Kindle cover.
The CrazyOnDigital Kindle case has been designed for the Amazon Kindle 3 but gives you a different look and feel. The front flap is both sturdy and flexible enough to fold back and snaps shut with a magnetic closure. The Kindle device itself is held securely with elasticated bands on the top corners. You still get the microfiber interior to protect your Kindle but as extra protection CrazyOnDigital include a screen protector so you can be confident no harm will come to it in this cover.
The main selling point of this case is how comfortable it is to hold. As Kindle covers go, this one is chunky, making your Kindle feel more like a slim book in your hands. One thing to watch: the CrazyOnDigital Kindle Case is described as 'leather' but some buyers have debated this point. Either way, at just $14.99 this is possibly the best Kindle cover out there for anyone who wants to protect their Kindle without spending a small fortune.
Belkin Grip Kindle Sleeve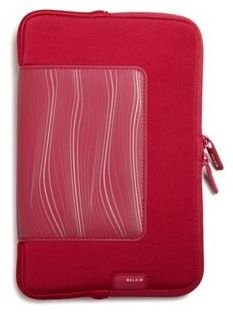 Belkin is a name many of us have come to trust for our electronics accessories and their Grip Kindle Sleeve for the latest generation Kindle is no exception. This case has been highly-rated by customers who love knowing that their Kindle is safe from damage. It is made from neoprene and has a soft lining and zips up around the edge to give your Kindle full protection.
The Belkin Grip Kindle Sleeve is, as the name suggests, a sleeve for the Kindle device rather than a cover that you hold open like a book. This makes it the best cover for people who prefer to read the Kindle just as it is without a cover. If you are left-handed or for any reason prefer to use the left-hand buttons on the Kindle this could be a better choice than a cover which may get in your way. It is also an ideal choice if you need greater protection for your device than you would get from the cover.
In addition to the classic Black and Midnight Blue color options, this Kindle cover is available in Coral Pink or Perfect Plum. It is currently available via Amazon for $24.99.
Cole Haan Hand-Stained Leather Kindle Cover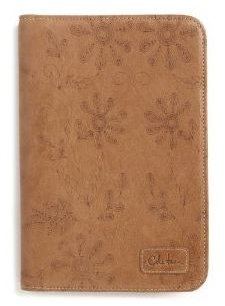 When style is important there are several premium Kindle covers on the market. Cole Haan is one of the most popular and has a beautiful range of hand-stained leather Kindle covers that transform a Kindle device into a statement piece. This designer is not new to the Kindle, having designed for the second generation device, but has updated the range for the latest generation Kindle.
This Cole Haan Hand-Stained Leather Kindle Cover in a brown floral or green floral print is one of these new designs. The soft leather cover has a pretty and feminine design but there are also some more classic options available at the same price point of $99. The Kindle is secured inside by a hinge and the inner cover is suede with a handy pocket. For looks, this has to be one of the most gorgeous Kindle covers out there. However, the price makes this a luxury item and some will prefer a case that closes a little more securely.
Which is the Best Kindle Cover for You?
Each one of this selection of Kindle covers offers something different. Remember, the best Kindle cover for someone else may not be the best one for you so it is worth taking your time to compare the features. With the right cover you will enjoy your Kindle even more!