The Best Salad Spinner: Top Rated Salad Spinner Recommendations & Buying Guide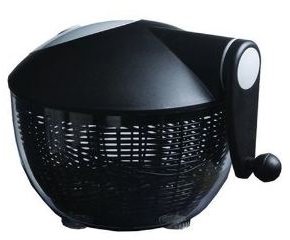 Why Buy a Salad Spinner?
Consumers love several things about salad spinners. First, a spinner lets you clean your produce thoroughly. Then it makes it possible to eliminate all excess water, so that you get the full taste of salad dressing undiluted by rinse water. Third, lettuce and other vegetables that are spun free of water droplets will last longer in your fridge. It's also worth noting that you can use salad spinners for berries, grapes, and herbs. None of these units - rated among the best salad spinners by consumers - will cost you much. And when you're accomplishing all these things, you're going to feel good about the healthy way you're eating.
Starfrit Salad Spinner
This is one of the best salad spinners, meriting five stars from enthusiastic customers, and there are a few things that set it apart
from competing models. It does its thing by use of a crank handle that snaps into the side of the unit. It comes with an oversized clear bowl and an inner colander made of black plastic. Once you think you've spun your produce enough, you just push a button in the handle and it brakes immediately. There are rubberized feet on the bottom of the bowl so that it won't slip while it's in action. The clear bowl does double time as a serving bowl or even as a mixing bowl. It's one of the larger models, at 11.5 x 11 x 8.5 inches, and there's pros and cons to that: the good part is that there is enough room to hold lots of lettuce leaves so that you can dry them thoroughly without bruising them. The bad thing is that to store your leftover salad in the fridge, you need a little more room than with smaller models. It's available for $25.
OXO 32480 Salad Spinner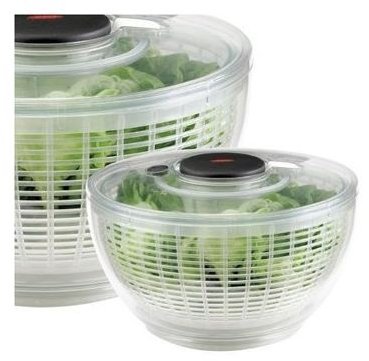 OXO makes three spinners, and they are all rated highly. But this spinner, marketed in two sizes, stands apart from them and from every other spinner: its handy-dandy spin action has coaxed reviews out of over 500 consumers! With all those ratings averaging out to a magnanimous 4.5-star rating, this is rated by more customers as one of the best salad spinners you'll find anywhere. Why do people like it? Salad spinners are pretty much alike, after all; they just spin the lettuce so it holds your dressing better, right? This one has the colander-like basket that rests in the clear outer bowl, similar to the Starfrit, which is handy for serving and mixing. Its action comes from a pump on top of the unit, and users claim that the inner basket merrily spins away the water from your lettuce without becoming unbalanced. Also, there is a rubber ring on the bottom so that it stays put on the counter. Weighing in at about $25, it measures 6.8 x 10 x 10.2 inches, so you need ample room in the fridge. It has a little button atop the knob to stop the spinning action when you decide it's probably ready. (Hint: the smaller version runs only a dollar less, and it's perfect if you're only spinning lettuce for two—model 1045409.)
MIU Pull-String Salad Spinner
If we're looking at the best salad spinners, we have to include some uniqueness. Well, along comes the MIU Pull-String Salad Spinner with its pull-string featuring a new way to spin your produce. It measures 10 x 10 x 5.25, and it's one of the cheaper units at $14. But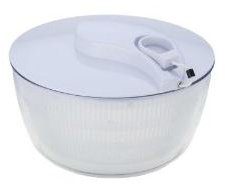 don't let the price fool you: Home & Garden ranked it among its top 100 favorite kitchen utensils and gadgets. What makes it a best-selling salad spinner? User comments focus on three characteristics: it's durable, it spins very fast, and also spins very slow. Instead of a knob or crank you pull a string to get it going, and you have some control over the speed: When it goes fast, it goes very fast; and when you adjust your pull to slow it down, it won't spin your berries out of shape. Your healthy greens will never taste better. Oh, and it also rates 4.5 stars.
Progressive International Salad Spinner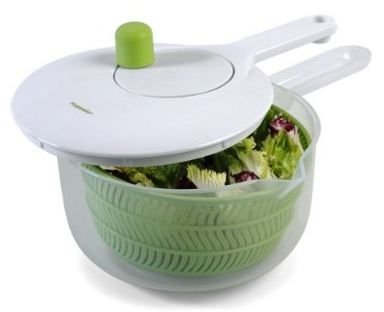 This model comes in at yet another 4.5 stars—and it's only ten bucks. Progressive makes several, but this was its top-rated salad spinner. Measuring 11 x 9 x 5.8 inches and holding 2.5 quarts, it boasts a long handle for easy control and pour spouts on either side of the lid that make it manageable whether you're right- or left-handed. Like the others, this company actually manufactures several styles; the 2 quart model at 7.5 x 7.5 x 6.2 is only large enough for a two-person salad but it also garnered 4.5 stars. The smaller model actually costs $18, more than the 2.5 quart unit. The smaller model has a ratchet in the lid that, when pulled, gets your salad spinning; the larger one has a knob to get things going.
Xtraordinary Products Large Salad Spinner
This unit only has four ratings, but all of them are 5 stars, a great way to end our review of top-rated salad spinners. What do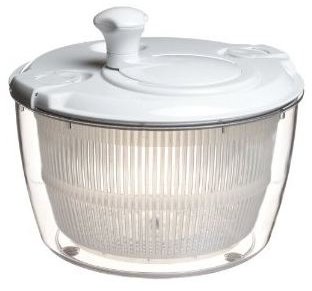 consumers like? It has a lock-down lid so that there is never any accidental spillage. Your spinning, like the Progressive, is via a knob. There is also a hole in the lid so you can pour in dressing. The handle, strainer, and outer bowl are all large (dimensions for this product are not given, but this is what users say). You can even use it to wash vegetables if you're preparing them for soup or stew. Some users worried whether the plastic would withstand the dishwasher, as promised, but it is proving to be more durable than it looks. Bring this baby home for $20.
All images are from Amazon.com