Cheap Food Processors: Reviewing the Top 5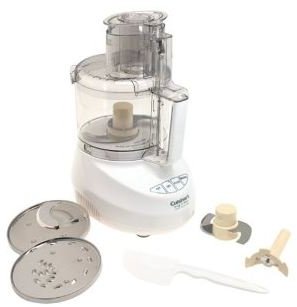 Buying a cheap food processor that still gives you the features you need isn't that difficult. You can find a cheap food processor by reading reviews about the best food processors and comparing those you're interested in to the features that all food processors should have.
All the best food processors chop, slice, shred, and puree foods, but some also do more specialized tasks like whip, knead dough, make juice, and have special cutting tools for things like making French fries.
They hold different amounts of food, usually from 4-12 cups. You can get a mini-food processor if you don't need to mix up large amounts of food or you don't have very much space on your kitchen counter.
Even a cheap food processor has at least one speed on it. Some have several speeds, but as long as the processor has a pulse setting, you are good to go. Another thing to look at is the shape of the hole where you put the food. Some are long and narrow, which is better for things like strips of food, while others are fat and wide, which allows bigger pieces to be fed into it.
Cuisinart Prep 11 Plus DLC-2011
This one gets high marks for chopping, slicing, shredding, kneading, and pureeing. The dishwasher-safe device holds 11 cups and has two speeds and a wide opening that lets large chunks of food be processed. It also has a 3-year warranty on parts and a full 10-year warranty on its motor. The double blades, however, won't turn on unless the food is halfway down inside the food tube. The processor is available for $141.45 on Amazon.
KitchenAid KFP715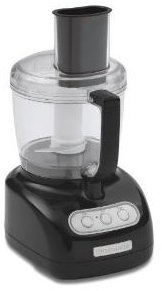 This is a good choice for a mini food processor. It holds 7 cups and doesn't take up much space on your counter. With stainless steel blades, this model can chop, knead dough, slice, and dice. It has two speeds—continuous and pulse. It also has a 1-year warranty, making it not quite as good a warranty as some other models. All parts of the model are dishwasher safe. You can buy KitchenAidKFP715 for $103.96 on Amazon.
Hamilton Beach ChefPrep 70610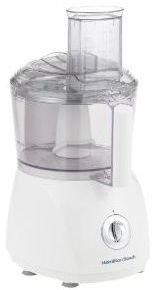 Costing $33.95 on Amazon, this model has two speeds (continuous and pulse) and holds 10 cups of food, making it one of the bigger processors, yet also a cheap food processor at the same time. The device is dishwasher safe and can slice, chop, dice, and shred. It doesn't have a dough blade, so if you want to knead dough you must buy a different processor. It also has the added benefit of a safety blade that makes it so users must have the lid and base locked before you can use it. There is also additional storage space for the cord.
Black and Decker Ergo EHC650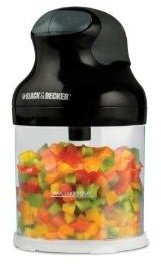 One of the best cheap food processors tested for the price was this model available for $24.02 on Amazon. Despite the cheap price, it has two speeds and a sleek compact design. It falls into the category of mini-food processor. It is simple to use, and can chop, dice, shred, and puree. It has a 3-cup capacity. One great safety factor is its non-slip base, making it easy to chop food without the processor moving all over the counter.
Presto SaladShooter 2910 Food Processor
Last, but surely not least was the Presto Salad Shooter models available for $31.95 on Amazon. This can shred, slice, and dice, and it can shoot the food pieces right into the pan or bowl you're mixing your food in. It is compact, dishwasher safe, and has interchangeable blades.
Reference
Amazon