Simple Guide to Electric Coffee Grinders: Burr & Blade Grinders with Recommendations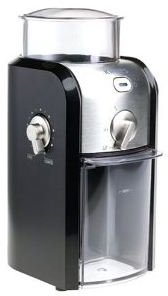 What To Look For - Burr Grinders Vs. Blade Grinders
The price of the different models of electric coffee grinders are not the only difference you will notice between burr coffee grinders and blade coffee grinders.
Burr grinders work by two revolving metal discs crushing the beans to a superior, fine coffee powder. This method, along with the slow action of the discs, and low heat, ensures that your coffee beans retain all the flavor, but in a usable powder form.
Blade grinders use a chopping action much like a food processor, but achieves results using high speeds. The high speed action of the blades can result in a more 'burned' taste to the finished coffee powder, and irregular sized pieces rather than a pure, fine powder. These produce fine results if you want to chop up seeds into more manageable pieces, but if you are looking for the best grinder for coffee, the burr grinder is the best choice.
Best Low-Priced Burr Grinder - Krups GVX2 Burr Grinder
Priced at around $50, you get a quality burr grinder, at very little more than an inferior blade grinder model. This Krups burr grinder for coffee is not only low priced, it is easy to use, easy to clean, and offers 17 different settings for all your needs. The settings adjust how fine the powder is, meaning you can adjust it to suit either the best espresso machines, a traditional French press, or anything in between. You can also pre-set how much coffee you want it to grind in terms of cups - the grinder will stop automatically as soon as it has ground enough. It is simple to use– the top section storing your beans, and the bottom unit pulls out to reveal your perfectly ground coffee.
This model is available from Amazon.
Best Mid-Priced Option - KitchenAid ProLine Burr Coffee Grinder
The precision stainless steel burrs in this KitchenAid electric coffee grinder, ensures a superior performance at a reasonable price, for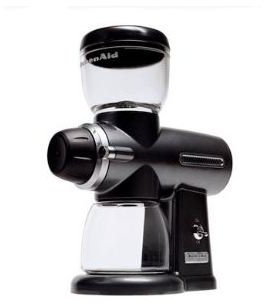 the discerning coffee connoisseur. It grinds up to 15 different sizes of ground coffee, making it a perfect choice whether you prefer espresso coffee or the regular hot cafetiere stuff. It is built to last, being constructed of metal and glass and it will keep going for years to come. There is no automatic "off" feature, but for a coffee expert this shouldn't be too much of a drama - the ground coffee is happily stored in the glass jar at the bottom, for the next time. It is a super-quiet model too, something which certainly can't be said of the cheaper blade grinder models.
The only downside to this professional looking model is that it is heavy, and takes up a large amount of countertop space, however, if you are serious about coffee, this is the model for you. Available at $160 from Amazon.com.
Best High-End Grinder - Gaggia 8002 Burr Grinder with Doser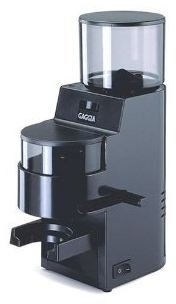 If you are a coffee lover who takes coffee seriously, and need an electric coffee grinder of professional standards that's built to last and this superior Gaggia burr model is the ideal choice. Priced at around $250, it certainly isn't a budget option, but if you want quality, then Gaggia is a name you can trust in the world of coffee. The workings inside this machine are the same as the commercial ones used in coffee houses all over Europe. The whole coffee beans are ground using tempered steel burrs (much stronger and more reliable than cheaper models), and the machine allows you to grind coffee in up to 34 different settings. It's powered by a 120 watt motor, that ensures superior results at low sound levels.
The best coffee you can get, without taking up the space of a full-spec commercial grade machine. This Gaggia Burr Grinder is available from Amazon.com.
Conclusion - Which Grinder Should You Buy?
Which electric coffee grinder is best is obviously down to personal taste, budget, and the amount of use your grinder will receive. If at all possible, purchase a burr grinder for the best results, even if you just begin with the lower-priced model - the results are noticeably superior. And remember your coffee grinder can also be used for grinding spices too, but remember to give it a thorough clean before next using it for coffee - the world isn't ready for peppercorn coffee!
Resources
Coffee Grinder Shop - https://coffeegrindershop.co.uk/burr-coffee-grinder-vs-blade-coffee-grinder/
Screenshots by author, courtesy of Amazon.