A Top 15 List of the Best Recordable Alarm Clocks - Part One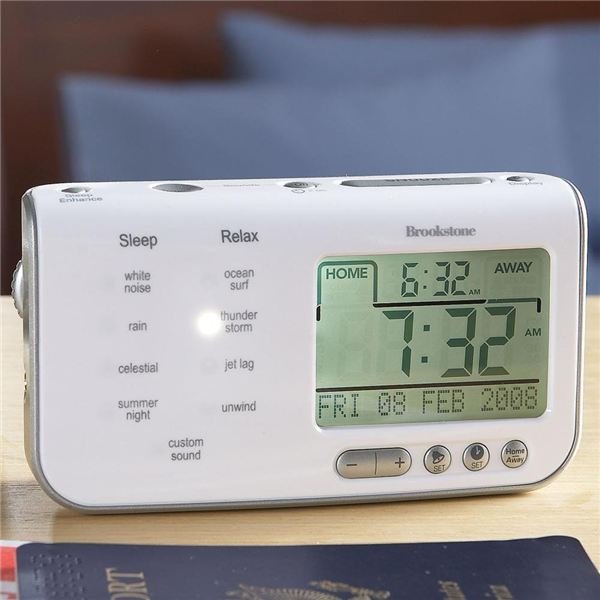 Recordable alarm clocks are the curse of many people's lives. That time of day when waking is hated by so many, especially on a cold winter morning. They can, however, put a brighter spot in our lives with the new and fun clocks available on the market today. Read on to find our top 15 picks!
1. Tranquil Moments
Strange as it may sound, this alarm clock claims to make you sleep better by Playing sound programs to you while you sleep, and boasts eight various sound therapy programs. When it is time to wake up, it plays a recorded voice message to wake you up that lasts 15 seconds. Priced at $99 on Amazon, it's called Tranquil Moments. This is truly a designer alarm clock with dual clocks and a calendar. It requires 4 AA batteries or an AC adapter to work.
2. Crosley Radio Cr612-Bk Corsair Alarm Clock/Radio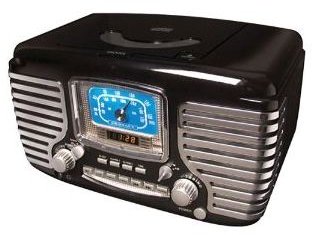 The Crosley Corsair Alarm tends to make you think you are back in the fifties with its retro styling. The far from old fashioned variety of options offers you a CD player, radio player, and a dual alarm. This alarm gives you the choice of what you want to wake up to, Radio, CD or the alarm buzz itself. Priced at just under $80 on Amazon, this recordable alarm clock has a LED display and gives you the option of 20 program tracks.
3. Moshi Elite Speak N Set Voice Activated Desk Clock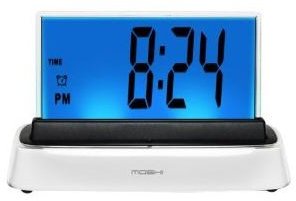 Moshi the alarm is definitely a gimmick timepiece. This alarm reacts to your voice commands asking you what you want it to do. The clear digital display leaves you in no doubt as to what the time is and it's back lit to enable viewing in the dark. This item is priced at just under $50 on Amazon. This can be classed as a modern alarm clock as well as a recordable alarm clock because it also comes with various alarm sounds.
4. Dual Dock Alarm Clock Radio for iPod and iPhone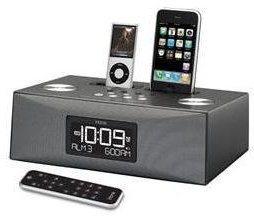 Dual Dock Alarm clock Radio for iPod and iPhone is a combination of an alarm clock and iPod docking station. This App enhanced alarm is available at the price of approximately $128 on Amazon. You can select a playlist or FM, or iPod/iPhone recordable message to wake up to. You can also set triple alarms for all 4 alarm sources.
5. iHome iA5 App-Enhanced Alarm Clock Speaker System for iPod and iPhone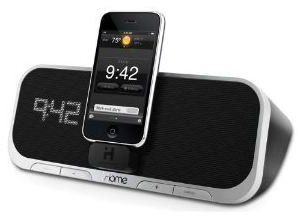 A dual function alarm which is both a docking and recharging station, will wake you in the morning to your recordable message from your iPod/iPhone or a conventional buzzer. It has a programmable snooze feature that can be set between 1 to 29 minutes. The clock is available for around $65 at Amazon.
6. TimeSmart Self-Setting Alarm Clock Radio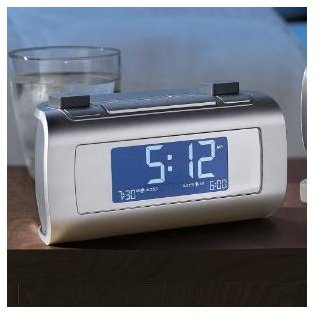 This alarm clock is so smart it resets itself should the power go out. All you need to do is plug the TimeSmart Self Setting Alarm Clock and select the time zone. This alarm clock has a large display and is priced at $65 on Amazon; the system also comes with a radio function.
Please continue on to Page 2 for more top picks on recordable alarm clocks.
7. Moshi Speak n Set Touch Activated Travel Alarm Clocks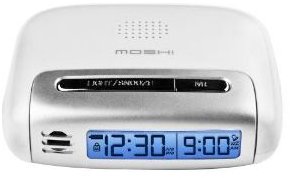 Slightly cheaper than its counterpart, this Moshi is an alarm clock only and is available for around $24 at Amazon. Moshi is one of the recordable alarm clocks which also informs you about temperature and date. It is a great clock for travelers and requires 3 AAA batteries to operate.
8. iHome iP39 Kitchen Timer and Alarm Clock Radio Speaker System for iPhone/iPod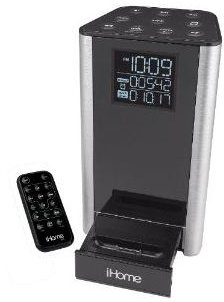 The Kitchen Alarm Clock Radio for iPhone and iPod is a combination docking station and alarm with timers for cooking in the kitchen. This alarm clock and radio is a perfect companion for you while you cook. You can also charge your camera and phone with it, and the system is available for approximately $99 at Amazon.
9. Jimi Rocker Clock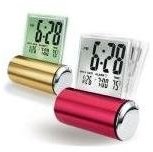 Billed as the Rocker Clock, this clock is on a balanced roller and can roll backward and forward and as it does, it also lights up. It is available in many colors and is priced at around $25 at Amazon. You can record a message on the clock and it offers a big and clear display.
10. Projection Clock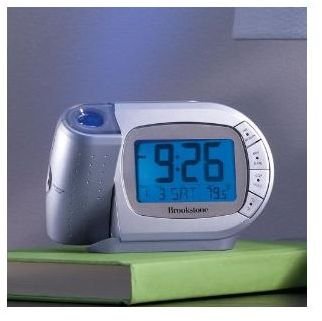 When you are tired of trying to find the clock, this new modern Projection alarm clock takes the hassle out of seeing the time by projecting it onto the ceiling. Available at the price of $35 at Amazon, it also shows the temperature and the current date. You can charge this recordable clock with an AC adapter.
11. Travel Clock with Flashlight
This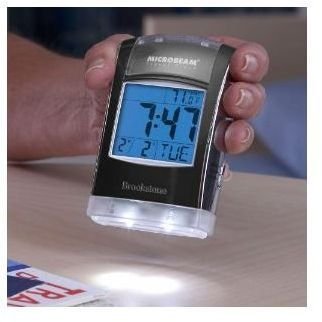 Travel Clock with Flashlight is an alarm clock that has a microbeam LED flashlight built in, which can last up to 100,000 hours without the need of battery replacement. When you lift the clock the light turns on. This recordable alarm clock is priced at around $30 at Amazon, and also displays time, date, and temperature.
12. iDesign Cube Clock Radio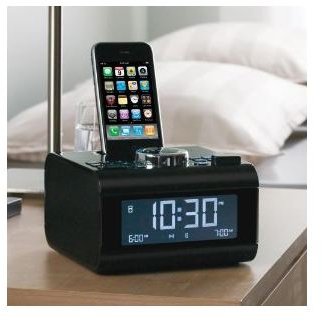 A square shaped clock which is an iPod or iPhone docking station as well as an alarm clock. The recordable clock is programmable and enables you to listen to music while falling asleep and when you wake. This double function iDesign Cube Clock Radio comes with stereo speakers. The brightness of the large LED display can be set as desired. With three preset radio stations, this item costs around $100 at Amazon.
13. Moshi™ Voice-Activated Digital AM/FM Clock Radio
This Moshi alarm clock is also sound operated and will act on 11 different commands. The shape is different to the other Moshi's but it offers a clear dial and costs around $70. It has two alarms with a large and clear display where you can also adjust the brightness. The FM tuner of this recordable alarm clock has 6 preset stations.
14. Verilux Rise and Shine Natural Wake-up Light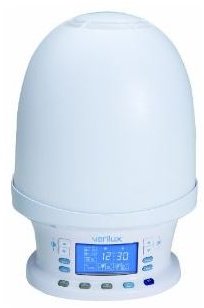 This recordable alarm clock acts as a clock as well as a light at the same time. The light of Verilux Rise and Shine Natural Wake-up Light gradually gets dimmer on going to sleep and does the opposite when it's time to wake. It also has a radio tuner with a clear display where you can adjust the brightness according to your own needs. This clock also helps in correcting the sleep pattern. This combination clock is priced at approximately $99 at Amazon.
15. "Bob" 5-in-1 Wobble Clock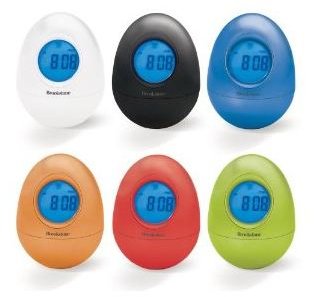 Available in many colors, this recordable alarm clock is a wobbler. "Bob" 5-in-1 Wobble Clock has several functions available like time, date, and the temperature in addition to the timer and the alarm. It is reasonably priced at around $10 at Amazon.
This large array of alarm clocks gives you some idea of what is available as far as recordable alarm clocks in features and price range. Now, choose one according to your needs and budget. Happy shopping!
Screenshots by author, courtesy of Amazon.com