What to Look for When Buying Electric Egg Cookers
If you could get something which cooks really fast, is clean and neat to use and adds a sophisticated look to your kitchen you would definitely buy it. The truth is you could and should get yourself one of the many electric egg cookers available.
Features to Look for
When buying an electric egg cooker there are some features that you need to look for so as to be sure you are getting a good product.
Alarms: You don't want your eggs to be pre cooked or over cooked. So, an ideal egg cooker should also have both audio as well as visual alarms that go off when the eggs are ready. This will greatly help in your preparation of eggs.
Cleaning: Check whether it is easy to clean the cooker or not. Although, you may need an egg cleaner for the purpose. You don't want a cooker which doesn't have much space or is too curvy as it will be very difficult to clean the corners otherwise. This is a very important aspect of any item that you use in the kitchen.
Check the Water Capacity: Begin by checking to make sure that the egg cooker is well calibrated. To make it easy, check whether it is of a good and reputable brand or not.
Oster 4716 Egg Cooker
Oster 4716 Egg Cooker is a popular egg cooker and a great addition to your kitchen, whether you like to white eggs and brown eggs. You can use it to poach up to 4 eggs and boil up to 8 eggs which means it works great for those with bigger families or if you are frequently hosting. It has a signal light indicator which lets you know that your eggs are ready making your cooking a lot easier. Though you cannot clean in a dish washer it has a non stick surface that makes cleaning an easy job. You can get this awesome appliance for $89.95 with a one year warranty as part of the package from Amazon.
West Bend 86628 Automatic Egg Cooker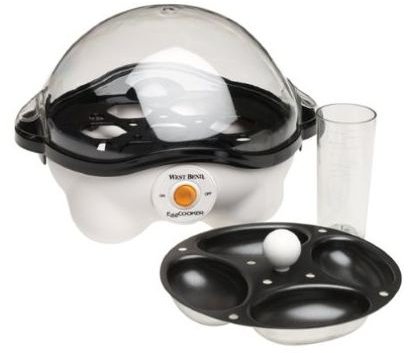 West Bend 86628 Automatic Egg Cooker is an easy to use egg cooker that can cook up to seven eggs and poach up to four, if you don't like to eat raw eggs. It comes with an egg holder which makes getting eggs out very easy and has a base that is heat resistant. This item from Amazon works especially well if you are cooking extra large eggs. The egg cooker comes with a measuring cup and egg piercing pin. Another great angle to this particular egg cooker is that it costs $33 which makes it a real bargain.
Cuisinart Stainless-Steel Egg Cooker CEC-7
If you do not have to cook hard boil eggs every day, you can use Cuisinart Stainless-Steel Egg Cooker CEC-7 to boil up to seven eggs to hard, medium or soft and poach a maximum of three. It is easy to use and has a sound signal as well as an automatic shut off mechanism which prevents over cooking the eggs. It comes with an instruction manual that also has a few recipes you could try out along with the basic piercing pin and measuring cup kit. You can get this for $30.
Maverick EC-200 400-Watt Egg Cooker/Poacher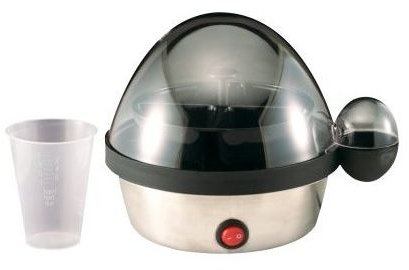 Maverick EC-200 400-Watt Egg Cooker/Poacher will comfortably handle seven eggs for boiling or four eggs for poaching. It uses the amount of water you put in to determine the period of cooking. The more water you have in it, the more time it will cook the eggs. The clear measurement markings help you to easily put in the amount of water you want. It comes with an alarm signal that indicates the eggs are ready, as well as an auto shut system. The cooker is available for as little as $40 on Amazon.
EggGenie Egg Genie Electric Egg Cooker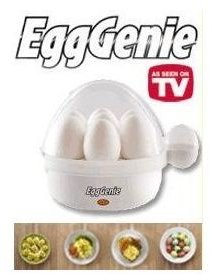 EggGenie Egg Genie electric egg cooker is a perfect appliance for boiling seven eggs and poaching three in a couple of minutes. Available on Amazon, the cooker has visual and audio indicators that let you know when your eggs are cooked, which means you won't need to stand there watching them. It comes with a measuring cup, a steel piercing pin and a poacher tray. This is one of the best priced electric egg cookers at a cost of around $20.
Now, if you don't have much time to make breakfast in the morning, then buy yourself one of these egg cookers. Serve your family a healthy breakfast every day and enjoy the benefits of eggs.