Buy Yourself Something: Electric Vegetable Slicer Reviews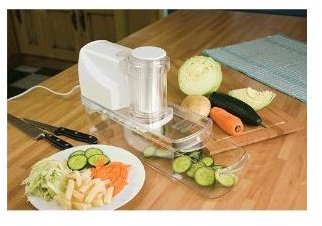 Vegetable Slices: Are You Still Slicing By Hand?
Why are you still using an old-fashioned, non-electric vegetable slicer? It's true that you can find them for ten or twenty bucks, and most people consider them to be wear-out and throw-away types of tools. You can depend on them nicely for slicing a carrot or cucumber, but when you're dealing with a piece of produce that's a little higher in water content the machine will give you uneven, torn slices. And it's usually not long before the blade becomes dull…which is why you're about to read these electric vegetable slicer reviews. You deserve to buy yourself one before it's time to slice up your next salad!
Groovin' to the Electric Mandoline…
What is a mandoline? Basically, it's a rectangular panel with a blade installed at a diagonal angle about halfway along the panel. There is
a handle built into one end of the basic mandoline, so it looks like nothing so much as that good old-fashioned musical instrument, the mandolin. Neoflam makes an electric mandoline that sells for $30, sans the handle, of course. This handy slicer lets you load your vegetables into a chute, turn on the motor, and let the machine do the work for you. The slices are captured in the bin below the blade. The chutes come in three sizes, and the non-electric parts are dishwasher safe. You can find the Neoflam mandoline at Amazon.
Black and Decker's Little Chopper That Could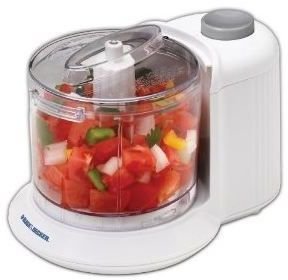 When you look at this little counter-top gizmo, you will not think of slicing vegetables. However, with the touch of a finger it will chop up your vegetables quickly, just the right size for your salads, soups, or stews. It has about two-thirds the wattage of one of the big boys, but who cares? This is something that's just the right size to keep it handy to use when you need it, without moving everything in your cabinet to reach it. It includes pulse control and has a bi-level blade, and the non-electric parts will clean up on the top rack of your dishwasher. You can grab this little gadget for under fifteen bucks! Follow this link to find this 1.5 cup counter-top gem at Amazon.
Presto's Salad Shooter: Hands Up!
This is a small kitchen appliance that has been on the market since the 1970s, and—hands down–it's still selling strong. You load your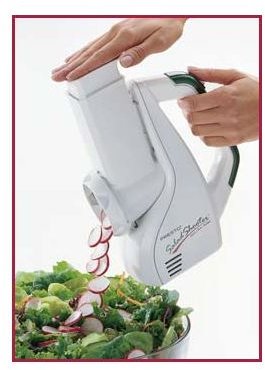 vegetables into the chute on top and install your choice of grating or slicing cones. Pressing a food guide forces your vegetables through the slicer. The biggest drawback is that you have to cut the vegetables into pieces that fit into the chute. You can grate cheese, too, but again you have to chunk it. The basic unit priced at about $38 comes with just those two cones, but you can buy more—one to create a ripple effect on the vegetables you cut, one for super-shredding for larger chunks in your salads, and even a funnel that attaches so that you can aim shredded cheese onto the top of pizza or nuts onto your ice cream. The more advanced unit sells for another ten bucks and comes with the extra attachments. There's a Salad Shooter Plus that this writer has only been able to find on eBay—I believe its main difference is the ability to adjust slice thickness. You know that a product is beloved when it remains on the market for over thirty years! Follow this link to read more about the basic Salad Shooter ($37.94) at Amazon, and you can also take a look at the professional model ($47.69, Amazon pricing).
Cuisinart: The Big Mouth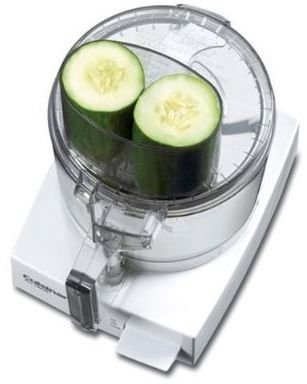 If you're willing to spend about $100, you're going to get a lot more than an electric vegetable slicer. Cuisinart's DLC-10S Pro-Classic 7-cup food processor brings it home with excellent bread and even pizza dough, but you'll love it to slice, shred, or julienne your vegetables. It'll chop and chunk your veggies into a tasty salsa, or count on it to slice or even mash your potatoes. Most users rave about the extra-large feed tube, which is large enough to accommodate a whole potato–something most products lack. It comes with both slicing and shredding blades, and you can buy an additional blade for thinner slicing. Amazon offers it for $99.95.
KitchenAid Food Processors–Lots of Choices, and Great Customer Service, Too
You can't write a sheaf of electric vegetable slicer reviews without mentioning KitchenAid. This company offers quite a selection of sizes,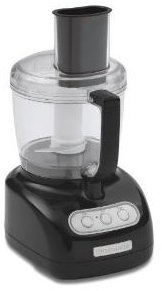 ranging from a 3-cup unit for about $40 all the way to its Pro Line model (KPFP850PM) for about $280. The granddaddy model includes a 16-cup work bowl, a 13-cup chef's bowl, and a 4.5 cup mini-bowl. For comparison's sake, however, we'll talk more about the 7-cup unit available for $100, comparable to the Cuisinart unit we just reviewed and exactly the same price. The 7-cup unit has pulse control and the disc/blade is reversible; and it, too, will take a ride in your dishwasher. What are the big differences? People like Cuisinart's feed tube better (it's bigger), but KitchenAid's customer service tops everybody else's. Here's Amazon's link to the 7-cup model, selling for $99.64.
Images are from the manufacturers' websites.