Spotlight on Best Commercial Espresso Machines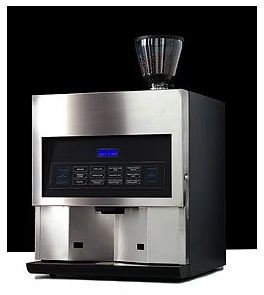 Super Automatic Espresso Machine Aroma 5500
The Aroma 5500 fresh grind espresso machine is one of the best commercial espresso machines available on the market, mainly due to its continuous brewing capacity–and it grinds real espresso beans, as well.
It produces rich, smooth specialty coffees, which are cheaper than Starbucks®, and adaptable to water source too.
What's more, it can handle any size crowd, and comes with computerized built-in management tools.
You can buy the super automatic espresso machine Aroma 5500 on Amazon for $3500.
Hamilton Beach 47214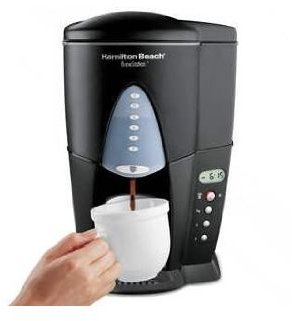 The Hamilton Beach 47214 is one of the best coffee maker machines manufactured by Hamilton Beach, and it comes in new trickle design. It has the capacity of brewing 12 cups of coffee at a time and it has the ability to store them inside its insulated thermal basin as well.
As it is a one-hand dispensing machine, there is no requirement of flask, meaning no pouring and no spills. It also has an auto shutoff timer, which shuts off the dispenser automatically after two hours.
What's more, there's no carafe to break, and you get coffee directly from a dispenser. The black color makes a good choice, as the coffee stains won't be really visible.
You can buy the Hamilton Beach 47214 on Amazon.
Houseware La Pavoni BAR-STAR 2V-R 2-Group Commercial Espresso Machine
This NSF/CSA-certified 2-group commercial espresso machine, the La Pavoni Bar-Star 2V-R model, comes with digital control pad microprocessor controls, plus 12-liter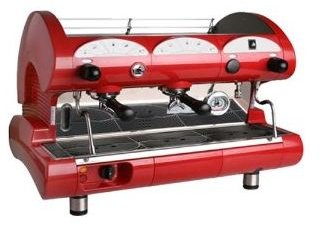 water softener and installation kit as well. It is equipped with electronic programmable dosing, hot-water button, warming tray, and two steam wands, as well as an energy-saving power switch and 14-liter copper boiler.
To improve the safety, it comes with a manual reset thermostat with auto shut-off functionality, too.
Looking at the product dimensions, it measures 22 x 31 x 21 inches. It is backed by a one-year limited warranty, and you can buy this amazing commercial espresso machine on Amazon for $5500
.
The Hamilton Beach D43012B Commercial BrewStation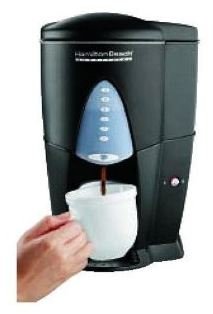 This is a 12-cup coffeemaker, which comes in an elegant black color. The D43012B Commercial BrewStation is designed with an enclosed brewing system and uses power up to 1210 watts.
The length, depth, and height of this coffeemaker are about 11.8 inches, 11.5 inches, and 15.6 inches respectively, and this coffee brewing machine weighs about 7 pounds.
The D43012B Commercial BrewStation is designed with warming heater and thermal insulated tank in order to render gentle hot as well as fresh coffee. Other notable features include the automatic shutoff system to enhance the safety system.
Top Pick: Hamilton Beach 40729 Espresso Machine
The Hamilton Beach 40729 Espresso Machine comes in a space-saving design and holds enough water for multiple cups. But, if you're on for espressos with great froth, then perhaps this isn't what you're looking for.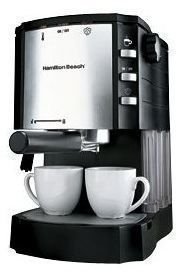 Although easy to refill, it produces watery Espresso, and the steam wand is too short; as you'd expect, it doesn't make much froth, but this coffee machine is a decent option if you love tasty espresso shots from ESE pods.
It isn't an ideal choice for making lattes, espressos, cappuccinos, and mocha drinks, but the compact size won't hog kitchen space, and the 58mm Portofilter, value packed deep-drip tray, and other promising features are definitely worth the money, considering the fact that you're not even coughing out $100 for an espresso machine.
When you consider the various Hamilton Beach coffee makers and espresso machines, the Beach 40729 is perhaps one of the most affordable options. And, it offers full value for the money, as you get a DVD along with the instruction manual, though you won't find the espresso cups or a pitcher, in case you're hoping to get any!
All in all, the Hamilton Beach 40729 Espresso Machine is a sturdy unit. And you'd definitely enjoy the suction cups provided on the bottom, but beware the unit has been known to leak badly, sometimes even from day one; so, make sure that you check it out the moment your shipment arrives!
All in all, it's an excellent choice for small businesses, as well as for household usage.
Pros
1. Easy to use
2. Highly portable and compact
3. Comes with DVD
4. Sturdy design
5. Looks cool, and it has powerful suction cups at the bottom
Cons
1. Prone to leakage
2. Makes poor crema and watery espressos
You can buy the Hamilton Beach 40729 espresso machine on Amazon.
All images are representative of the manufacturers' images shown on Amazon.