What is the Best Food Processor: Comparing the Top 5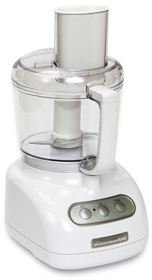 Typically, the food processor is your kitchen assistant. While you prepare the tomatoes, it shreds the lettuce, while you wash the carrots, it chops the onions. If you are seriously considering getting some help in your kitchen, first try the food processor, and here, we'll discover what is the best food processor and which ones are considered the best rated food processors.
What to Look For
As you go out shopping, it's very important to know what to look for in a food processor so that you are sure to take home only the very best.
Capacity - Begin by checking the capacity of the food processor. This is usually given in cups and it will help you choose the size that you need. It will vary and you can choose depending on the size of your family. If you have a large family to feed, then go for one which has a high capacity. On the other hand, if you are family of only two, then choose a food processor which has a capacity of about 6-8 cups (this size is efficient even if you are expecting dinner guests).
Tube Size - Look for a processor that has a wide feed tube that is able to take in all the pieces that don't require too much pre-cutting. Moreover, it ensures that you can put in more vegetables at one go. It is also easier to clean a food processor if the tube is a larger size.
Blades - Consider the blades as well as discs that come with the appliance to make sure they are suitable for the work you want to get done. Also, check how the blades are designed to determine ease of washing.
Cuisinart Prep 11 Plus DLC-2011
The Cuisinart Prep 11 Plus DLC-2011 is a food processor that comes highly recommended by professionals as it works very well at shredding, slicing, chopping, pureeing, and kneading different kinds of food. It is an easy to clean appliance because of its rounded housing and a dough capacity of eleven cups, which is considered a big job and allows alternate speeds for mixing. The manufacturer is so confident of its performance that they offer a ten year warranty on the motor and a three year limited warranty on the appliance. It is currently available for about $130.
Image Credit: https://static.howstuffworks.com/gif/productImages/2/3/00000119023-CuisinartPrep11Plus11CupFoodProcessorDLC2011N-large.jpeg
KitchenAid KFP715
Another time saving food process is the KitchenAid KFP715 that has a seven cup capacity and will quickly chop, shred or puree your food. It comes with stainless steel multipurpose blades, reversible stainless steel disc for slicing and shredding options, along with several other discs for specific foods. It also has a feed tube that allows continuous processing, which means you don't have to do a lot of pre-cutting. You can get it for about $120 and it comes with a one year warranty. It is a great option if you are on a raw food diet.
Image Credit: https://www.chefscatalog.com/img/products/285x285/22946_285.jpg
Please continue on to Page 2 for more on our list of best rated food processors.
Hamilton Beach Chef Prep 70610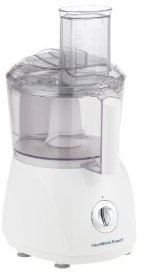 Continuing on with our look at what is the best food processor, for those looking at getting a ten cup food processor that has two speed options and is dish washer safe, then the Hamilton Beach Chef Prep 70610 is the machine for you. It has a stainless steel chopping blade that chops and minces very well along with a reversible stainless steel disc that does a good job of slicing and shredding. It also boasts a wide feed chute that allows for the processing of large pieces. This is a very affordable food processor that you can buy for about $60.
Image Credit: https://ecx.images-amazon.com/images/I/31t%2Bomn1T2L._SL500_AA280_.jpg
Black & Decker Ergo EHC650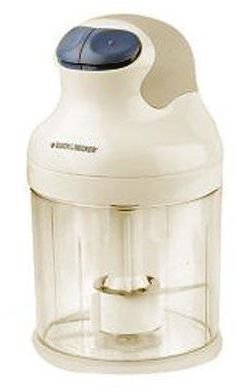 A smaller capacity food processor, the Black & Decker Ergo EHC650 is a three-cup food processor that is ideal for smaller and quicker jobs. If you are catering for one or two people, then this is the appliance you need to use. It does a good job of chopping and mincing vegetables, fruits, and cheese as well as other foods. It has a slip resistant base and its stainless steel blades are dishwasher safe. It is very easy to use and will cost you around $20, which makes it a great buy for those on budget.
Image Credit: https://static.howstuffworks.com/gif/productImages/7/0/00000124870-BlackDeckerErgo3cupChopperEHC650-large.jpeg
KitchenAid KFP750
If you need a twelve-cup food processor, the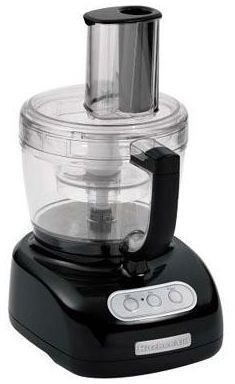 KitchenAid KFP750 is compact and comes with a multi-purpose stainless steel blade and a housing that is sound proof and allows for silent use. It is available in several colors and remains a popular gift item. This best rated food processor is a great time saving appliance that will quickly chop, dice, and slice foods to precision results. It also comes with a storage case that is great for reducing clutter and helps keep your kitchen organized, especially when you are making some quick and healthy salads. Most parts are dishwasher safe and save you time on cleaning. It comes with a one year warranty and a price of approximately $260.
Image Credit: https://static.howstuffworks.com/gif/productImages/2/6/00000119026-KitchenAid12CupFoodProcessorKFP750-large.jpeg
If you're wondering what is the best food processor, with this list of the top 5 best rated food processors in hand, don't wait until Christmas to get one as a gift. Go and buy one to assist you in the kitchen and make your cooking life fun, faster and more efficient.