What is the Best Mini Food Processor? Top 5 Revealed
What Should You Look For?
When choosing the best mini food processor, you first need to consider what tasks you expect your mini processor to perform. If you just need it to do some quick chopping, then a budget option that takes up little room will suit your needs well - a hand blender with an added attachment could do this too, and there are even hand-turn models available, meaning a save on electricity.
However, if you want most of the functionality of a regular food processor, but lack the space, then a model with several speed settings and different attachments will be a better model for your needs. Let's take a look at your options.
Dualit Chrome 88220 17.5 oz Mini Chopper
Measuring less than 8 inches at its widest point, this is a mini food processor that will look good on your countertop without taking up too much room. It does not score highly on number of attachments (just one stainless steel blade), but if you are looking for more of a mini chopper, then the powerful 260 watt motor definitely has the power to cope with most chopping and pureeing tasks you put its way. There are 2 speed settings, meaning that if you want your items chopped evenly, rather than pulverized, then this model's lowest speed setting will give you excellent results. The mini bowl holds over 2 cups, so is still sizable enough to cope with most small tasks, while taking up minimum space on your countertop.
The only downside to this model is that there are no extra attachments, so grating and slicing aren't an option. If you want to chop herbs and crush garlic though, this stylish model is a winner at between and costs between $50 and $100. Available from amazon.
Cuisinart DLC-4CHB Mini-Prep Plus - Brushed Stainless Steel
Looking more like a conventional food processor, but on a mini scale, this Mini Prep Plus food processor from Cuisinart uses up a minimum amount of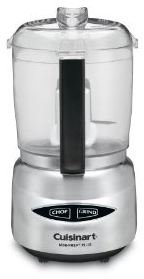 workspace at just over 7 inches at its widest point, but offers a large 4 cup work bowl thanks to its 10 inch height, which makes it a sizable offering, in terms of capacity. Although it only comes with one blade, meaning slicing, grating, juicing etc. are off the menu, it does offer a few extras that a lot of mini choppers don't have. There is a pulse feature, meaning that you have precise control over how small you want your veggies chopped, by just giving it a few seconds burst at a time. The blade is also equipped with a smart reverse action, meaning that if the blade moves in one direction it chops, and in the other it will grind. Basically meaning you get two functions from one blade.
The grind function works well for spices, and harder items to cut like chocolate and nuts, whereas the chop function not only chops, it also mixes and purees, making it suitable for mixing your own mayo, batter, or pureeing veg for baby food. Although you can't slice or grate with this model, it holds its own against larger processors well.
Usually retails for around $90, but Amazon often has it cheaper.
Super Shred Hand Operated Mini Food Processor / Shredder
For one of the best mini food processors on the market, that offers something different to the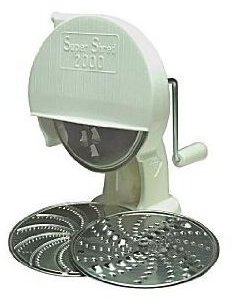 conventional mini processor, why not try the Super Shred hand operated mini food processor? It performs plenty of functions, without adding to your electricity bill. The advantages of this model don't stop there, however, and the design is easy to clean and comes with 3 different attachments - which is many more than the more conventional models offer. The Super Shred works by putting your food in the chute at the top, and then by you turning the handle to operate the desired function - it can work by turning the handle in either direction too, so left-handers don't have to miss out. The attachments that come with this model allow you to cut fries, grate vegetables, and slice them. By reversing the action you get different results too, such as a finer or more coarse grate.
The downside to this model is that if you have a lot of prep to do, it can be quite tiring on your arms, and of course pureeing and mixing are out. Although its easy to clean, it can create a bit of a mess on your countertop
Find out further information at amazon.
Please continue on to Page 2 as we rate more of the best mini food processors.
Cuisinart White 3-Cup Food Processor with Duet Attachment
What makes this one of the best rated food processors in the mini processor category, is that it does more than just chop - and it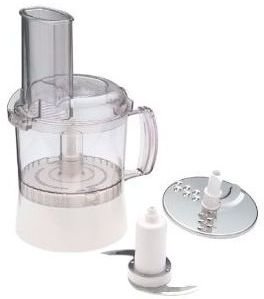 comes with more than just one attachment too. As well as the usual steel blade for chopping and mixing, it comes with a cutting disc that allows you to slice and grate too. In short it does everything a larger food processor can do, just on a smaller scale.
The only downside it has, is that it comes as an attachment pack rather than being a processor in its own right - you need to already have (or purchase separately) a Cuisinart blender from the Duet or SPB7 series. However, it still doesn't take up much room, and if you have the blender already then no extra room is taken up on your counter at all. There is also a citrus juicer attachment that you can buy separately meaning that all your kitchen needs are taken care of from one device.
Even with buying the blender, the whole package should only cost around a hundred dollars. Find them both at amazon.
Black & Decker EHC650 2-Speed Food Chopper with 3-Cup Bowl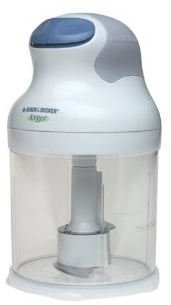 If you are after a no nonsense budget option that does nothing but chop, then this is definitely the best mini food processor for you. At less than 5 inches diameter and 8 inches tall it will take up much less room than any of the other processors we have looked at, while still retaining a respectable 3 cup bowl. The non slip rubber base makes one handed operation a breeze, and this can also double up as a lid for the bowl, if you want to store unused product in the fridge for a few days.
However, the Black & Decker food chopper is a limited choice given that it just comes with one attachment, and the motor is a less than impressive 150 watts, so its not going to handle any tough mixing or chopping. It does have 2 chopping speeds though, and users report how great it is for everyday herb chopping, and can even handle chopping a whole onion, and small amounts of shaved ice, thanks to the superior blade. Not a best rated food processor in terms of functions, but nonetheless can handle basic tasks with ease, at an amazing price.
Available at under $20 from amazon.
Conclusion
If you want a basic model that handles basic everyday tasks, without taking up too much room in the kitchen, the best rated mini food processor for you would be either the Dualit Mini Chopper or the Black & Decker Food chopper.
However, an eco-friendly option that handles anything but mixing and pureeing, try the alternative option of the Super Shred hand operated food processor.
Without doubt the overall best mini food processor that is just a mini version of a regular food processor, is the Cuisinart 3 cup food processor that works with the Cuisinart blender - a great budget option though would be the Cuisinart Mini Prep Plus.
Whatever tasks you are looking to achieve from using your mini food processor, there will be an option here for you. Chop, Chop!