Our Top 6 List of Hand Mixer Comparisons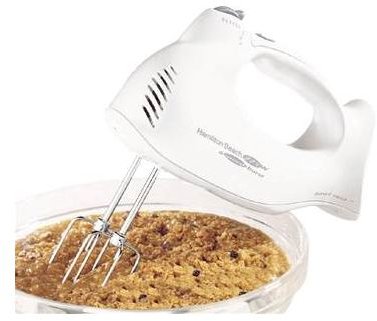 Choosing a hand mixer to buy can be a daunting task, considering the great number of options available on the market today. I have done a hand mixer comparison to help you make that decision by looking at some of the top hand mixer brands, their specs, and pricing.
1. Hamilton Beach Hand Mixer
This is an easy to use hand mixer that comes with three different utensil attachments and comes highly recommended as one of the top mixers you can get. It is especially great for its compact packing, which takes very little space when in storage. This six speed hand mixer comes with a powerful motor of 225 watts. The Hamilton Beach Hand Mixer retails for $20 to $30 and is widely available in stores and online.
Image Credit: https://www.mainemaplekitchen.com/images/pictures/hamilton-beach-62695r-power-deluxe-hand-mixer-white.PNG
2. Cuisinart HM-70 Hand Mixer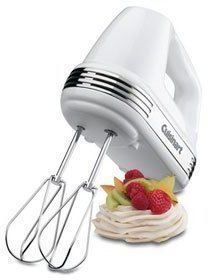 For those looking for a heavy duty hand mixer, the Cuisinart HM-70 hand mixer is a good choice. It has a powerful 220 watt motor that operates with automatic feedback. The digital display, as well as touch pad which you use to set speeds from the seven available options, gives it a sophisticated look. The manufacturer of this seven speed mixer also offers a warranty of 3 years. The Cuisinart is available in stores for $40 to $50.
Image Credit: https://kitchenanddiningwares.com/wp-content/uploads/2010/03/Cuisinart-HM-70-Power-Advantage-7-Speed-Hand-Mixer-Stainless-and-White.jpg
3. Toastmaster 1778 Hand Mixer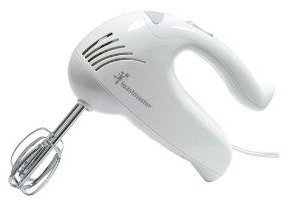 If you are working within a tight budget, you should consider Toastmaster 1778 hand mixer. With a price range of $11 to $20, you will get yourself a great piece of equipment at a great price, which has a special beater ejection feature. The Toastmaster has a well designed handle that is comfortable for holding and also features finger tip speed control. You can use this 6 speed mixer with its 125 watt motor for all kinds of mixing.
Image Credit: https://ecx.images-amazon.com/images/I/31S3XSQMCHL._SL500_AA280_.jpg
4. Dualit 88520 Hand Mixer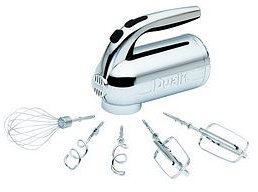 If you are shopping for a commercial hand mixer, then the Dualit 88520 Hand Mixer is perfect for you. It has a heavy duty 300 watt motor that can work longer periods than most other mixers. It provides easy storage, has a great handle that ensures you do not tire when using the mixer for long periods, and is worth every cent of the $80 you will pay for it. It is an ideal buy for those who are running a busy kitchen.
Image Credit: https://www.everythingkitchens.com/images/products/detail/dualit_commercial_hand_mixer_88520-detail.gif
5. Sunbeam Heritage Hand Mixer 3156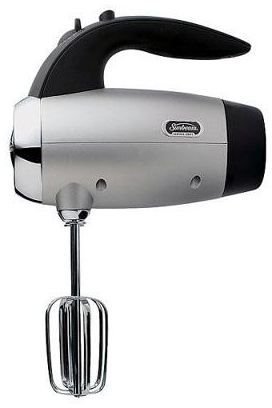 Sunbeam Heritage Hand Mixer 3156 is a showy piece of equipment that will give your kitchen a professional look, especially due to its black and silver color and the amazing storage stand it comes with. A beautiful and powerful tool that allows a firm grip on its open handle and its evenly distributed weight. It has six speed settings and you will find that even at its lowest speed, it does a pretty good job. A good investment of the $40 you'll pay for it.
Image Credit: https://static.howstuffworks.com/gif/productImages/4/9/00000117649-SunbeamHeritageHandMixer3156-large.jpeg
6. Black & Decker PowerPro Mixer MX350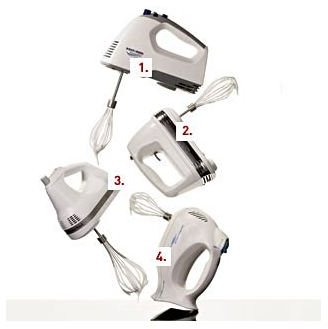 Black & Decker is world renowned for producing high quality home appliances and it has not disappointed with this one. You can buy this home appliance which is a light weight mixer that is powerful enough for all kinds of mixing and blending. It has five speed settings with a power boost option for use when a quick burst of speed is needed. You will find the head and bowl rests especially useful and they ensure that your mixer does not tip over. A one year warranty is given upon purchase at a retail price that averages around $25.
Now you've got the top 6 hand mixer comparisons packed with features and specs to help you make the right choice!
Image Credit: https://hostedmedia.reimanpub.com/rrmag/everydayLiving/wellEquipped/equippedHandheldMixers.jpg