6 Speed Hand Mixer Buying Guide & Top 5 Recommendations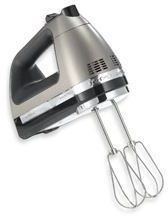 Popular 6 Speed Hand Mixers
Hand mixers come in different colors, styles and speeds but the best ones are 6 speed mixers. This article will concentrate on some of the best 6 speed hand mixers available to those of us who love baking.
KitchenAid (5 out of 5)
This hand mixer is one of the most versatile kitchen mixers as it offers users up to 6 speeds of manual control while its revolutionary DC motor delivers power while using less electricity. The KitchenAid 6 speed hand mixer has a soft grip on its handle for added comfort and finger grooves for more control. It also features a swivel cord so it does not get in the way of the task and a heel rest that will not tip over once put down. Like many other 6 speed hand mixers, liquid and batter may clog the device. The KitchenAid mixer has anti-clogging air vents and an added eject button for easy beater removal. This hand mixer's body and blender rods are covered in brushed stainless steel. It retails for an average of $50.00 and can be purchased at www.bedbathandbeyond.com
Oster (4 out of 5)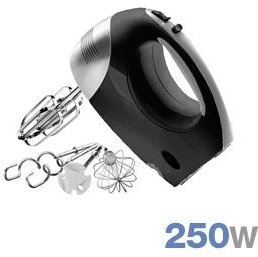 The Oster 6 speed hand mixer is a versatile appliance. It comes with a powerful 250 watt motor which comes in handy with its Burst of Power button. This button gives a sudden and powerful burst of speed once touched for added efficiency. This 6 speed hand mixer includes chrome beaters, whisks, dough hooks and a drink rod for those who have an inkling for creative drink mixing. It is small and compact making it easy to store away and also comes with a retractable cord. You can purchase a Oster 6 Speed Hand Mixer for $25.99
Hamilton Beach (5 out of 5)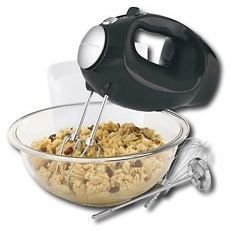 The Hamilton Beach 6 speed hand mixer is able to mix batters, mash potatoes and even whip up a tasty milkshake. It comes complete with several attachments including wire beaters, whisk and drink mixing attachments. This 6 speed hand mixer contains over 280 watts of power and a burst of power option for a quick and short rush of speed. Its lowest setting is best for starting any kind of mixing in order to skip cleanup. It has a hideaway cord which makes storage easy and quick and also features an additional storage case which snaps onto the appliance for storing its attachments. This hand mixer retails for about $26.99 and can be purchased at www.bestbuy.com
Sunbeam (4 out of 5)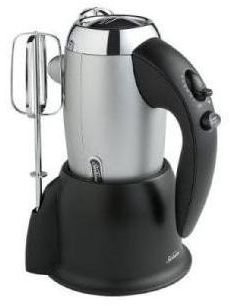 This 6 speed hand mixer offers up to 250 watts of power making its 6 speeds possible. It enables cooks to mix, whisk or just combine ingredients fast and efficiently. This hand mixer features a Burst of Power button as well as chrome beaters and chrome hubcap with the series name and badge at its head. The body is covered in brushed stainless steel which adds a level of elegance to any kitchen counter or shelf. It also comes with a display stand that the mixer fits into as well as an area to hold the beaters and cord. Purchase this Sunbeam 6 speed hand mixer for $20.55
Toastmaster (4 out of 5)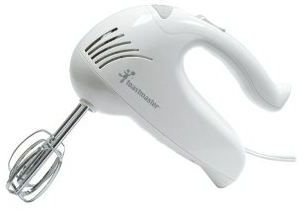 The Toastmaster hand mixer mainly comes in a pure white color and features six speed function for quick and easy mixing. The handle is fitted with a comfortable grip for added control and a beater eject button for quick release of the beaters. It can fold, mix and whisk any mixture of ingredients because of its six speeds. The beaters are chrome-plated for longevity and a convenient cord wrap for easy storage. Needless to say, this is another great 6 speed hand mixer for bakers out there. It costs $14.99 and can be purchased at www.amazon.com
Conclusion
If you are in need of a great kitchen mixer then look no further than any one of these 6 speed hand mixers. Their power allows for quick and efficient mixing without having to worry about the mess, the long wait or the uneven batter.