What is the Best Electric Hand Mixer? Top 5 Recommendations & Buying Guide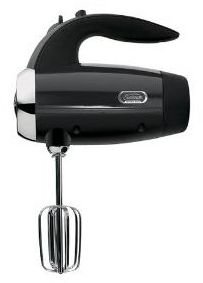 1. Sunbeam Heritage Series 6 Speed 250-Watt Hand Mixer with Vertical Display Stand
Probably the cheapest and best looking electric hand mixer you are likely to find on the market. It doesn't have a lot of extra features, but the 6 different speed settings should be enough to see you through most mixing tasks. Weighing in at 3.4 lbs. it's certainly not a lightweight option, but the soft grip handle is quite comfortable to use. One feature it does have is a "burst of power" function for beating particularly tough areas of mixture in your bowl. It comes with an aesthetically pleasing arc display stand, that will look good on your countertop, but won't take up too much room. The main disadvantage of this model is that the low speed setting isn't that low, meaning liquid mixes like batter get splashed easily.
Currently available for under $30 from Amazon in white, black, and red color options.
2. Cuisinart Power Advantage Plus 9 Speed Hand Mixer with Storage Case
The best thing about using an electric hand mixer rather than a stand mixer is that it is more portable and takes up less space. This little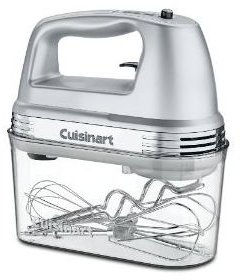 mixer offers a whole host of features for its price tag of $70, including a snap-on storage case - keeping all attachments together and tidied away in one small space. Its 220 watt motor offers 9 speed settings - 3 are low start speeds, to stop splattered mixture or flour clouds. It weighs in at about 3.5 lbs. but is comfortable to use, especially with the one touch speed control with digital display, making speed adjustments easy to make whilst you are mixing. Included in the package is the aforementioned snap-on storage case, beaters, chef's whisk, dough hooks and spatula - making it an excellent model, with more added attachments than any other mixer in our best electric hand mixer top five. A recipe book is also included to get you started.
It is available from Amazon in either white or brushed chrome.
3. Hamilton Beach 62676 Performance Plus 6-Speed Mixer, Black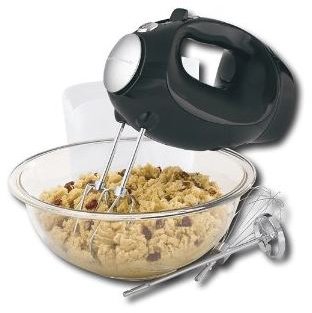 When it comes to the power of the motor, you won't get one much more powerful on a hand held mixer than this Hamilton Beach model. At 290 watts, the motor offers considerable power to your mixing elbow. More power doesn't always mean that a mixer is better, as it's how the power translates into performance that is the real test - this model handles the power to speed setting really well, whilst still remaining comfortable to hold. A mixer with a powerful motor can sometimes vibrate uncomfortably at high speeds, but this model doesn't seem to suffer from this. For $30 (available from Amazon) you get a snap-on storage case, wire beaters, whisk and milkshake attachment. There is also a wind up cord storage, making it neat to store away.
4. Oster 2529-426 Hand Mixer with Storage Case
One of the best electric hand mixers is also one of the heaviest, at a weighty 4.7 lbs. This Oster model does feature a maximum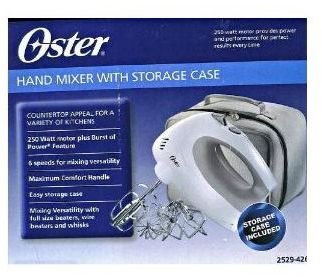 comfort handle to grasp the extra weight, though prolonged usage may well start to tell on your arm muscles. Its 250 watt motor is powerful, but not too powerful. Unlike other models, the low speed start feature works well on this hand mixer. Prices for this model vary from $29-99, so it's definitely worth shopping around, and if you are going to spend in the higher end, then you may want to look at a different model. It comes with a storage case, full size beaters, wire beaters and whisk. The weight of this mixer has the advantage of making it a winner for making bread dough, although repeated use for this job would need a stand mixer, the odd dough job it can handle with ease.
5. KitchenAid KHM7T 7-Speed Ultra Power Plus Hand Mixer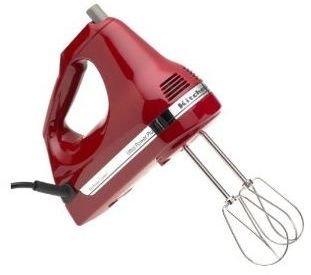 This KitchenAid model has a nice retro look, available in red, black, or white. Although it only comes with beaters, you can buy additional attachments separately (liquid blender rod, dough hooks, whisk) or use KitchenAid attachments you may have already, so it's a good model to try, and then build up your collection of attachments as you go. The thin torque blades on the beaters have no central post, to reduce clogging when mixing, which also makes them easier to clean. It has a respectable 200 watt motor, that puts out 7 different speeds, and only weighs 2.7 lbs. so is easy on your arms, even after a long mixing session. Speed settings are adjusted via a digital touch pad, making it easy to adjust the speed as you mix. An extra feature this hand mixer has over others is an electronic sensor that will adjust speed when it feels it needs it, to accomplish a steady speed. Retails around the $70 mark.
Obviously what justifies being the best electric hand mixer to one person doesn't necessarily mean it will be right for another, so consider what jobs you will be using your mixer for, and how often you are going to use it, before making your decision. Happy mixing!