New Technology Gadgets: Excellent Gift Ideas!
ak Smile G150 Digital Photo Key Chain
Smile! The G150 Digital Photo Keychain has a bright 1.5" screen, fits in your pocket, and holds over 100 color photos on its built in memory. With up to two hours of viewing time when fully charged, you'll always have something to talk about. The manual has clear and easy instructions for both Windows/PC and Mac and is very user friendly. Cropping and editing the picture to fit the LCD screen was a cinch. It has this "Fit Size for LCD" option, where the cropping frame is the exact size of the LCD screen and you just move it over the section of the picture you want. So you know exactly what will show up on the screen.
At $19.95 this little guy is the perfect gift for anyone who wants to show off their photos.
The Socket Sense Advantage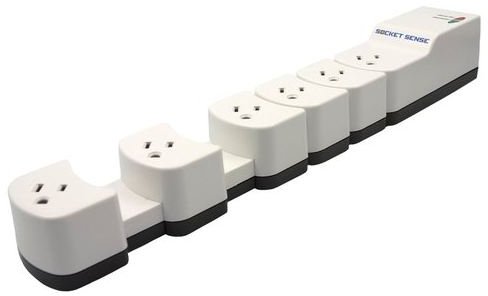 Almost all technophiles, and perhaps everyone with a computer desk, have run into the problem with large plugs not fitting into the sockets. Socket Sense is the first and only surge strip with six fully adjustable sockets that expand and contract to fit any power adapter. Never again will large power adapters cause a logistical nightmare or fire hazard.
· Expands to fit all power adapters
· Angled outlets save space
· Thin design hugs walls and narrow spaces
· Recessed switch prevents accidental power-off
· Saves money by doing the job of two surge strips
· Up to 2160 Joules of surge protection
· Lifetime Warranty
The low price point is $19.99-$34.99 depending on the model selected. This protection accessory is worth every penny and then some. It saves space, it protects valuable electronic devices, and it comes with a lifetime warranty.
Powermat Home & Office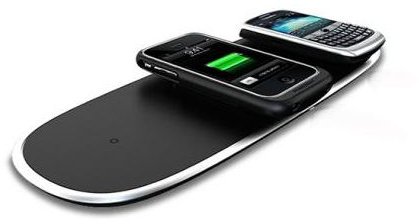 Connect your devices to Powermat Receivers, and simply drop them on the Powermat to charge wirelessly, as fast or faster than the stock power adaptor. A unique sound lets you know a solid connection has been made (an additional sound is heard when you remove your device–both are adjustable and can be turned off), and an indicator light–also adjustable–is displayed while a device is charging. Communication between the Powermat and Receivers allows the mat to give exactly enough power for exactly the right time. When a device is fully charged, power is shut off to that device, so no energy is wasted. If a device is used while on the mat, the system knows it–charging starts up again until you've got a full charge.
Powermat utilizes principles of magnetic induction combined with Powermat proprietary patent-pending technology to safely and effectively provide power to electronic devices. Powermat transforms surfaces like walls, tables, floors and desktops into safe, simple, and efficient conductors of energy. It replaces the need to access multiple electrical sockets for real-time powering and charging of electronic devices. Neat, huh?
· A simple, fast and efficient way to keep all of your personal electronic devices charged
· Sleek, minimalist design that's perfect for home, office, and anywhere else you park your electronics
· Four charging positions–three wireless, and one wired USB connector for charging a fourth device
· Individual tone and light controls; doors sold separately
· Includes Universal Powercube with 8 interchangeable tips (Mini and Micro USB, Apple, Samsung, LG, Nintendo DS Lite and DSi, and Sony PSP)
This one is a bit more pricey than the other new technology gadgets on this list, at $99.99.
Kodak EasyShare M1093 IS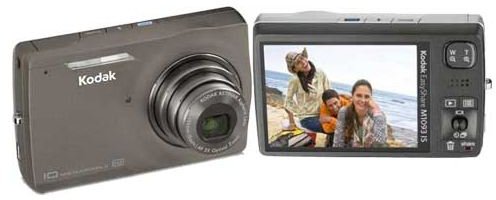 Who says you can't have it all? The Kodak EasyShare M1093 IS digital camera brings the latest picture-taking technology right to your fingertips. With Kodak's innovative Smart Capture feature, it's the take-anywhere camera that does it all–automatically. The Smart Capture feature takes better pictures than ever before. Kodak's innovative Smart Capture feature adjusts camera settings for great pictures in just about any environment–automatically. Intelligent scene detection–detects and analyzes scene conditions. Intelligent capture control–automatically sets camera settings including exposure, focus and ISO for clear, sharp pictures even in low-light and challenging situations. Intelligent image processing–reduces noise and clears up dark shadows for vibrant, crisp details and true-to-life colors.
· 10-megapixel resolution for high-quality prints up to 30 x 40 inches
· 3x optical zoom lens, 5x digital zoom; HD still capture and HD video
· 3-inch wide-angle indoor/outdoor color display; Face Detection
· Optical image stabilization and blur reduction technology reduce blur caused by camera shake
At $125, this is better than your average point-and-shoot camera and makes the perfect gift for a college student or traveler.