A Comparison of the Best Wrist Watch Mobile Phones

Watch cellphones are the ultimate gadget. Remember the old spy movies where our hero would call for help using his watch or take pictures of top secret documents with the camera hidden in his watch? Every boy dreamed of having one and now you can buy one for as low as $80. The wrist watch mobile phones of today are equipped with touch screen, video camera, radio, dual SIM, Bluetooth connection, WAP, GPRS, GPS and expansion slot for Micro SD memory cards. Most of them are manufactured in China. Shown here are the top 10 wrist watch mobile phones.
10. Avatar ET-2
This watch cellphone was made after the movie Avatar. It has an odd name but don't let this fool you. This is a powerful wrist watch mobile phone featuring Dual SIM dual standby (using two SIM cards at the same time), built-in Compass, 1.33 Inch touch screen, support extend card up to 8GB, Polyphonic / MP3 ring-tone, 3GP / MPEG4 recording and playback, 0.3 MP camera, Bluetooth, WAP and GPRS.
9. G2

This is a water resistant watch phone. It has 1.5 inch TFT touch screen. Other features are: Bluetooth answering and data transmission, supports MP3/MP4/Record function and a 2GB built-in memory. This version doesn't have a keypad which makes it smaller than the previous wrist watch mobile phone.
8. GD910 China manufacturer

The GD910 watch cellphone has a keypad and trackball and is the first ever key-press QUAD-band watch cellphone. It has 1.55 inch TFT touch-screen, Bluetooth 2.0, FM radio, supports voice dialing, equalizer, four loudspeakers with stereo output, larger volume and good sound quality. It also has 2MP camera, TF slot for memory add-on and video and sound recorder.
7. LG GD910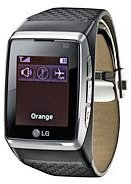 With the model GD910 LG is entering the wrist watch mobile phone market. It has TFT capacitive touchscreen with 256K colors, 3G, 1.3 MP camera, GPRS and EDGE. The LG GD910 is a great watch cellphone but lacks the capabilities of the Chinese counterparts.
6. MQ006

The MQ006 wrist watch mobile phone features a more classic design. But looks can be deceiving. Inside it's full with technology. It features 1.5" Samsung TFT touch screen, supports 2.0 stereo Bluetooth headsets, built-in 850 mA capacity battery, talking time is 2-3 hours, standby 150-300 hours and has a built-in 1.3 megapixel camera. A very nice phone that looks the same as an ordinary wrist watch, but just one touch over the screen and it turns into a peace of technological marvel.
5. MQ007

This MQ007 wrist watch mobile phone is perfect for the ladies. It features 1.5'' TFT touch screen, with 1.30 megapixel camera, supports Bluetooth and W/Bluetooth headsets, MP3/MP4 Player, support TF Card up to 8GB and has language support for Chinese, English, Spanish, French and German.
4. MQ998

Another wrist watch mobile phone that looks just like an ordinary watch. The MQ998 has flat screen design with 1.5 inch TFT touch screen, 1.3 MP camera with video recording, Bluetooth function with support for Bluetooth headset and TF Card Slot for up to 2GB memory. It also has WAP and GPRS connectivity.
3. Q8

This watch cellphone has options like 2 SIM cards dual standby, 1.5 inch touch screen, FM radio, 3GP/MP4/MP3 playback, equalizer and supports Bluetooth stereo output. The Q8 has keypad for easy input and typing and touch pen for writing that is hidden behind the watch cellphone. But let's face it, the screen is too small to write on, so the only use for the pen is to use it instead of your fingers for dialing numbers directly from the screen.
2. W600

There are 3 different colors for this model. Its design is clean, which makes it desirable for a group of people who want to have wrist watch mobile phone but don't want to look like a geek. It has 1.5 TFT Touch Screen, video and photo player, voice recorder and FM radio. It is a Quad band watch phone supporting GSM850/900/1800/1900MHz bands. Built-in 1.3 megapixel camera and language support for English, French, Italian, Portuguese, Spanish, German, Russian, Arabic, English and Chinese.
1. Nokia Morph

This is a concept cellphone by Nokia. The Nokia Morph is the future of all cellphones. The whole phone can be bent in a form of a watch or a bracelet. This makes the phone easy to carry on your wrist. When you want to use the phone, just straighten it up and the whole phone turns into one big transparent touch screen. This technology is still in development but undoubtedly the future of the wrist watch mobile phone. This kind of watch cellphone would be the ultimate gadget and will combine fashion with technology like never before. You can read more about futuristic cell phone in 15 Future Cell Phones.