Compare Digital Voice Recorders: Top 5 Voice Recorders Reviewed & Compared
1. Olympus WS-210S
This digital voice recorder from the house of Olympus is on the top of the list since it is extremely handy for recording lectures, personal notes or interviews.
Memory: It has a non-expandable 512 MB capacity in its integrated memory. Though this limit is restrictive, it can hold up to 130 hours with its minimum quality settings.
Pros
USB cable is not needed
Ease of use
Highly affordable
Integrated with stereo microphones
Cons
Limited memory
Audio quality could be better
Best Price: $91.46 on Amazon
Even with these drawbacks, the model tops the list because you cannot find a better recorder at a comparable price. Except for the limited memory and lack of its ability to play MP3 files, the Olympus WS-210S is quite similar to the WS-331M, which is our next contender.
2. Olympus WS-331M
The WS-331M stands apart from rest of the digital voice recorders due to its ability to play MP3 music files; the voice recording quality is also brilliant.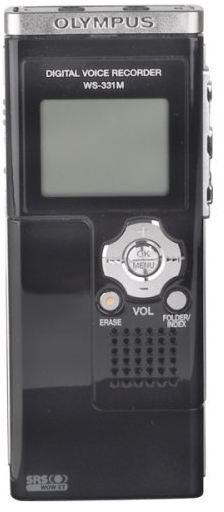 Memory: Though the memory cannot be extended, the integrated memory itself has 2 GB capacity. This can hold up to 556 hours of data in its lowest quality settings and 36 hours in its highest settings.
Pros
USB cable is not needed
Built in stereo microphones
556 hours recording time
Can double up as an MP3 player
Cons
Memory cannot be expanded
Quality of music playback is average
Price: $108.99 at Amazon
The audio quality for podcasts or radio is not good. However, if you are ready to shell out more money, then the third product on our list - the Roland Edirol R-09HR - is an expensive but good option.
3. Roland Edirol R-09HR
The reason for this model being one amongst the top five digital voice recorders is its good audio quality, and ease of use.
Memory: It has built-in flash memory of 512 MB but it has a slot for adding memory cards up to 32 GB. It has a sampling rate of 96 KHz, which contributes to the good sound quality.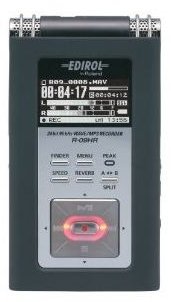 Pros:
Professional audio quality
Ease of use
Memory card slot
Cons:
Best Price: $265.12 on Amazon
The Edirol R-09HR stands out from rest of the competitors in this list due to superior build quality and effortless operation.
4. Sony ICD-MX20
The ICD-MX20 from Sony is rated as the most precise voice recorder for use in combination with Nuance's top-rated Dragon Naturally Speaking voice-to-text software.
Memory: It has a skimpy 32 MB internal flash memory but has expansion slots to hold duo flash memory cards of capacity up to 16 GB.

Pros
Best accuracy with speech-to-text software
Expansion slots for memory
Built-in editing features
Cons
Expensive
Records using proprietary file formats
Best Price: $203.79 on Amazon
The inexpensive Olympus WS-331M is a better choice if you are using Mac OS as this model of Sony uses non-standard file format which is not compatible with Mac.
5. Olympus DS-40
The new DS-40 from Olympus is a professional grade audio recorder with a high sensitivity microphone.

Memory: It has a skimpy 512 MB of built-in memory capacity with 136 hours of recording time at low quality settings.
Pros:
Good sound quality
Long battery life (30 hours playback)
Good for downloading and creating podcasts
Cons:
Limited flash memory
Speaker is placed at back
Price: $182.48 at Amazon
On the whole, this voice recorder is excellent in terms of ease of use, high recording quality and good build. However, it is a bit expensive.