Strap Perfect Review: The Solution for Hiding Unsightly Bra Straps & Why It is Worth the Buy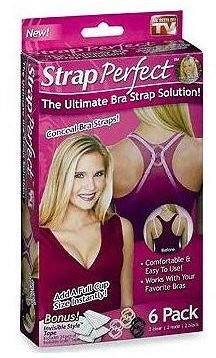 Strap Perfect is an item designed by a company called Idea Storm that was first introduced through "As Seen on TV" infomercials and the Internet. Unlike some other products advertised through these broadcasts and have fallen short on their claims, the Strap Perfect is worth a look.
What is Strap Perfect?
Bras with straps are good for support and lift. However, they can sometimes be a nuisance when the straps show with certain types of tops, or fall off the shoulder at the inappropriate time.
Strap Perfect is a great solution to this problem. It is a special made plastic clip that can attach to bra straps to help move them out of the way.
Does it Work?
The Strap Perfect clip is easy to use. While a bra is worn, slide a bra strap in between the small gap in the Strap Perfect clip. If the bra is worn a bit tight, you may need to loosen the straps slightly. Then slide the other bra strap into the clip. Once both straps are secure, the clip can be pulled down slightly to secure it further causing the bra strap to give a crisscross style appearance.
For most bras, this clip stays in place regardless of how active you are. For me, it has stayed in place during workouts, running, jumping and in normal actions like lifting objects or reaching for things. However, with certain silky types of bras (like those from Victoria's Secret or Fredericks of Hollywood) the clip may slide a little bit.
This clip is great for tank and halter style tops. It is very comfortable to wear. After using the clips for few months, they still work as good as ever. For those of you that are trying to save some money on buying bras too often, it can extend the life of ones you may have that are losing a bit of elasticity in their straps. The Strap Perfect also gives the benefit of a little extra back support along with working like a push up bra and giving the illusion of a slightly larger cup size.
Where Can Strap Perfect be Purchased?
Strap Perfect can be found online through the Amazon.com and other websites, along with other brick and mortar style retailers including Target, CVS, Rite Aid, Walgreens and Walmart. Each set comes with two black, clear and beige colored clips. It costs about $12. Some online retailers may double the number of clips for no extra cost.
Should You Buy the Strap Perfect?
Strap Perfect is worth buying if you are looking for a simple cost effective item that can hide unsightly bra straps while extending the life of your existing bras. The clip is easy to use, and works well with most brands of bras.
Image for the Strap Perfect article was provided by https://www.amazon.com