Toshiba Folio 100 Android Tablet Review: First Look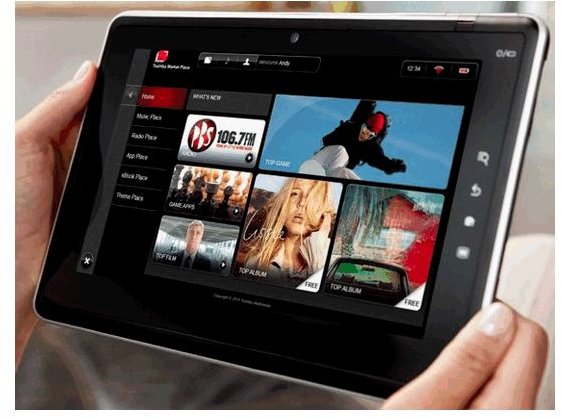 Toshiba Folio 100 Preview
After the deluge of Android smartphones by every major manufacturer like HTC, Motorola, Samsung and Sony Ericsson, LG, Acer, etc., now is the time for Android tablets.
The Apple iPad has had a great launch and has validated the market demand for tablets, so now everyone wants to grab a share of the tablet pie. Now, most manufacturers don't have a tablet strategy ready, so they are trying to whip out iPad clones as fast as they can and slap on a custom version of Android on to it, with a custom UI optimized for larger form factors.
Samsung has already announced the Galaxy Tab, a 7 inch tablet powered by Android 2.2 Froyo which will be launched in September. It will undoubtedly be one of the best iPad alternatives in the near future. Besides Samsung, even Toshiba is planning to launch a new tablet called the Toshiba Folio 100. It will run Android 2.2 Froyo too and will be powered by the Nvidia Tegra 2 platform under the hood.
Despite having a nice design and impressive hardware specifications, the Folio 100 has some glaring drawbacks, like the absence of Android Market.
Design
The Toshiba Folio has a form factor similar to the iPad. It has a 10.1 inch TFT capacitive touchscreen display with a resolution of 1024 x 600 pixels. It will be extremely slim, only 14 mm thick - and looks quite stylish. It weighs just slightly more the iPad - 1.7 pounds, which makes it quite bulky, especially compared to the Samsung Galaxy Tab.
Hardware and OS
The Toshiba Folio 100 comes with some great hardware: it is powered by the Nvidia Tegra 2 platform which offers much better processing power and graphics than other chips. It will presumably have 512 MB RAM and comes with 16 GB internal storage. It also supports up to 32 GB SD cards. It runs Android 2.2 Froyo with Toshiba's custom UI (which doesn't look very good) on top. It won't support the Android Market, which is a deal breaker for many, including me, but Toshiba is going to launch its own version of an App store.
Multimedia
The Toshiba Folio 100 comes with a 1.3 MP webcam in the front which can be used for video calling. It has 2 stereo speakers and a microphone as well. It comes with an HDMI out and will support 720p video playback. It comes with the Toshiba Media Player which allows you to play videos and music.
Connectivity
It offers Wi-Fi 802.11 b/g/n with DLNA and Bluetooth connectivity. It also has a USB port but that cannot be used for reading USB mass storage devices, only devices like cameras. It will come with the default Webkit browser as well as Opera for browsing and Fring for video calls. The browser supports Flash 10.1. There will also be a version of the Folio 100 with 3G.
It has a 1020 mAh battery which lasts for up to 7 hours with moderate usage, according to Toshiba.
Conclusion
The Toshiba Folio 100 is one of the few tablet options we have right now. In a few months, we will definitely see better options. The Folio is priced at €399 in Europe, which seems quite decent.
However, with Android Market support and better specifications, the Samsung Galaxy Tab offers a much better alternative, though it will be priced a bit higher.