Panasonic Voice Recorders Buying Guide: Reviewing the Top 5 Panasonic Voice Recorders

Panasonic Voice Recorders Comparison
The electronics market is riddled with flashy and tech savvy products aimed at drawing in consumers with their low prices and unique design. But only some are worth their price and are of a high quality. Panasonic voice recorders come in many different types. Needless to say, consumers need aid in localizing the few that are worth the price and offer exceptional sound and playback quality.
1. RR-US470 (5 out of 5)
Panasonic's RR-US470 IC recorder boasts that you'll never take notes again. The digital voice recorder features playback and speed control features as well as voice editing and over 130 hours of recording time. The Panasonic IC line from which the RR-US470 derives was made for people who need to record and even edit messages, lectures, interviews and ideas. They were specifically made for voice recording so the sound quality is exceptional whether for personal use or used in a business setting. Most other brands find it hard to offer exceptional sound quality topped with long recording hours but Panasonic voice recorders have found the balance. It also features a handy storage USB terminal for transferring files quickly and easily to a computer and also voice editing software which allows users to cut, paste and alter files for more efficiency. It also allows for a voice recording to be translated into five different languages including Spanish, French and German. Panasonic's RR-US470 IC's best quality is its built-in zoom microphone for those days you may have been late and had to sit near the back. If you are looking for a digital recorder with a great sound quality, long battery life and editing capabilities then the Panasonic RR-US470 line is your best choice.
2. RR-US591 (5 out of 5)

Another great Panasonic voice recorder is the RR-US591. This recorder retails for around $130 and comes fully equipped for portable travel. This product also comes with microphone zoom which can zoom in on specific voices. It comes installed with a noise cut function that searches through unnecessary sounds and hones in on target. This enables the RR-US591 to produce a high quality of sound during playback without the drone and interference a busy environment can give. Additionally, it has a 21 step playback speed control which can be modified by a button on its interface. Old voice recorders zoom past its mark when rewinding or fast-forwarding but the RR-US591 can be slowed down just enough making it simpler to find what you are looking for. Fitted with 4GB of space, storage seems almost never ending.
Please continue on to the final page of this article to discover the remaining 3 of our top 5 Panasonic voice recorders.
3. RR-US551 (4 out of 5)

Next on our list of the best Panasonic voice recorders is the RR-US551. It is great if you are looking for something more compact and not as advanced. It comes with 1GB of internal storage, useful for those who need a recorder for personal usage. Fully functioning with a built-in mic, it also features a jack for an additional clip-on mic perfect for oral memos and lectures. It is shipped with a handy USB cable for quick transfer and uses two AAA batteries.
4. RR-QR230 (4 out of 5)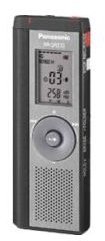 Panasonic voice recorders also come in a wider range of sizes and features like the RR-QR230. This recorder is slim and lightweight, fitting into the tightest jeans and shirt pockets with ease. For added security, this model comes with a security folder in which important files can be placed and secured with a password; perfect for those business professionals who want to keep a good idea to themselves. It also comes equipped with a highly sensitive built-in microphone that can pick up even the quietest of sounds. This digital recorder is for those constantly on the go and are looking for something compact, lightweight and easy to use.
5. RR-US550 (3 out of 5)

Lastly, a simplistic design with simple functions. The Panasonic RR-US550 is a simple recording device for simple personal use. Like the RR-QR230, it comes with a security folder in which important files can be kept. It also has a flash memory of only 512MB, dwarfing it in the shadow of its counterparts. It records for up to 142 hours and has a playback capacity of 45 hours. Rewinding is made easy with its 4 step speed control and an equalizer. Although this recorder does not host many innovations, it is still purchased for personal intermittent use.
Bottom Line
Panasonic voice recorders are amongst the top recorders in the electronics business. They offer exceptional audio quality, capture and playback, are available in many different colors and, if purchased directly from the Panasonic website, may arrive at your doorstep in less than a week. There are many other models to choose from, but the above models are considered top class based on their functions and the features that they provide to their users.