Who Makes the Best, High-Tech Kitchen Faucets? Read our Analysis

Faucets have come a long way. There was a time when faucets were just unattractive knobs and spouts that spewed water from sinks. They were void of style and were merely functional house wear. Nowadays, not only are they functional but they also come in varying styles and brands that makes any room they are in a little bit more stylish, sophisticated and rich. It is the must-have accessory when making a kitchen into a design center. To find out who makes the best kitchen faucets, you should review top brands and compare their styles and prices.
Although the industry is filled with faucet designers, here are a few brands which are considered leaders in kitchen fixtures. American Standard, Kohler, Price Pfister, Delta and Grohe. They are five of the most successful brands to consider when shopping for kitchen faucets.
Delta Faucets (5 out of 5)
Delta has topped the market with their grand and simplistic models and their award winning products. They have built an upstanding reputation amongst their peers, competition and consumers throughout the many years they have been in business. For years they have topped their competitors by staying at the very edge of innovation, creating designs and pairing them with technological advancements. Importantly, their products have graced the market with ease and efficiency in its installation, usage and upkeep. With technological advancements such as Diamond Seal technology, Manga Tite Docking and Electronic Touch their products are guaranteed to last, never leak and are worry free.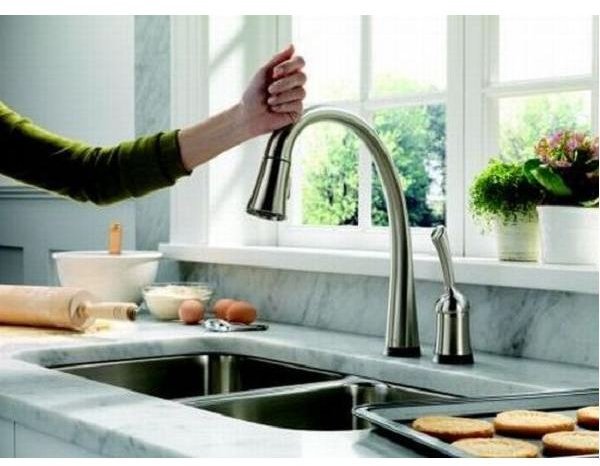 Delta carries pull down or pull out faucets, perfect for getting tough grease out of the corners of pots and pans and for hard to reach objects. You just pull the tip of the faucet out and it's free to move around. They are the developers of Touch²O technology. With just a tap these specialized faucets will turn on and off making it easier when hands are dirty or full. They also offer both single and double handle faucets as well as bar and prep faucets for commercial settings. These unique fixtures retail between $400 and $700 and can be customized to fit any style home and kitchen. Delta's high tech kitchen faucets can be purchased from their online catalog at www.deltafaucet.com or from any home improvement chain.
Kohler Faucets (5 out of 5)

Kohler has been a leader in its class for years providing its customers with durable and operative furnishings. Kohler's faucets are made from zinc die-cast and solid brass, boosting its strength and finishing. Whether renovating an entire room or updating its style, Kohler translates well without being too boastful. Kohler provides its customers with streamline products which are simple to install perfect for those DIY moments. They eliminate the need for hassling tools and expensive plumbers. Because they are made from brass and zinc, these kitchen faucets are resistant to the harsh minerals or tap water. As well as top of the line make, these faucets are fitted with a ceramic disk valve which does not rust or collect debris. Kohler faucets have been utilized in many homes and have been adopted in commercial settings because of their longevity, style and efficiency.
They can be purchased with a list of accessories and functions like a push button, spray head, temperature manager and pause mode. Like Delta and most other faucet companies,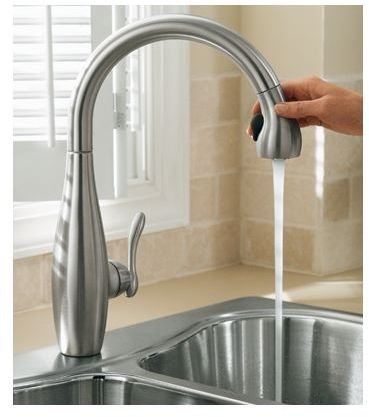 Kohler features pull out fixtures for the kitchen. Kohler also features both deck and wall mounted faucets with interesting and unique styles. One of their most successful lines is the multiple hinged faucets capable of assuming any position it is put in and is perfect for pots or dishes that are maybe too large or oddly shaped to fit just right. These faucets can bend out of the way and spray water from any angle. Kohler faucets range in price from $150 to $700 dollars. Their online catalog can be viewed at www.us.kohler.com and purchases can be made directly from their website.
Grohe Faucets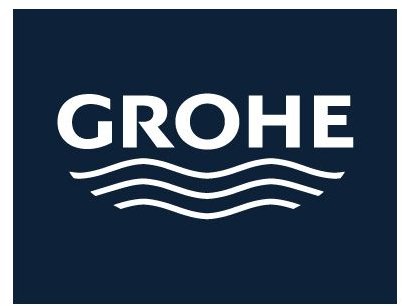 Grohe high tech faucets are mainly European styled and are known for their functional designs and innovative product lines. These faucets are highly priced and are well worth the cost. Their perfect combination of color, style and elegance will upgrade any kitchen. Grohe offers a vast array of colors, styles. Like most of their counterparts, Grohe offers green alternatives to living, with their specially designed faucets and safe water usage technology.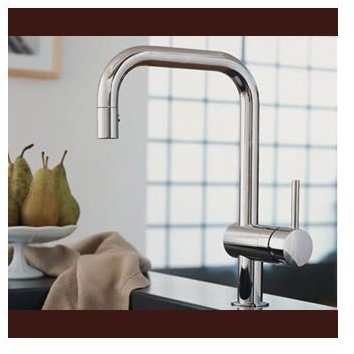 Grohe features pull-out rinsing sprays and spouts that swivel. They also have been built with a larger radius for a far larger surface area of water. Their kitchen fixtures are priced between $200 and $500. Grohe's website (https://www.groheamerica.com) showcases their finest designs which can be purchased at over 50 stores nationwide and viewed at several bath and home showrooms.
Price Pfister and American Standard Faucets

Price Pfister and American Standard are the most commonly used household brands. They have a century worth of reputation and trust that most consumers flock towards. With their wide array of styles, colors and finishing, and at a relatively cheap price they are able to serve all their consumers regardless of class and budget. They are both durable brands with designs that accent a kitchen beautifully. Both have applied several innovative design concepts and technologies to their products, producing durable and exquisite high tech kitchen faucets.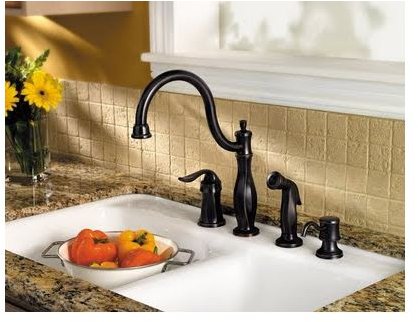 Price Pfister offers very bold yet traditional styled faucets with single controls in varying colors. They retail between $100 and $300.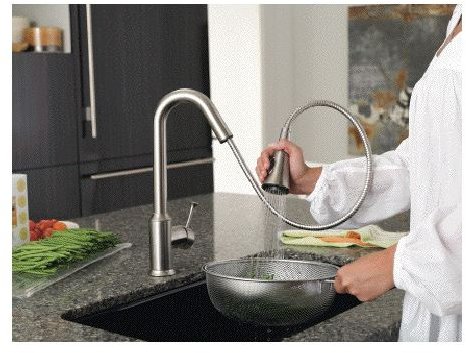 American Standard, like its counterparts feature pull-out and swivel head faucets and stylish wall mounted fixtures. Both companies offer plenty of accessories like spray washers and additional handles. American Standard offers faucets as low as $50 and as high as $300. Both can be found at most home centers and online at www.pricepfister.com and www.americanstandard-us.com
Bottom Line
Before purchasing any brand of kitchen faucets there are three important things to consider: budget, style and need. Who makes the best high tech kitchen faucets doesn't have to be a mystery anymore. While Delta, Kohler and Grohe offer highly priced designer fixtures, both Price Pfister and American Standard offer great style for a lower cost. Investing in a high quality faucet will pay out for years to come. Alternately, if your budget is low, purchase a faucet that is both functional and durable rather than design. With the right budget anyone can furnish their kitchen with designer, durable and sophisticated hardware. For bang for your buck, many online retailers offer coupons and discounts with purchases, so many consumers opt to purchase high tech faucets at other retailers, such as at www.faucet.com.