Top Five Olympus Digital Voice Recorders

Digital Voice Recorders
The five most popular Olympus digital voice recorders will be highlighted below. Digital voice recorders are becoming a popular commodity as more and more people take their business on the road. It is the ideal way for the people in the corporate world to take notes, record meetings, give themselves digital reminders, and more. This is not a new concept, but thanks to digital technology, the use of tapes is no longer needed; you can now record audio and transfer it to your computer if you wish. This way, you can store recordings on your PC and still have the device ready to record another meeting or other notes at a later date and time. There are many brands of digital records on the market today, but Olympus seems to be one of the top choices for corporate consumers.
Olympus LS-10 PCM 2GB Digital Voice Recorder (5 out of 5)
This is one of the most talked about Olympus voice recorders and that is because the LS- 10 is considered a professional audio recorder because of the high quality that it emits. It is bundled with a computer software which is made to aid in audio recording and production. This software is much appreciated by professional musicians on the go, but do not think for one minute that it purely serves that purpose. That feature is just an added bonus for the persons who will appreciate it. This Olympus digital voice recorder is equipped with 24 bit/96 KHz linear PCM recording and its minimal noise and highly sensitive microphones will capture every sound for clear, sharp quality recordings. What makes this LS-10 so great, is the fact that you can record your sounds in different formats so that you do not need to convert them if you plan to use it elsewhere. It accepts the most popular audio formats such as, MP3, WMA and WAV; you can play them back with the device as well. Another reason that makes it ideal for professionals is the fact that it hosts a 2GB local memory and allows for SD expansion. This is a good recorder for any professional; just remember that the price will reflect its features.
Olympus DS-61 Digital Voice Recorder (4 out of 5)

This is one of those all purpose Olympus digital voice recorders; it is great for professionals and everyone who may just have the need for a voice recorder along with some extra features. You can actually use it to podcast as well as record meetings or lectures. Even if you simply want to listen to music, it will perform that function well for you too. The Olympus DS-61 Digital Voice Recorder has three modes of recording in stereo and three modes for recording in mono. Additionally, you have a microphone that can be detached, which is highly sensitive so that your recordings are of great sound quality. It even supports surround sound and comes with 2GB internal memory, which provides over 500 hours of recording. It also has a podcast function that allows you to save where you are if you weren't finished listening so that you may go back to it later.
Olympus WS-311M Digital Voice Recorder (4 out of 5)

This model is in the top five because of its glorious features and the fact that it is equipped with a built-in microphone. The price also plays a part in its popularity. All Olympus voice recorders have generally good quality and nice features, but the WS-311 took it to another level with its ability to set up index marks within a file as well as the ability to determine the speed of playback. In addition, it has voice filtering which is not a new feature, but it's not often found in recorders of this price range. File transfer is easy, because you only need plug in your USB cord into the device and the computer and go. The memory is not as extensive as the other mentioned Olympus digital voice recorders, but it has 512MB and that is good for anyone with a budget but still needs a good quality recorder. It records and plays MP3 and WMA files, which are the most popular audio formats currently.
Olympus WS-210S (4 out of 5)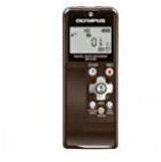 This is also one of those Olympus digital voice recorders that are great for anyone who is stricken by the economic crises. It has a 512MB built in memory which will record over 130 hours of audio. It is a compact device that makes it ideal for all those quick moves that requires you to be on the road a lot but still have a need for a recorder. Some people don't believe the audio quality is as good as the other Olympus voice recorders, but they will agree that there will be no other recorder that is better than the Olympus WS-210S at the price range that it is going for.
Olympus WS-331M (5 out of 5)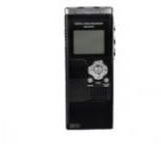 Last but definitely not least on our list, is the Olympus WS-331M digital voice recorder. It stands out because it can also be used as an MP3 player and the fact that the recording quality is truly amazing. While it does not feature an expandable memory slot like the others in its class, it already comes equipped with 2GB of built in memory that will allow up to 556 hours of recording. You must remember that most digital recorders will list their recording times based on the lowest setting. You do not need to walk around with a USB chord for this one because the USB jack is already built into the recorder; you can simply plug it into your computer, whether it be a PC or a MAC.