Nook vs. Kindle vs. iPad: Different eBook Readers for Different Folks: Nook, iPad and Kindle Compared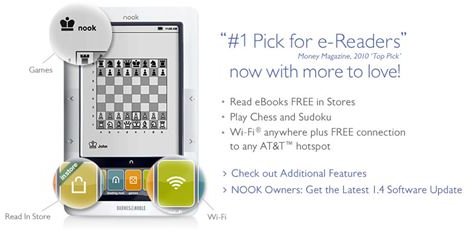 My first reaction to the iPad being touted as the eBook reader to end all eBook readers was skepticism. While the tablet is not the most expensive eBook reader out there (iRex and others have heftier price tags), it is not cheap, and doesn't have some of the capabilities that much cheaper eBook readers do have.
However, I have been following the iPad eBook reader forum on mobileread.com, and reading posts there has given me a different viewpoint. For some users, the iPad does make a good eBook reader choice - when they have other uses for the iPad as well.
Compare Nook, Kindle & iPad
In the first two articles in this series, we looked at the Nook features, Kindle features, and the differences between them. The Nook or Kindle are both dedicated eBook readers, with e-ink and features which are meant to make reading easy. The Nook and Kindle have pros and cons, but both can provide an excellent reading experience.
However, both the Nook and the Kindle have proprietary formats, which are mutually exclusive. For a proper comparison of the Nook, Kindle and iPad review, the reader should keep in mind that there are now apps for the iPad, for the Kindle and Nook. Kindle for the iPad gives you the functionality to read everything you buy from Amazon on the iPad, and the B&N reader for the iPad does the same for Barnes & Noble content. This does not mean your reading experiences on the iPad will be the same as if you were reading Kindle content on the Kindle, or Nook content on the Nook.
It does mean the variety of books you can read is significantly enhanced.

Each eBook you buy from Amazon or B&N must have the proper app opened before the book can be selected. The iPad does not move smoothly to the correct app to read your book. As multitasking is not an iPad forte, readers who like to read several books at the same time, depending on their mood, may find this frustratingly cumbersome. You can use programs like Calibre to convert different eBook types, and then consolidate most of your books into a single reader app, but that does take some work on your part.
Nook product image, Kindle product image
Kindle vs. iPad
Some quick points about Kindle vs. iPad:
E-ink on the Kindle - which means it can be read in the sun outside.
Backlighting on the iPad - which means it can be read in bed without other lighting.
the iPad has color.
The Kindle is monochrome.
Neither have expandable storage.
The Kindle has 4GB storage.
The iPad has from 16GB to 64GB storage (more on that later).
While organization on the Kindle is not ideal, it is worse on the iPad.
Charging the Kindle can be done on a USB port as well as a wall plug.
Charging the iPad on USB is so slow that it reads as nothing happening, although it is technically possible. Using wall power is the only viable option.
Currently, Amazon has a much bigger bookstore than Apple.
The Kindle is primarily a dedicated eBook reader.
The iPad can do a slew of things - pretty much one at a time.
The iPad has a touch screen.
The Kindle has a qwerty keyboard.
They both have Wi-Fi and 3G versions.
The Kindle is much cheaper.
The iPad can function as a GPS, if you get lost while reading.
Kindle is not charging for 3G usage - iPad requires paid 3G usage.
Kindle DX ($379) product image - 9.7" screen like iPad

Nook vs. iPad
A quick look at the Nook vs. iPad:
The Nook has e-ink and an inch wide color touch screen band - so sunlight is great light.
The iPad has a full touch screen with backlighting.
The iPad has color.
The text portion of the Nook is monochrome.
The Nook has expandable storage - up to 32GB.
The iPad has storage in 16GB to 32GB to 64GB versions.
The Nook has a changeable battery.
The Nook can charge over a USB connection.
The Nook is easier to organize.
The Nook offers the ability to browse eBooks in the B&N store.
The Nook has up to a two week battery life.
The Nook provides free content to Nook owners on a daily basis, if they visit the store.
The Nook allows you to legally loan eBooks.
The iPad has multiple apps which allow it to do much more than read eBooks.
The Nook is a much better dedicated eBook reader.
They both have Wi-Fi and 3G versions.
The Nook is much (much) cheaper.
You could buy a Nook and a netbook for what an iPad costs, and the netbook is much better than the iPad at multitasking and actually getting work done.
Using the iPad GPS function, you can locate B&N bookstores.
Neither have an actual keyboard.
The iPad touchscreen size means using a virtual keyboard is pretty feasible.
Nook product image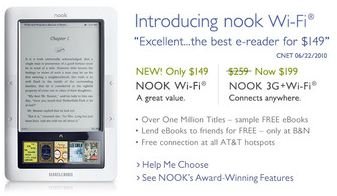 Price (and what you get for it)
Apple doesn't make cheap products, in any sense of the word. While you can be pretty sure the build quality of an Apple product is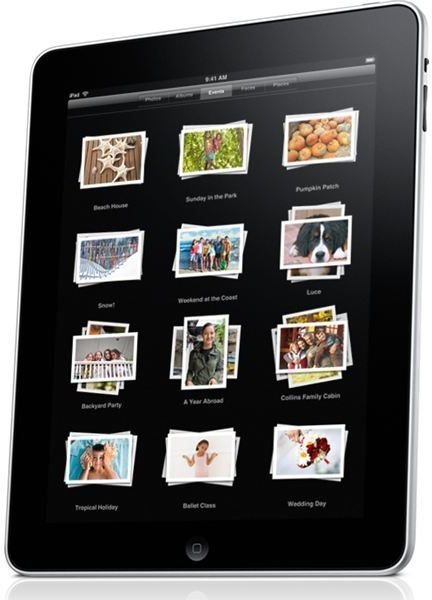 going to be high, Apple is charging for that reputation. They are also charging for their distinctive design, and the iPad is not an exception.
The 16GB iPad with Wi-Fi only is $499. For the 64GB iPad with Wi-Fi and 3G, the price is a bit over $800.
Ouch.
You get a 9.7" diagonal touch screen, with 1024-by-768 resolution, which is as good or better than many netbooks with the same size screen. It comes with a USB dock connector, and a wall charger.
It has a gorgeous backlit screen that means you can read in bed for nearly 10 hours. You will want to prop it on a pillow - because it is nearly netbook heavy, at 1.5 pounds.
iPad product image - apps
Ease of use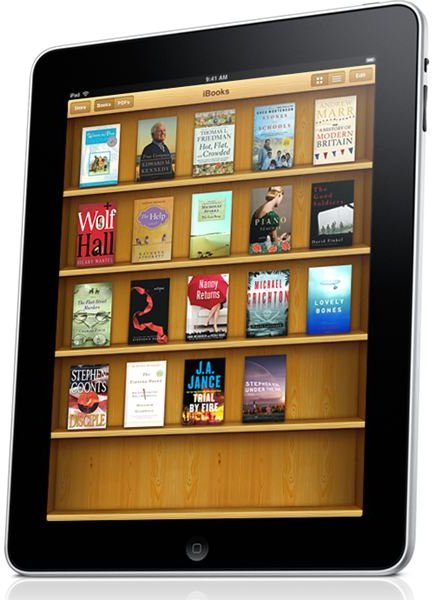 The iPad does have Internet connectivity. And it comes in 16GB, 32GB, and 64GB, and can have 3G. It does not have, however, the iBook application preinstalled. In my book, so to speak, this really means Apple is not taking itself seriously as a "Kindle Killer."
Once you have your iBook app installed, so you can use the Apple bookstore (yes, another bookstore), it is not anywhere as easy to get some books onto your iPad as it is to load them onto either the Kindle 2 or the Nook . PDF use is downright awkward - they must be specifically brought into the iBooks application after being opened in email, if they arrived that way - that is if I understand them correctly from the description on the Apple site, or import the PDF into iTunes, and then into iBooks.
Currently, the iPad books selection is smaller than the selection from Amazon or from B&N (but remember those apps).
It comes with an animation of turning pages - every time you turn a page. It is cute at first, but then you begin to wonder whether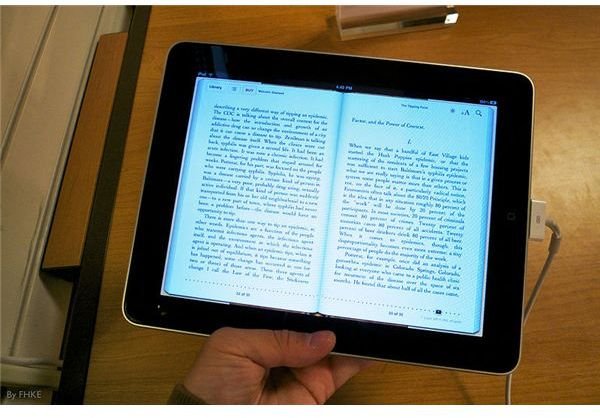 page loading time is affected by the animation, and after a while it just seems silly. Unfortunately, at the moment the app has no provision to turn off the animation. It does not use e-ink technology, so it does not give the excellent imitation of a paper page you have on either the Kindle or Nook.
The iPad was not meant to read eBooks outside. Sunlight on the screen renders everything on the screen almost impossibly faint and illegible. If you have a shady place to read outdoors, then the iPad can function outside with the backlit screen. If you want to read while you are traveling, the iPad can be a really nice platform to look through newspapers, read the latest bestseller, or even look though work documents. It may be the best eBook reader available to look at graphic novels or comics in eBook form.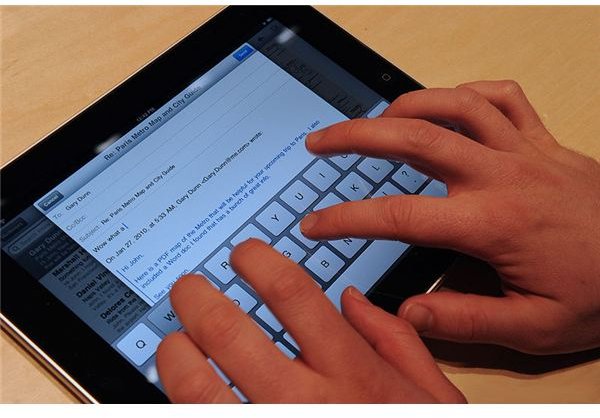 The touchscreen size makes typing on a virtual keyboard easier than it could be, but because you are getting the iPad for more than its ability to read eBooks, it can slow those things down a bit. If you are going to pay Apple for the iWorks apps, you will want to get an external keyboard too. That cuts into portability big time.
iPad product image- iPad iBooks shelf, reading a book on the IPad - Wikipedia image by mewtu, iPad with on display keyboard Wikipedia image by matt buchanan
Geek Life, on ieee spectrum.org reviewed a number of eBook readers this year, and while their article says it is somewhat out of date due to summer 2010 price drops, it does rank readers by rank and value rank. They had editors give comments on their impressions of the readers, and they said about the iPad: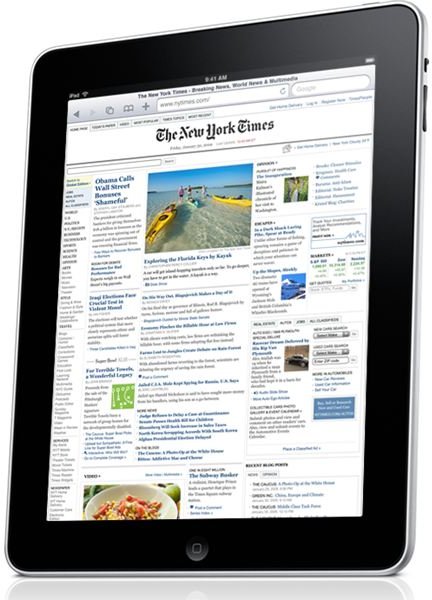 Beautifully designed and a pleasure to use. _—E.G._Love it. _—B.P._I wanted to use it for anything other than an e-reader… mostly watching video or checking out apps. _—R.S.K._Portability sucked! —S.A.
That is a mixed bag - but it does point out some general impressions from other sites as well. Apple's design and build are up to their usual standards. It has a lot of versatility in what it can do besides read books. It is large and unwieldy as an eBook reader- not only not a one-handed reader, but one that you probably want to prop on something else to even use.
Apple fans are going to feel partisan about it. This is nothing new - but users who do not seem to be automatic Apple fanboys (or fangirls) also have good things to say about it.
Does the iPad do it better? A quick iPad review
It depends on what it you mean.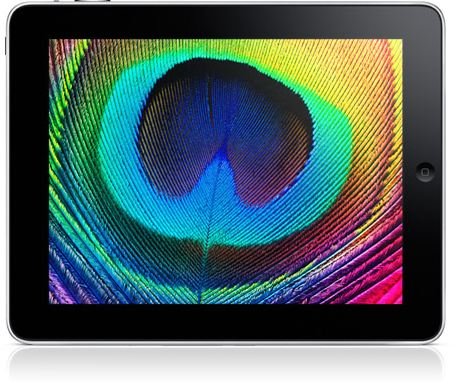 Color. Yes. The iPad has color. With the 9.7 diagonal page size of the iPad, comics and graphic novels may have found their digital home. The single book that comes with the iPad will even show it off, as it is a copy of Winnie the Pooh. If you want to read many illustrated books on your eBook reader, and don't mind your children's fingerprints helping turn their flipbook pages, they will be much more satisfactory to read on the iPad. Until that glossy backlit screen gives you all a headache, much as reading on a laptop or netbook can. E-ink is much easier on the eye, and does not pose any problem while reading outside. Other popular eBook readers also have declined to use e-ink, so it is not an automatic deal breaker.
For a color reader with backlighting, it does have good battery life. Like Apple products in general, if you ever need a new battery, you must send it to Apple to get your new battery - and Apple batteries are not cheap.
It is an expensive comic book reader, and for people who tend to read on a daily basis, the iPad is not the ideal reader. If you do not read constantly, have a use for the other applications available for the iPad, and enjoy Apple aesthetics, the iPad is a very attractive toy if you can afford it.
It has, at the largest size, more storage capability than any other eBook reader I know of (most eBook readers which have SD card capability go to a high of a 32GB SD card). With a potential 64GB of storage, that doesn't mean the high end iPad will run out of book storage space anytime soon, and even the 16GB iPad has quadruple the storage capacity of the Kindle. The problem is, even owners of the 64GB iPad can feel space cramp, because the iPad is used for much more than storing books. Once people move all their eBooks, their audiobooks, their music library, their favorite photos, a few podcasts, music videos and movies onto their iPad - 64GB can fill up fast. Now, since the iPad does let you do many different things, it makes sense to take advantage of that. But it means that the inability to add storage space is as frustrating on a 64GB iPad as a 4GB Kindle.
You do need to purchase 3G service, although you do not have to get a contract. The iPad can function as a GPS, if necessary. New

apps are coming out for the iPad on a regular basis, making it even more multifunctional. There are some serious questions concerning its multitasking abilities, but firmware updates may solve that.
The iPad has its virtues. It may well have a place in your life. Just don't count on that place being your primary eBook reader.
iPad product image- LED color display, Apple iPad product image
Alternatives
If you want a dedicated eBook reader, there are a number of other choices that make more sense, also offer Wi-Fi and browser capability, and are more portable and easier to handle. If you want more than an eBook reader, but enjoy the ability to read eBooks on a more dedicated platform for reading than your laptop or netbook provides, the iPad begins to make more sense.
There are some great alternatives to the Kindle and the Nook out there, as well as the iPad, especially if you have issues with their attitude toward DRM and the books they sell. Bright Hub's Gizmos & Gadgets channel has a great topic on eBook readers, and more articles appear regularly. Keep an eye out for reviews of eBook readers you didn't even know were available. One of them might be your dream reader.
There are some new arrivals on the eBook reader market, such as Augen's The Book, which in some ways is a poor person's iPad.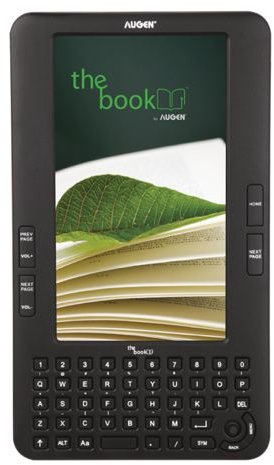 Augen's The Book has color, SD storage up to 32GB, video and music playback, picture storage, Wi-Fi and a browser (slow) and a 7" screen. While the screen is smaller, the video controls are primitive, and the browser is like molasses. In January, it is sold for $99. That makes up for a lot.
While I referred to the iRex and its price previously, news in summer 2010 seem to indicate the iRex is no longer going to be an option in the eBook reader field, which does remove one larger screen alternative to the iPad.
Are you looking for an eBook reader for your child, or to give as a gift? Take a look at the Best eBook readers for Kids to help make up your mind.
Augen The Book site image
This post is part of the series: Compare Kindle, Nook & iPad eBook Readers: Which One is Right for You?
Numerous eBook readers are available now; the iPad is the newcomer people want to see compared to the Kindle and the Nook. We look at the Kindle 2, the Nook, and the iPad, their similarities, their differences, and what those differences mean for the prospective reader. Which is your best choice?