The Four Best Touchscreen Monitor Models On The Market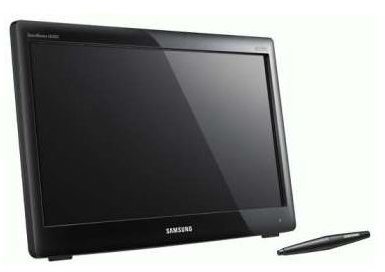 The best touchscreen monitors will be highlighted below. Touchscreen monitors are the future of interaction between people and computers. This technology works by touching or sliding your fingers over the computer screen. One touch has the same result as a left mouse click on the same spot where you've touched the screen. Touchscreen technology goes one step further so that you can use multiple touches or slides to execute a specific command (known as multi-touch).
Samsung LD220Z
The Samsung LD220Z 22-inch touchscreen LCD monitor has a feature called MagicBright 3 that enables seven preset picture modes "Text" for reading and writing, "Internet" for surfing the Net, "Sports" for watching Sports events , "Cinema" for movies, "Games" for playing Computer Games, "Dynamic Contrast" and "User Mode" that is user defined.
This touchscreen LCD monitor has a resolution of 1920×1080 pixels (Full HD) with Multi-touch support, a 70000:1 dynamic level contrast, 5ms response time and equipped with HDMI and D-Sub, as well as 3W stereo speakers.
The Samsung LD220Z is compatible with Windows 7 and Windows XP operating systems, which both have built in support for Multi-touch technology.
Acer T230H bmidh

The Acer T230H bmidh, available at Amazon.com has the biggest 23" screen from all of the models showed here. You can rotate images, flip pages, pinch, and draw on the Multi-touch screen with your fingers. It has a 16:9 wide-screen LCD which delivers a fabulous multimedia experience. Other features are an Interface for HDMI and VGA, Refresh Rate 55Hz-75Hz, 16.7 million display colors and a Dynamic Contrast Ratio of 80.000:1.
Dell 22" SX2210T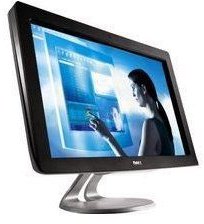 Some of the features of the Dell 22" SX2210T include a 21.5 inches (21.5-inch viewable image size), Wide-screen format (16:9), resolution of 1920 x 1080 and a Response Type (Typical) 2 ms (Grey-to-Grey). It has a built-In 2MP Web-cam. But one of the greatest things that make this Touchscreen monitor more interesting for buyers is the Full Manufacturers Warranty of 3 Years Ltd.
HP Compaq L2105tm

This is HP's first Microsoft Windows 7 OS Certified multi-touch monitor. The Multi-touch technology used in this Touchscreen Monitor recognizes multiple inputs. You can use two fingers or included hard stylus to replace your mouse as you perform common Multi-touch gestures. Rotate position, shrink and enlarge your documents and navigate media rich 3D content.
The basic features of the HP Compaq L2105tm touchscreen monitor are 1000:1 contrast ratio, resolutions to 1920 x 1080, fast 5 ms response time, 170/160 degree viewing angles and 72% color gamut.
The Touchscreen technology within the HP Compaq L2105tm provides an intuitive and instinctive method to interact with Microsoft Window 7 and Windows XP. It also comes with a limited three years parts, labor, and on-site service warranty.
The Touchscreen technology is relatively new, but it's evolving and it has great potential. More and more Touchscreen Monitors are used in an All in One PC's, which combine the Touchscreen Monitor and the motherboard, CPU and Hard Drive into one entity.
So, the result of this comparison of the Best Touchscreen Monitors on the market is a tied between the Samsung LD220Z and the Dell 22" SX2210T. Booth have great design and almost same features with the Dell leading slightly because of its built-In 2MP Web-cam.