Telephone Voice Recorders: How to Choose the Best One for You
Voice Recorders
The gadget world is awash with telephone voice recorders for the potential buyer. Each recorder offers various practical modes and includes some enticing options to work with at competing prices. Voice recorders are highly useful for people in customer service, secretarial and legal professions in order to record telephone conversations. These recorded conversations have a constructive use as they are to be reviewed later for transcription, appraisal and evaluation. Racking your brains to recall what an important client, or your attorney said a few days back, is now a thing of the past. Additionally, telephone voice recorders can also be used for some sneaky personal spy work that you might want to do. Today, both digital and tape type voice recorders are available in the market.
Set-Up and Usage
Setting up a telephone voice recorder to make it ready to use typically takes no time at all. They usually come with exceedingly receptive microphones that can crack even the poorest of telephone connections and network accessibility. The playback of the conversation is thus clear and understandable even with a problematic call span. These contraptions are great, especially for large business houses where telephone recorders are used as concrete evidence for crucial conversations during situations such as legal proceedings. Important calls regarding contracts and the likes can be screened later for important information without posing embarrassing situations, which might include you having to call back your boss or the client.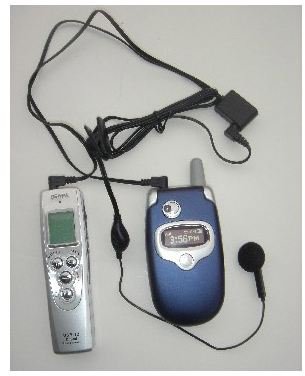 Eye-Catching Features
The telephone voice recorder can multi-task with recording audio footage besides telephonic conversations. It can record memos, classes and seminars, and interviews conveniently and thus can be used as a regular digital voice or sound recorder on your cell phone.
Telephone Voice Recorders can be activated without any great, complicated technological know-how. Just a simple index button allows you to turn on your recorder for long periods of time.
Many have the provision to transfer and download the recorded clips directly into your computer's hard drive by connecting them to various compatible outlets like the USB port.
They are often sleek, handy and fit right into your palm. Many are so small that they can be discreetly slipped into your pockets if that's how you would like it to be.
How to Choose the Best Option for You
A good quality telephone voice recorder need not necessarily be high-end and expensive. Depending on the uses and features you are looking for, a well-informed investment could be a one-time deal that ends up as priceless functionality.
If you have a DSL line, close scrutiny can find you a telephone voice recorder which is attuned to a telephone supporting a DSL line.
If you have an iPhone consider a voice recording app like QuickVoice.
Going for an Olympus, Sony, RCA or Panasonic one, is a choice recommended by technology geeks and expert reviewers.
If you are a tech geek, your options are larger and the cutting edge technology presents every feature of the telephone recorder in smart, well-designed voice recorders like the recorder-pen which looks very much like a regular ballpoint.
Keep in mind certain attributes while hunting for this resourceful appliance such as long recording hours, sound quality, USB connectivity, built-in microphones and heavy duty batteries.
Now, finally, you are all set to enter a world of ease wherein you do not have to fret for not having a pen or the short term memory powers to remember a conversation you had on the phone earlier that day.
References
https://www.spygadgets.com/telephone-recorders/index.htm
https://www.spyville.com/telrec1.html
Image Credit