The Best Samsung Voice Recorders Reviewed
Overview
This Samsung voice recorders buying guide seeks to make you an informed and educated consumer. Digital voice recorders have created a new standard for recording audio; this innovative technology has expanded rapidly in the recent past. Many varieties of digital voice recorders are available in the market today and it's not very easy to choose the right one. It is very important to select a perfect recorder to match your specific needs. Samsung is amongst the top five brands that produce outstanding voice recorders.
Samsung voice recorders are high quality flash memory devices, which can be exclusively used for recording sound; they have superior recording capabilities along with an instantaneous erasing feature and something called easy indexing.
You should be clear about your requirements before picking a voice recorder. You may want to consider aspects like memory, ability to record a voice effectively, backlight, built-in speakers, mic, and other goodies, when choosing a voice recorder. Now, onto the best Samsung voice recording devices.
Samsung SVR-S820 Voice Recorder
This pen voice recorder from the house Samsung is on the top of the list because it has got just about everything right. It is hardly the size of a big cigar lighter, and can be easily carried around in your pocket. This model offers around 233 minutes of recording on SP mode and 502 minutes of recording on LP mode.
It is designed with several interesting features like
- auto switch off,
- digital volume control,
- different folders for saving recordings,
- volume indicator,
- electro-luminescent back light,
- built-in speaker, and a
- recording monitor.
Considering the design, the upper end of the device has a mic built within for recording sounds, a jack for clip-on mic and a jack for an earphone. The recorder works with the aid of two AAA batteries; it has a battery life of 10 hours while recording, and 8 hours of playback time.
The other accessories included in the package are an earphone, external microphone, adapter, voice manager setup CD, two connecting cables (one for phone and one for external equipment), hand strap, batteries, and an user manual**.**
Coming to the pricing part, the Samsung SVR-S820 is priced at around $200, which is quite expensive, but it turns out to be a worthy investment for sure. So, if you don't mind coughing out two hundred bucks on a voice recorder, this is perhaps the ideal pick.
Samsung Yepp VY-H200S Voice Recorder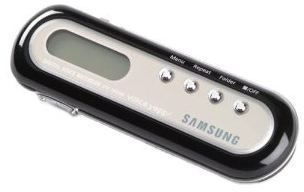 This is a versatile voice recorder, which not only allows you to download MP3 and voice files, but every other file saved on your computer. It backs up as a removable disk drive as all files except MP3 can be uploaded to another computer. It offers a whopping 27 hours of playback.
The highlight of the model is its intro-scan feature which searches quickly through the recorded files. It is also designed with voice editing and emailing feature. It includes a 5 mode preset equalizer and a bass booster too.
The maximum recording time is 27hr 10mins, which is good enough to record several movies, music concerts, and just about everything on this earth! It also comes with built-in Speaker & Microphone, an attractive blue, green, and orange LCD back lighting.
Samsung Yepp VY-H200S has received high customer ratings,and comes loaded with plenty of amazing features. It is highly reliable and you can't simply Samsung voice recorders, isn't it!
You can buy the Samsung Yepp VY-H200S Voice Recorder on Amazon
Other Worthy Options
There are many other worthy Samsung voice recorders such as the Samsung SVR-240 Voice Recorder, and the likes of it, which have excellent recording capabilities, long battery life, and great ease of use!
So, there you have it folks; some of the best Samsung voice recorders, which give a bang for the buck. You may also be interested to take a look at the top rated Sony digital voice recorders