Nook or Kindle? The Differences that Will Fit You the Best
In the first article in this series, we looked fairly closely at the Nook vs. Kindle. Below is a quick recap to compare Nook and Kindle, showing the features they both have, and the differences.
After that, we look at what those differences mean to you as a reader, and why the differences might make one eBook reader a better choice than the other.
So, you have narrowed your decision for an eBook reader to either the Nook or Kindle. They have many of the same features, and the reading quality of the experience is basically identical. This means that the other factors that are different are the reasons you need to consider.
What they have in common
The Kindle 2 and the Nook both use a form of technology commonly called e-ink to render book pages. E-ink gives a very paper like appearance to the words on both eBook readers. It also allows both eBook readers to be read outside, in direct sunlight.

Both eBook readers have a 6" diagonal screen, and adjustable fonts. Both readers allow you to change the size of the font on the page. This, like the ability to cart around hundreds of books, is one of the joys of an eBook reader.

E-Ink does look very much like the print on a paper page. It looks enough like printed material that the fact you are reading on a slim plastic tablet and turn pages with the press of a button becomes completely transparent as you get involved in your story.

Resolution on both eBook readers is excellent. Even in enlarged fonts, the words do not seem pixilated. They both display 16 shades of gray, which allows contrast in pictures you upload or illustrations in books.

They both have internal memory storage, although the newest models of Kindle have doubled their internal capacity.

Both readers have a dictionary which can be accessed while reading.

Neither eBook reader comes with a cover when you buy it.

They both have a 3.5mm jack for headphones, a wall charger, and a USB cable to connect to your computer.

They now are both selling a WiFi only version for less than their 3G version.
Nook product image and Amazon product image
What the differences mean
Because the earlier Kindle had only 2GB internal storage, it was limited to about 1500 books, give or take a few 100, or a lesser number, depending how many MP3 or audiobook files you add. Unfortunately, audiobook files do take up a lot of space, so those who like to listen to their content may hit a frustrating limit of their space. However, Amazon increased internal storage and has released a WiFi-only edition of their reader, cutting the price to $10 below the B&N WiFi-only reader This means, although you still do not have the ability to use external media, you can store up to 3500 eBooks on the Kindle now. The effects of this change does not negate Nook's external storage capacity, but does increase the potential of the Kindle.

You can move content off the Kindle and onto your computer, and Amazon also keeps a copy of every book you purchase from them, which you can download to your Kindle again, if you have removed it.

While the Amazon battery is rated to last for years of recharges, it must be sent to Amazon to have a new one put in.

While most discussions of the Nook say it has a 3.5" touchscreen, you should be aware the screen is just over an inch wide, not an impression you are always given. This means the virtual keyboard on the Nook is pretty small - not really bigger than a smartphone with a keyboard. The Kindle does not have a touchscreen - but it does have a keyboard.

The Nook does not have the same international wireless coverage that the Kindle does. The re-priced Nook has a 3G version available for $199, which makes it slightly more expensive than the 3G equipped Kindle 2.

You can expand the number of books you can carry around on the Nook, or add a number of MP3 files or audiobooks. If you wanted, you could set up multiple micro SD card with themes of books, music and pictures, and change them as you wanted.
On the next page, we look at the points in favor of buying the Nook. On the last page of the article, we see what makes the Kindle 2 the choice you may want.
Compare Nook or Kindle: Reasons to buy B&N's Nook
Barnes & Noble's Nook allows you to have as large a library as you want - completely under your control, as you fill micro SD cards with whatever content you want. That, to me, is important, as music and audio files can use space rapidly, and I am possessive about my books.
B&N recognizes that batteries do wear out and have provided a replacement you can install yourself at a reasonable price.
If you have convictions about the use of DRM, the B&N content you purchase from them is in a protected form.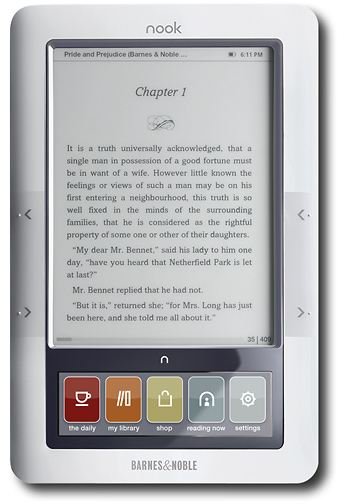 Have you been collecting digital books for as long as they have been available, and Google's new library access has been giving you pleasant dreams about research? Have you read Bright Hub's article on where to get free eBooks? You can put a large micro SD card (oxymoron, anyone?) in and acquire as many books as you want, without the tedious file moving and downloading needed for the Kindle 2.
Do you listen to audiobooks on a regular basis? You can listen to the audiobooks of the Lord of the Rings and all of those Harry Potter CDs you have been collecting on a train bus or car trip across the US, the Canadian transcontinental railway, or even the TranSiberian railway, and not worry you will use up all your file space.
While organizing content directly on the eBook reader is easier on the Kindle, the Nook has the advantage of SD storage. You can set up genre cards, or create theme cards - holiday books and music. You can also set up a card with study materials if you have textbooks in electronic form, and move the card into the Nook when it is time to concentrate on studies.
When you visit your local B&N, take your Nook with you. Turn your Nook's WiFi on, and get the latest book news downloaded to the Nook every day, along with free eBooks. You can also read any eBook B&N has, for an hour a day. If you are a quick reader, you can skim through a lot of content. If you really like to thumb through the books you may want to buy, this option gives you the chance to look at a lot more than the first chapter. It really gives the advantages of brick and mortar stores and paper books to eBooks in an innovative way.
And this, in my opinion, is also one of the more important points about the Nook. If you are a reader who likes to pass on good books to friends or relatives - the Nook will let you send a book as a loaner for two weeks. When that friend finishes, and you have your access to the eBook back, you can then send it to your sister-in-law for two weeks. They have made sharing new, DRM books legally possible. Even if the other party does not have their own Nook, they can download B&N's free app for their computer or netbook, and read on that.
So, if you have a lot of eBooks, or expect to, like to share your favorite books, and want to browse before you buy, the Nook is the eBook reader for you.
Nook product image
Compare Nook and Kindle: Focusing on the Kindle
On the last page of this article, we show you why the Kindle 2 may be your best choice, based on its features.
Nook or Kindle: Reasons to buy Amazon's Kindle 2
Amazon has more eBooks available - currently - than anyone else, and the Kindle proprietary content is only readable on the Kindle. If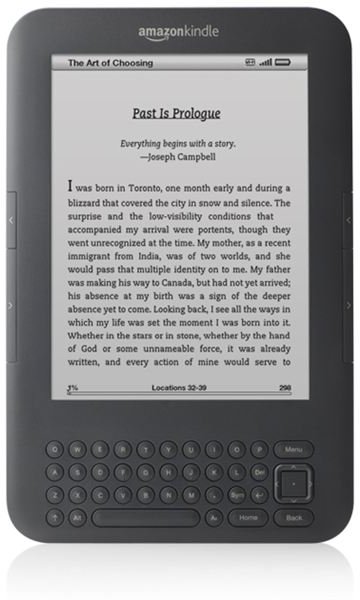 you get a different eBook reader in the future, you will need to repurchase the books you have in Amazon's format. Or, you may decide to stick with all the varied new versions Amazon is sure to bring out over the next few years- in which case you keep access to your books. You do need to have faith that Amazon will stick around and keep track of all your books, since you cannot store more than a specific amount of content on the Kindle 2.
Amazon is actively pursuing reasonable prices for digital content, while there is no such commitment from Barnes & Noble. While publishers are going to be taking a larger part in this discussion, consumers may benefit more from Amazon's stance. Amazon has more font sizes than B&N, though B&N did just add a larger size to their original five. Amazon has eight. Need large print? The Kindle 2 may make life easier for you. You can listen to the Kindle 2 without speakers - although, depending on the circumstances, you may not want to use that feature much of the time. Still, playing an audiobook of the Wizard of Oz in the car on your Kindle 2 may give you happier backseat passengers.
If you travel out of the USA, Amazon makes it much easier to get new content from their store. Download a book in the airport in Canada, and if you are finished, get a new book at the other end of the flight in France. B&N does not name the dictionary they provide. Amazon has made available a very good dictionary - the New Oxford American dictionary, with about 250,000 entries. That includes a respectable number of words I am sure are not in my vocabulary. The Amazon battery is expected to have a very long life, so you will not need to worry about replacement for it for years.
Amazon gives you an email address for your Kindle, and for a small fee, they will convert some types of files to ones you can read on the Kindle. You also can read MS Word documents (.doc and ,docx) on the Kindle 2 - a lack that really surprised me on the Nook. If you will be looking through a lot of MS documents, this may be very important to you.
Amazon has been working the kinks out of their eBook reader for quite a while, while B&N still has a way to go, although they are progressing with updates quite regularly.
If only Amazon would get their act together and let their readers have expandable storage. Some real control issues there. However Amazon has made some changes to the most recent version of the Kindle and it now can hold 3500 eBooks in internal storage - the amount left after 4GB of internal storage allocates space to the software needed to run the Kindle. This is a definite improvement but does not equalize the advantage of the Nook's external storage.
Organizing your Kindle 2 content could be easier than Nook content - especially with a new collections feature Amazon has added. Neither of them handle PDFs as well as could be desired, although I think Amazon is ahead on points right now. Both of them need to work on Landscape mode.
Do you want the latest bestsellers anywhere in the world, at the size font you find comfortable, along with the ability to do some work on MS Word files? Do you think that eBooks should be kept to a reasonably low price, even for new books? Amazon is on your side. For sheer quantity of books available, Amazon has the edge. With the addition of more internal storage you can keep more on the Kindle at a time. If you want to organize, or actually use the post and email feature on the eBook reader, the real keyboard buttons on the Kindle 2 are the way to go. The Kindle 2 has the features you want in an eBook reader.
Amazon product image
Consider what is important to you because there is a definite difference in the utility of the Nook or Kindle. After seeing which eBook reader does what best, we hope you have an easier time when you make your choice. And enjoy reading :D
Alternatives beyond the Nook or Kindle
In addition to the Nook and Kindle, there are more choices; the iPad burst on the scene earlier in 2010. It has an eBook app - and in the next article we will look at how good an eBook reader the iPad can be.
You may also be interested in looking at The Battle of the eBook reader- Which should you buy? and the related article The Best eBook Readers for Kids, for other choices.
For other in-depth articles looking at specific eBook readers, check the eBook reader topic here at Bright Hub.
This post is part of the series: Compare Kindle, Nook & iPad eBook Readers: Which One is Right for You?
Numerous eBook readers are available now; the iPad is the newcomer people want to see compared to the Kindle and the Nook. We look at the Kindle 2, the Nook, and the iPad, their similarities, their differences, and what those differences mean for the prospective reader. Which is your best choice?