Sony Digital Voice Recorders Buying Guide: Overview of The Best Sony Voice Recorders

Define Your Needs
A digital voice recorder has most effectively replaced the technique of note taking during meetings. It is a sound recording device that is used to record speech for a specific amount of time and play it back during hours of need. A digital voice recorder can also be used to record lectures, conversations, conferences, etc. There are several brands of digital voice reorders available in the market and Sony digital voice recorders stand out as the best, owing to the unbeatable price that they are offered at in spite of best and incomparable features incorporated into them. There are Sony digital voice recorders for every need available in the market at an affordable price. All you need to do is analyze your needs and select the best available recorder.
Things to Consider
Before looking at the various Sony digital voice recorders, you need to consider the available features of each recorder as opposed to the required features for the purpose of your usage. The digital voice recording time needs to be taken into consideration. This time should, however, ensure you of a high quality voice recording since as the time is higher, the quality in some cases depletes. Also, the format of files supported by digital voice recorder needs to be considered. The nature of your business may demand that the voice recorder store image or documents as well. Personal computer connectivity and ability to transfer files to the computer by just plugging the voice recorder into the USB port is a must needed feature for most purposes. Additional features such as voice activation, file management or play back features, editing options, voice recorders with individual user IDs in case of shared usage of the voice recorder, etc.
Recommended Sony Digital Voice Recorders
Sony ICD-MX20 is a Sony digital voice recorder which is very accurate and is optimized for use with Nuance's Dragon Naturally Speaking speech-to-text transcription software. It possesses a number of editing options that are not available in many basic voice recorders in today's market. However, it possesses only 32MB and the recorded file format needs to be converted prior to playing the file with Windows Media Player. However, a slot for a memory stick is provided which can support memory sticks up to 16GB. It is a bit expensive as compared to many basic voice recorders, but it is sure worth its money when put to professional use.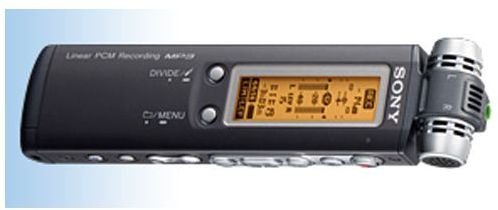 Sony ICD-SX700D is another Sony voice recorder that delivers quality sound recording and has many voice file management and editing features. It is highly versatile and so can be used to create a podcast, play music or even convert your recorded voice file into text since Dragon NaturallySpeaking Speech Recognition software is included. It has large built-in microphones, multiple recording modes and up to 372 hours of voice recording time.
Image Credits
https://www.ulva.com/Online-Store/Digital-Recorders/icd-mx20.htm