6 Cool Kitchen Faucets: The Best Hi-Tech Kitchen Faucets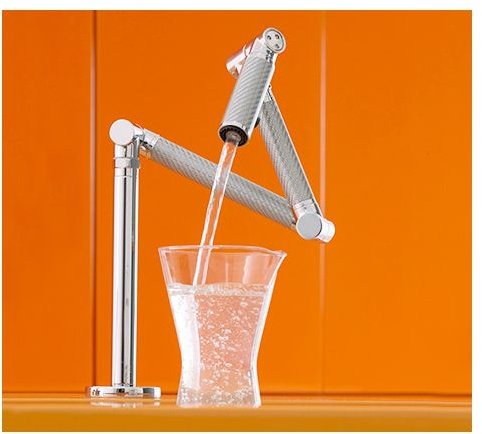 Cool Kitchen Faucets
Give your kitchen an incredible, modern touch by selecting one of these amazing, hi-tech kitchen faucets that are guaranteed to astonish your friends and delight your family.
Kohler Karbon Kitchen Faucets
From the famous house of Kohler comes the Karbon Kitchen Faucet - the equivalent of a Chinese acrobat as it can be twisted into a variety of shapes thanks to its innovative, articulating structure with five pivoting joints, allowing you to direct water in any direction you wish. With contemporary looks and added convenience in the form of hands-free operation, this cool kitchen faucet is bound to make a statement in any modern kitchen.
Illuminated Kitchen Faucet Spot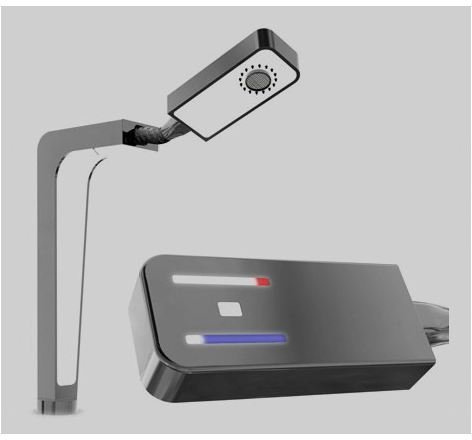 If you are hankering for a really hi-tech faucet for your kitchen, then you need to consider the Illuminated Kitchen Faucet Spot from the Swiss company, Ndwelt. This faucet has an illuminated underside, giving it the appearance of a space ship on your kitchen sink. Nor is the futuristic look out of place as the head has advanced touch-sensitive controls that let you regulate temperature and turn water on and off.
Nomos Faucet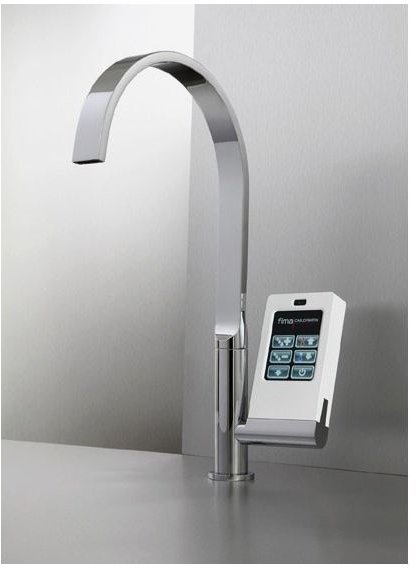 If using a tap for your faucet is too old school for you, how about the Nomos faucet which comes complete with touchscreen control? This incredible hi-tech kitchen faucet from Italian manufacturer Fima Carlo Frattini lets you precisely adjust water quantity, pressure and temperature via easy to use icons on the touchscreen. And thanks to an advanced sensor that warns you in case of failure, nasty kitchen leaks are a thing of the past. This is one advanced faucet that may be smarter than you are.
Flexible Kitchen Faucet Hybrid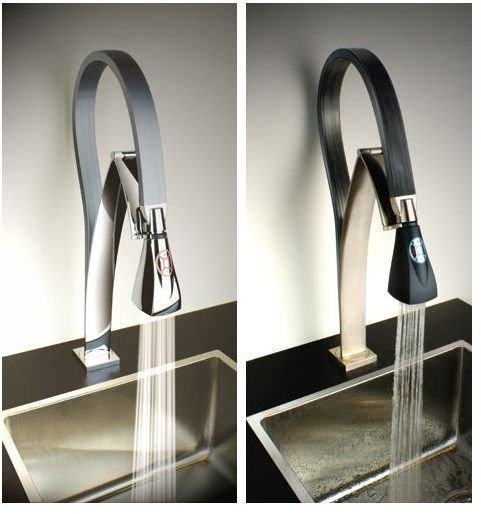 Form follows function in Paini's Flexible Kitchen Faucet Hybrid. A unique and futuristic chromed stand contributes to this stylish faucet's distinctive look and the flattened flexible sprout blends beautifully with the design while offering unsurpassed convenience. A LED dial that turns red when the water is hot and blue when it is cold is another advanced feature that can be found in this amazing looking faucet.
Tac Tac Folding Kitchen Faucet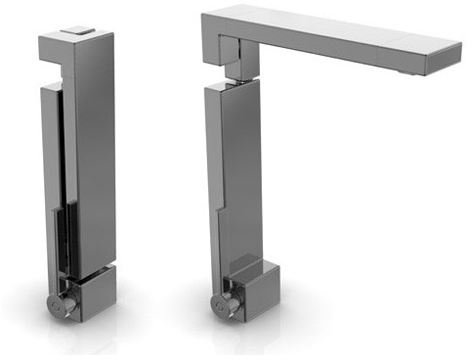 Boasting an almost Zen-like simplicity, the Tac Tac Folding Faucet provides elegance and sophistication to the most crowded kitchens. The Tac Tac has a rectangular sprout that can be folded out when it needs to be used and then tucked away neatly parallel to the base when not in use. This modern fixture's simple geometric lines and slim body enhance its functional, yet ultra-modern appearance, enabling it to be a statement piece in the smallest of kitchens.
Twin Line Drinking Water Dispenser/Kitchen Faucet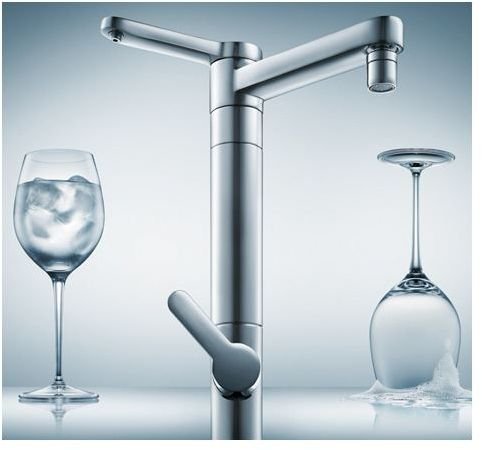 Why have a separate water dispenser and kitchen faucet when you can combine the two with the elegant Twin Line combo from Deca? This stylish, minimalist design features two taps, supplying clean drinking water through one and ordinary water through the other, effectively allowing you to kill two birds with one stone.