Review of 3 of the Best Toaster Ovens: Self-Cleaning Toaster Ovens with Lots of Extras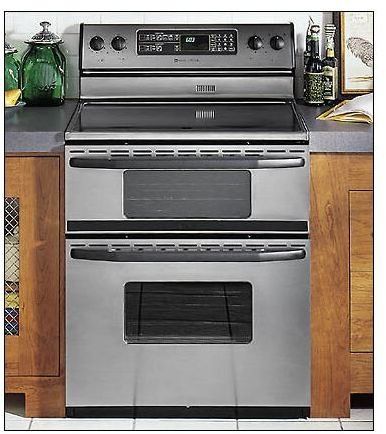 A self-cleaning toaster oven can do a lot of the things that an electric or gas oven can. Some of the different kinds of toaster ovens are infrared, convection, combination, and rotisserie. Here are a few things you should consider when shopping for a toaster oven
Measure Your Space
Image Credit: ky-on-line.com
Toaster ovens come in a variety of shapes and sizes. Measure the space where you want to place the toaster oven. Figure in that you are going to need at least 3 to 4 inches at the back for heat dispersal. Also, if there are cabinets above, make sure you will have about 6 to 9 inches between the toaster oven and the cabinets. Use those measurements to narrow your search.
Does It have Removable Parts?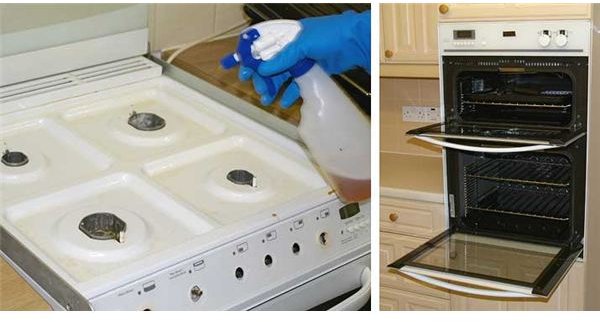 Image Credit: aldwickbay.com
A good self-cleaning toaster oven will come with trays, oven racks, bake pans, etc. If it doesn't have any of these, you will most likely have to spend extra money to get them. The oven rack and crumb trays should be removable for easier cleaning if necessary.
Is it Self Cleaning?
Sanyo, Proctor-Silex and Krups usually do not have nonstick or self-cleaning walls. Self-cleaning walls are important if your toaster oven is going to be used regularly. It's not very convenient if you have to clean it all the time – you may just as well use your regular toaster oven.
Visibility
Make sure the self-cleaning toaster oven has large, clear windows. Even if your oven has a timer, you need to be able to see what is cooking inside. Most people do not find burnt or underdone food tasty.
Functions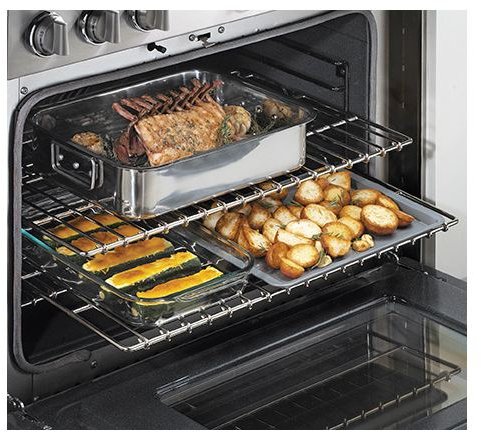 Image Credit: appliancist.com
What do you want to use your toaster oven for? Some models have a convection oven that can cook a whole chicken and bake cookies and small cakes. Some come with broilers for cooking hamburgers and steaks. The simplest ovens allow you to make toast, reheat food and toast bagels. Pick a toaster oven that suits your needs.
Now let's take a quick look at three of the top self-cleaning toaster ovens.
Hamilton Beach 31197R Countertop Oven with Convection and Rotisserie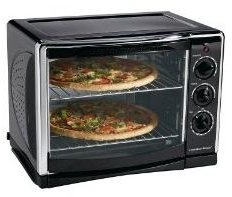 Price: $84.42
With this Hamilton Beach Countertop Oven you can bake, rotisserie or broil your food and it makes great toast. Each rack can accommodate 1 12 inch pizza. It can also fit up to a 5 pound chicken, but the rotisserie seems shaky to some – you might want to try a smaller chicken at first. This toaster oven comes with: a pizza pan; a slide out tray; 2 oven racks; and rotisserie rod, lift and forks.
Unfortunately, Hamilton Beach doesn't offer repair locations or replacement parts.
T-Fal OT8065002 Avante Elite 6-Slice Toaster Oven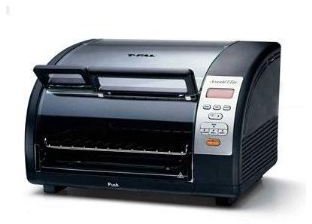 Price: $88.29
This self-cleaning T-Fal OT8065002 Avante Elite 6-Slice Toaster Oven toasts, broils, bakes and warms. It has a separate warming compartment, a digital control panel, self-cleaning interior walls and an automatic shutoff. Accessories (tongs, baking pan and a broiling pan) are included.
One drawback is if you pull out the racks any further than about 2 inches, it starts to lean downward and your food could get dumped. Another problem for some people is that the timer only goes up to 90 minutes.
Cuisinart TOB-195 Exact Heat Toaster Oven Broiler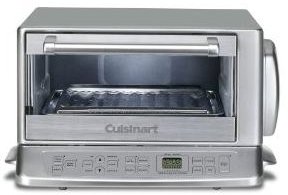 Price: $146.95
The controls for this toaster oven are right below the door, which makes it smaller and saves space. You can bake pizza, make toast, broil meat and convection cook. The TBO-195 features defrost, reheat and bagel buttons. It has a removable crumb tray, but it is in the back. If you are going to buy this oven, make sure where you place it will give you easy access to the back.