Hi-Tech Toaster Buying Guide & Recommendations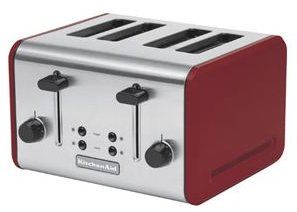 What are Hi-Tech Toasters?
Keep the following features in mind when you search for your ideal hi-tech toaster.
First of all, you have the choice of getting the hi-tech toaster with modern and imposing designs, which has an improved appearance from the original version. It may have a sleek design and a colorful finish.
There are models of the hi-tech toaster that has a built-in egg cooker, that can poach or steam cook eggs to your desired level. There are inclusive instructions on how to make soft or hard-steamed eggs, and an automatic feature pops out the eggs when done.
Some models have big slots to accommodate different breads like muffins or croissants, and this feature makes for more convenience.
There is also the bagel toasting feature which uniformly toasts thick breads like bagels inside and out, without burning the outer part of the bread. Some hi-tech toaster models also have special timers which, other than controlling the toasting time of bread, can also have preset timer options that can commence toasting at your specified time. In order to make life in the kitchen easier, there is also the high-lift lever feature which lifts the toasted bread higher than the ordinary toasters for ease of handling.
Choosing the Right Hi-Tech Toaster
There are some important points to remember when deciding to get your hi-tech toaster. First of all, you should look out for the toaster that gives even toasting, so that re-toasting and repositioning your bread is avoided. The exterior surfaces of the toaster should also remain cool even when in use so that scalding is avoided especially in the case of children. The hi-tech toaster must also have a considerably long power cord so that you can make different positioning and placement depending on your needs.
Because toasters are usually positioned against the wall, it is also important to choose a toaster which has the crumb tray removable from either the front or the sides only, and not at the back, for ease in cleaning. As mentioned earlier, the toaster should also have wider and larger slots to accommodate most types of breads. These are just a few of the many pointers to look after in your choice of a hi-tech toaster.
You may also be interested in reading Infrared Toasters to learn about this type of hi-tech toaster.
Recommended Toasters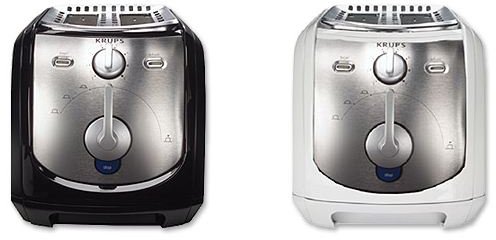 Generally speaking, the Krups FEM2B and Krups FEM4B come out as the best toasters. Consumer testing has proven the good performance of these toaster models. In the best budget toaster category however, the Proctor-Silex toaster is tops, as you can get it for around $20, a surely bargain price. It is relatively durable even with its majority plastic components.
When it comes to the luxurious models, the Delonghi DTT Designer Toaster is the hi-tech toaster to consider. With its high performance, it also serves as a beautiful and imposing décor in your kitchen, and it costs a hefty $80. A lot of these toasters are available at online stores and establishments.