The Best Camping Gadgets to Enhance Your Backpacking Trips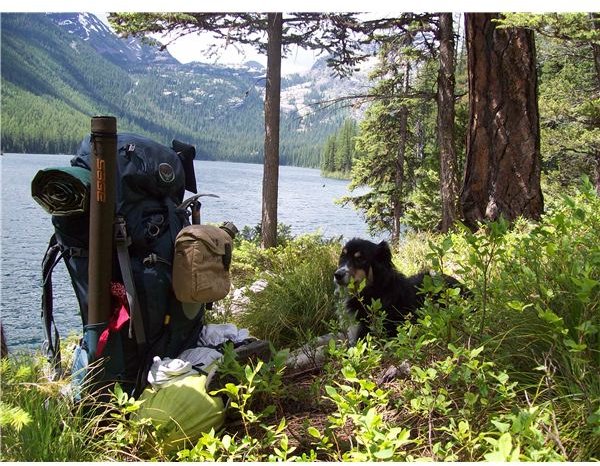 Camping gadgets can come in handy in a variety of situations and settings. They can make your camping experience a little better, easier, and even more fun. Just like the food that tastes better when you're out there, the capabilities of these doohickeys are even niftier when they're being field tested under a canopy of stars, or on the bright blue day. Where can you do your high-country trekking in pristine swaths of wilderness? Read Wilderness Backpacking Adventures in Montana for three great and somewhat secret places to explore.
Princeton Tec EOS LED Headlamp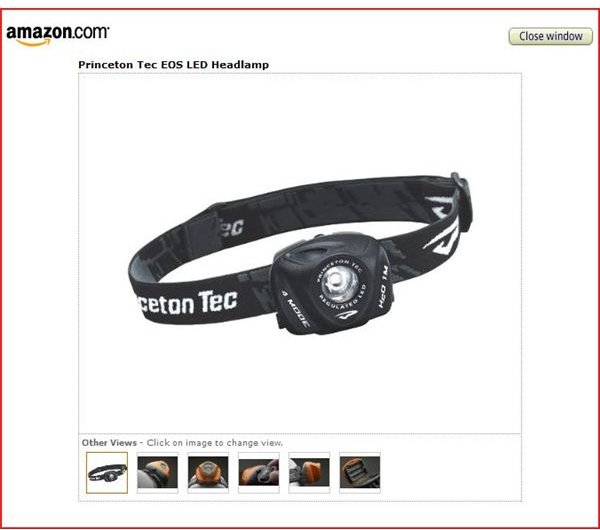 All your other gadgets are useless unless you can see them at night which is why a hands-free headlamp is your ideal camping partner. The Princeton Tec EOS LED Headlamp is available at Amazon.com for $35. It's lightweight a 3.7 ounces, very bright with a 1 watt Luxeon LED, runs off of 3 AAA batteries, and is rugged and water resistant. My favorite feature is the three different brightness settings, so you can read in the tent at a lower level, and don't blind fellow campers walking around. You can't go wrong with a Princeton, other models are waterproof down to a meter and are lighter if you need those features.
MSR Pocket Rocket Stove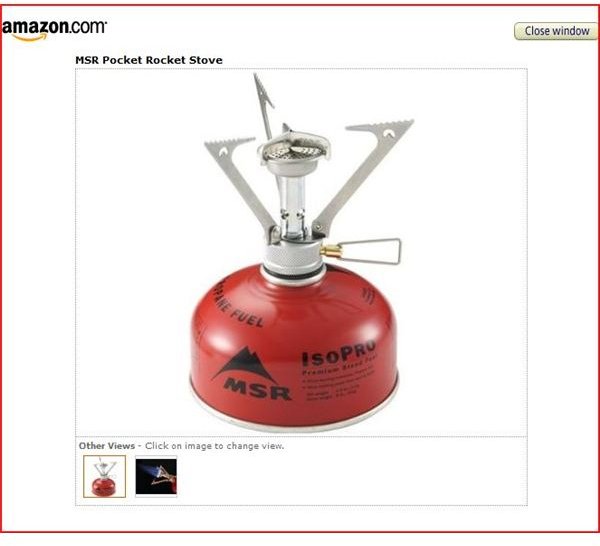 For ease of use, durability, the very affordable price, and the ultra light design the MSR Pocket Rocket Stove, available at Amazon.com, for $40, is the best stove for the money. It boils water in about three minutes, has a seriated, firmly-gripping platform, and runs off a small MSR IsoPro premium propane fuel. There's no priming and pumping white gas mix that tends to get on your hands, and I've used it in five degree, screaming wind conditions with no problems. Car campers don't need such a small stove, but it's ideal for backpackers and day-hikers for hot beverages and meals.
Etón Soulra Solar Powered Sound System for iPod and iPhone (Black)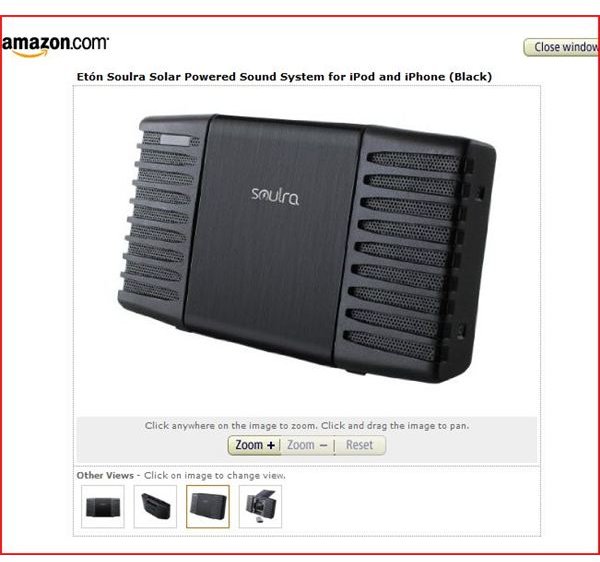 Most definitely a luxury item (and if you don't mind packing extra weight), the Etón Soulra Solar Powered Sound System for iPod and iPhone (Black) for $200 at Amazon.com brings those tunes to your faraway campsite. This nifty gadget is splash proof. It's compatible with the iPhone and iPod and has an audio line input for connecting to other MP3s to playback for 4 hours at mid-volume after the lithium batteries have been charged. We recently took it on a 5-day float trip down the Smith River in Montana, and it was pretty sweet having it in the raft for rowing through slower waters and for serenading us in the twilight hours while washing dishes. Purists would argue against any other sounds than that of nature, but I leave it to you to decide which camp you're in. It's 3.5 pounds but compact. While other solar power products can be sketchy and unreliable, this unit's solar panel performs well.
Leatherman Skeletool CX Multitool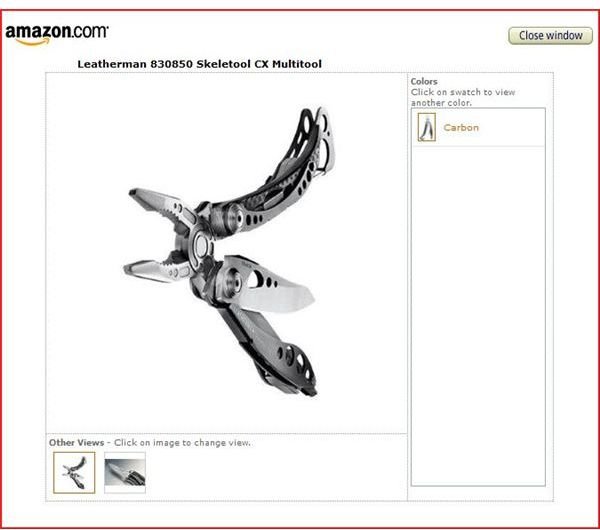 As the lightest multi-tool on the market, the Leatherman Skeletool CX Multitool has everything you need and it's only 4 inches long. It has a large straight, locking blade that can be opened with just one hand. It also features multiple-sized screwdrivers, pliers, wire cutters, a bit driver, and bottle opener. It doesn't have any other superfluous tools which makes it ideal for the backpacker. This versatile and rugged offering from the renowned Leatherman family (every Leatherman has a 25 year warranty) will serve you well. It retails for $95 at Amazon.com.
First Need XL Water Purifier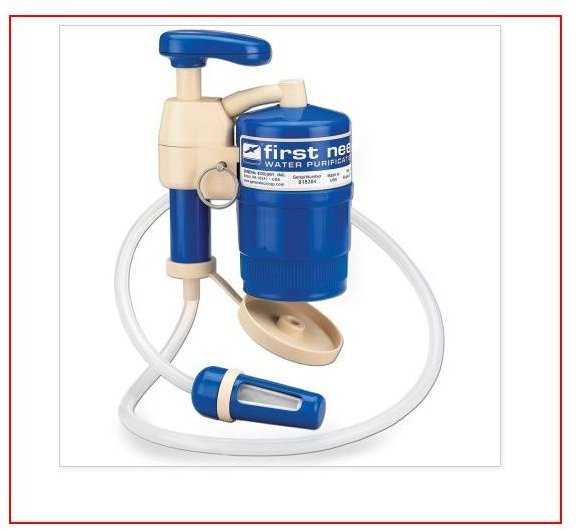 Even if you're hiking or backpacking into the most pristine wilderness areas, you still need to purify your water, or else you risk getting an unpleasant infection known as giardia (thank the beaver and muskrat communities for this). The First Need XL Water Purifier is therefore a must-have camping gadget. It pumps quickly into any water container, keeping you safe from bacteria and viruses, and it weighs in at 16 oz. REI sells one for $112.
The Garmin Oregon 550t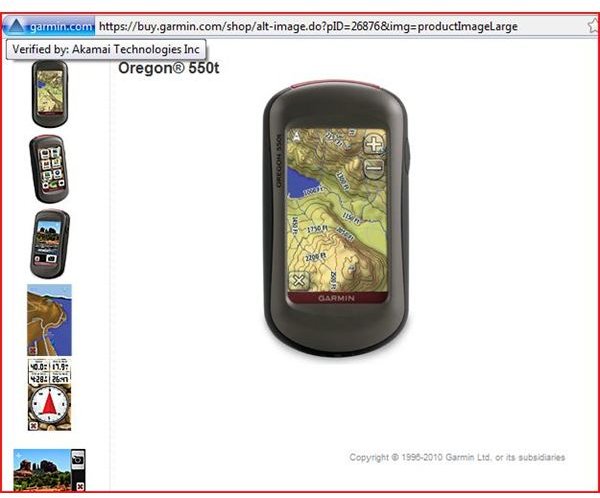 The Oregon 550t is a top of the line GPS device that is ideal for backpackers. Among the many features of this rugged, lightweight navigational device are a 3-axis tilt electronic compass, a barometric altimeter, a 3.2 megapixel camera, and loads of maps that are integral to backcountry travel. At Amazon.com it's currently retailing for $520. For more information, read this review.
Celestron SkyScout Personal Planetarium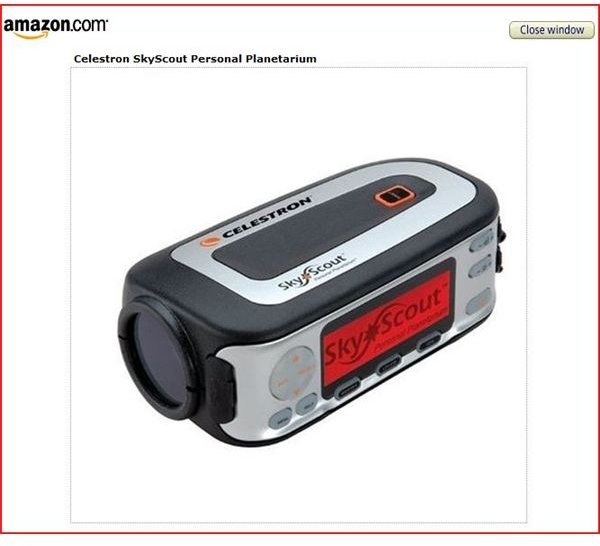 The Celestron SkyScout Personal Planetarium is a really cool item to have around when you're deep in the backcountry and can actually see all of the awe-inspiring, bountiful stars. This device utilizes GPS to locate and identify more than 6,000 stars, planets, and constellations in the night sky. You can insert an SD multi-media card called a SkyTour to get an interactive tour of the heavens above. With audio, visual, and textual capabilities, you'll learn a great deal of interesting facts, trivia, history, and mythology which will make you an amateur astronomer. It weighs about three pounds. It costs $ 212 at Amazon.com.
GSI Telescoping Chef Tools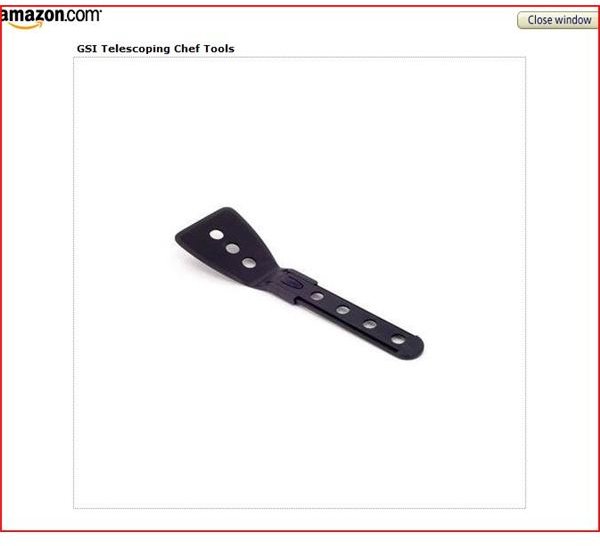 The GSI Telescoping Spatula is just one example of all the space-saving, lightweight cooking utensils that fold or telescope. It's made of high temperature nylon to help prevent melting. This Amazon.com link will show you many other lightweight utensils you can buy. If gourmet cooking is your thing, you'll be pleased at all of the available options.
Whistle Creek Survival Kit in a Sardine Can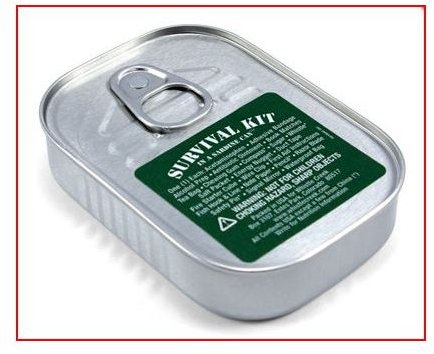 What's the number one rule in survival? Keep your head and don't panic. So in an emergency situation, when you bust out the lightweight, waterproof Survival Kit in a Sardine Can, you'll have the means to amuse and survive all in one tightly wrapped package, jam-packed with useful items to help you through your emergency situation (with no actual stinky, slimy sardines to contend with either). Among the 25 items you'll find a fire-starter, medical supplies, fish hook and line, reflective signals, a whistle, and more. Ten dollars will give you peace of mind and an anti-panic canister at Amazon.com.
Light My Fire Titanium Spork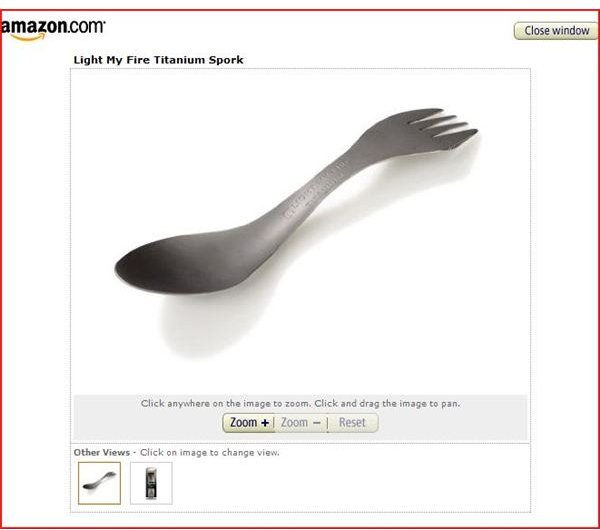 Remember your carefree, elementary school days in the cafeteria with a spork in hand, and a nap and recess in your near future? You can relive those days and get by on every meal with the Light My Fire Titanium Spork. A spoon on one side, and a spork on the other, no meal is too much for a Titanium Spork. This indestructible eating utensil is available at Amazon.com for $14.
There you have a worthy list of gizmos, doohickeys, and gadgets to pack along on your next adventure into the wild. Any of the links provided so that you can easily purchase one will also open a window to many more items of this sort. Whatever you choose, walk well and have fun out there.
This post is part of the series: Great Gadgets for Camping
Looking for nifty gadgets for camping trips that are both useful and intriguing? This two-part series highlights ten items for backpacking campers, and ten selections for car-campers. Beyond utilitarian purposes, these ingenious doodads will also amuse and delight fellow campers.