Top 4 Electric Pepper Grinders: Excellent Kitchen Gadgets to Own & Great Gift Ideas Too!

Why Use Electric Pepper Grinders?
While pre-ground pepper may be convenient, there's nothing like fresh ground pepper to make a tossed salad or a juicy steak taste terrific. Electric pepper grinders make it easy to get plenty of freshly ground pepper quickly, which is great if you love putting fresh pepper on everything. Here are four options for electric pepper grinders, in a range of prices and styles.
Trudeau Gravity
The Trudeau Gravity Electric Pepper Mill with chrome finish is super convenient, and so simple it doesn't even have a button. You fill the mill with fresh pepper and flip it. That's it. It comes with fresh gourmet peppercorns in it, and the grinder is a high-impact, ceramic device that is as hard as steel. In addition to grinding fresh pepper, it can also be used with sea salt and other dried spices. It uses six AAA batteries, which sounds like a lot, but under normal use, a decent set of batteries should last for at least one year. Users love the fact that you can freshly grind pepper one-handed, but warn not to overfill it. You can get it for $19.99 from kitchencollectoin.com.
Peugeot PM20613 Elis
The Peugeot PM20613 Elis Electric Pepper Mill is almost like a sculpture it's so sleek and modern looking. It has a brushed stainless steel finish that's easy to clean as well as beautiful, and there's a viewing window so that you can see when it needs refilling. You just press a button to get freshly ground pepper. There's a light that turns on while it's grinding that helps in measuring, and there are six grind settings, from extra fine to cracked peppercorns. It runs on six AAA batteries and comes with a bag of peppercorns to get started with. It retails for $99.99 from abesofmaine.com.

If you're looking for other electric pepper grinders that light up, check out Battery Operated Salt and Pepper Mills that Light Up.
Orka Electric Salt and Pepper Grinder
The Orka Electric Salt and Pepper Grinder has a ceramic grinding mechanism that easily handles sea salt and dried spices, as well as peppercorns. It has a clear window band so you can see what you're grinding, and a built-in light for precise seasoning, even over a candlelight dinner. It's easy to use and allows one-handed operation. It's powered by four AA batteries. Users advise that you use fresh alkaline AA batteries rather than rechargeables. One handy tip is to leave the bottom lid on when grinding so that you can easily measure out how much you're using, which can be particularly handy for those who must control their sodium intake when grinding sea salt. The Orka Electric Salt and Pepper Grinder is $20.00 from amazon.com.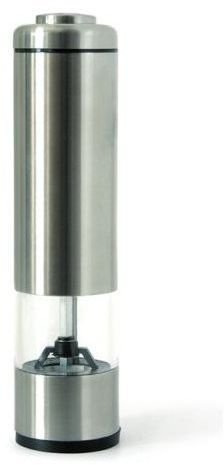 Peppermills Supreme
The Peppermills Supreme from peppermills.com is another sleek and beautiful entrant in the electric pepper grinders category. This one is a little different, because it is rechargeable. It has multiple ceramic grinders for fast seasoning. The chamber loads easily by simply twisting the chamber cover to reveal the loading port. You can adjust the coarseness by twisting the base ring. You can grind pepper one-handed, and this mill has a built-in light, and a "docking plate" to keep it off the countertop. You can get it in red, satin nickel, and black for $39.95.