The Best Cheese Graters: Automatic Kitchen Appliances - High Tech Kitchen Accessories

Cheese Graters: Automatic Kitchen Gadgets
There are a lot of different automatic cheese graters on the market today and this situation calls for closer scrutiny in choosing the appropriate kitchen implement that would address your food preparation needs. With different foods requiring different amounts and textures of the grated cheese, the cheese grater should be able to perform and give the kitchen enthusiast ease and comfort.
The Budget
The first thing to consider is, of course, your budget. Earmarking a certain amount of money can narrow down your choice, but remember, the budget is just one of the many factors in considering the right automatic cheese graters for your many cheese recipes.
The Purpose
You have to determine the specific purpose for your cheese grater. A great portion of this determination has to do with the size of the family, since it will dictate the amount of cheese needed to be grated. It is important to consider which brand to purchase; you have to know which of these brands have been tested for quality and durability. Performance reviews of these automatic cheese graters can be viewed over the Internet, and all it takes is perseverance in searching for these valuable reviews. The last thing you would want is to become a victim of defective equipment.
Look for Bargain Deals
The adage "quality never comes cheap" is not entirely applicable in choosing the best cheese grater. Being an expensive grater does not necessarily mean that it would give you good performance. It would be ideal for you to compare prices and features and try to find out why the cost of these graters are different from each other in relation to its different qualities and characteristics. This would help you come up with a choice that is priced reasonably with its accompanying features.

Performance
The amount of cheese it can grate over a period of time should also be considered. Different graters such as the automatic cheese grater, the microplane cheese grater, electric grater, and the rotary cheese grater, are available for different requirements. Another important item to check is the availability of warranties for the product. Of course, the longer the warranty period being offered, the better it is for the specific item of your choice.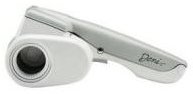 Blades and Batteries
Automatic cheese graters are mostly powered by rechargeable batteries. It is wise to choose, for instance, the grater that can still perform even while it is hooked up in the wall and being recharged. Still another important point to consider is the number of blades the cheese grater has. There are models that have multiple sets of blades in it which can do a variety of tasks from the simple and coarse to the more complex and finer settings in grating, giving you choices of having small or large sizes in grated cheese flakes.