Battery Operated Salt and Pepper Mills that Light Up: Buying Guide & Recommendations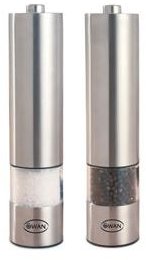 Introduction
These battery operated salt and pepper mills that light up come in many different models, shapes and sizes, but we show here a few of them together with their highlighted features and descriptions.
CD Electric PepperMill
First, there is the CD Electric Peppermill, which is crafted using solid stainless steel and is powered by batteries. This contraption has changeable grinder settings which make you choose from coarse to fine applications. Its sleek design is aesthetically appealing and is easy to use and friendly to the touch. With its dimensions of 2 inches wide and 7.5 inches in height, this peppermill is convenient to refill and can take a lot of peppercorns at one time.
There is a transparent viewer near its bottom so that you can actually see the pepper or salt grains. This is one of the battery operated salt and pepper mills that light up which has one of the highest quality in automatic salt and pepper grinders that have been extensively tested by kitchen experts. It has a flexible ceramic grinder device and a built-in light bulb beneath its base and is powered by 4 AA batteries. A welcome surprise is its lifetime warranty feature for its grinder device.
CD Auto Peppermill Small
Another model is the CD Auto Peppermill Small, which is a smaller version of the stainless steel battery operated peppermill. It also has the flexible settings that can switch from coarse to fine grinding, and a light bulb beneath the base. This small peppermill measures 6 inches tall and 3 inches wide and is made from solid stainless steel. Refilling is very convenient because of its larger diameter and can accommodate all types of salt grains and peppercorns.
The CD Auto Peppermill Small is comparable with the front-running battery operated salt and pepper mills that light up and is considered a very good product that gives excellent value. It has been duly tested to acceptable standards and also comes with a lifetime warranty on its grinder device.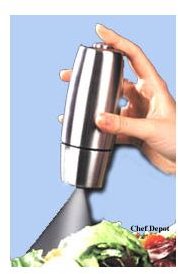 Copper, Brass, Chrome
Then there is the CD Peppermill Copper 404, a rather expensive alternative choice with its sleek copper construction. This item is used in the classy and upscale European restaurants and is uniquely finished with a flexible grinder device. It is handcrafted to assure the durability of its grinding device. The grinding device is also made of ceramic material in order to avoid corrosion. It has a working height of 9.5 inches and this item is exclusively handcrafted in Greece. Its grinder device is also provided a lifetime warranty.
Brass and chrome versions of these specialty peppermills are also available, and like the other battery operated salt and pepper mills that light up, it also has similar features like the ceramic grinder device, the pilot light bulb, and the lifetime warranties.