Plantronics Bluetooth Headset Recommendations: High Quality Bluetooth Headsets by Plantronics
Plantronics - The Brand
Plantronics came up with the initial prototype of small and portable communications headsets back in 1962, and has since been the leader in the manufacture and distribution of these handy communications headset equipment. It is a publicly listed company with its main office in Santa Cruz, California and branches in 20 nations across the globe.
The headsets of Plantronics have been used by the top corporations of the world and have even been actively employed in the moon landing expedition of 1969. The Plantronics Bluetooth Headset is the leading product of the company and has been widely used for home, office, and mobile purposes.
Discovery 975
The Plantronics Bluetooth Headset is available in different models all designed and crafted in the most modern techniques which bring high efficiency and effectiveness to its users. A leading headset is the Discovery 975, a simple yet complex invention, giving you a fusion of beauty and high technology in connectivity with ease, comfort, and clear reception. Its simple design offers single-touch controls, with the technologies of WindSmart and AudiolQ2 in its double microphone feature that sustains crisp and clear audio even in bad weather conditions.
Surprisingly, the double microphone feature picks up your voice and segregates the noise at the background giving you high fidelity calls. The WindSmart technology protects the call with three buffers against noise generated by the wind. The portable case gives recharging features and offers 3 times more power for conversations and waiting time. The ear phones have unique gel construction to fit the ear area.
When fully charged, this headset can last up to 5 hours of conversation time and more than a week in waiting time. Its QuickPair technology gives you the chance to hook up with other Bluetooth equipped phones. But this headset only has a limited one year warranty.
Savi Office
Another Plantronics Bluetooth Headset model is the Savi Office. It is a parallel device, with parallel platforms and parallel applications. This model is considered as the communications tool of the future which has the ability to connect with a lot of communications equipment like computer audio, softphones and desk phones at the same time. The Savi Office lets the caller roam around its base station for up to 350 feet away, keeping communications crisp and clear. This model however, also has a limited one year warranty period.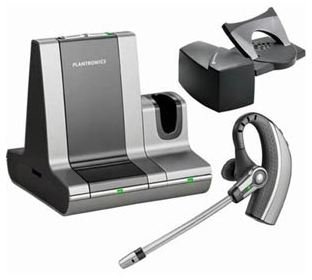 Plantronics Voyager PRO
Plantronics Voyager PRO Bluetooth Headset is another excellent model from the line of the Plantronics. It maximizes its performance by eliminating almost the entire ambient noise when in use. Even if you are outdoors, the conversation sounds like you are in the office because of the great reduction of the background noise. It has a sleek design which gives maximum comfort and ease of use and has up to six hours of conversation time in its power pack.