The Top 20 Laptop Gadgets Worth Checking Out

Laptops are now no longer a novelty, but more of a necessity in today's highly mobile world. Processing powers of most laptops equal those of desktops, in a small, portable package. But even the best laptop can still leave one wanting certain features, like a mouse or better speakers. Recognizing the huge potential in making 'add-ons' to fulfill those needs, there are available accessories and laptop gadgets to fill in specific lacunae. Rounded up are the top 20 laptop gadgets which will take the performance and experience of your laptop ahead by miles.
1. Anti-shock Protective Laptop Bag
I cannot stress enough the importance of a strong, anti-shock protective bag for your laptop. Rather than a laptop gadget, this one is a laptop necessity. There are multiple vendors offering bags of various sizes and having many small pockets to hold a lot of stuff.
Price: Starting from $5 onwards.
2. MicroSD Card Reader
With almost all devices, from your mobile phone to your PDA, MP3 player and digital camera, now using flash memory to store music, photos and videos, the need of a flash card reader is extremely obvious. Most laptops do come bundled with readers for SD cards, but sadly, they do not read microSD cards, often used in mobile phones and MP3 players. This tiny USB microSD card reader is just the solution at hand. This handy USB 2.0 high speed card comes with a protective cap and strap and is very simple to use.
Price: As low as $1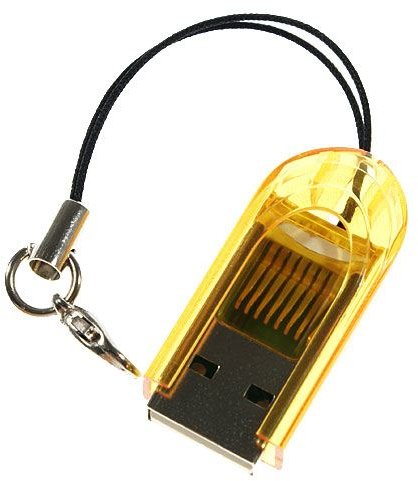 3. DVB-T Digital TV USB 2.0 Dongle with Remote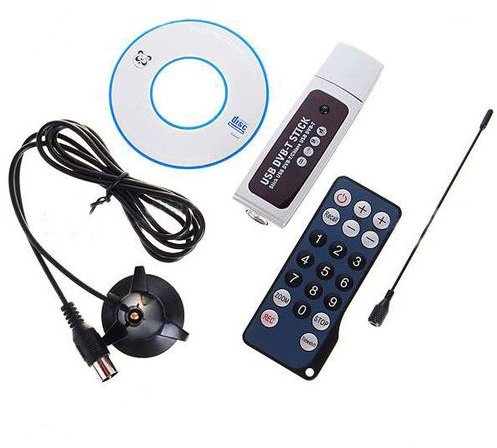 This is a USB powered digital TV tuner card, which can tune to digital audio as well as TV channels. It can be used to watch and record radio or TV programs on your laptop, and also comes with a bundled remote control. Do check the protocol used to air TV signals in your area, as the tuner only decodes DVB-T, and not ISDB-T.
Price range: $12-$15
4. Laptop Security Cable
This is a small laptop lock with either a key or a 4-digit number lock, which fits in the lock port available on most laptops. Another laptop gadget which I'd rather call an essential, this security cable is strong and durable. One should not leave home without this gadget if using the laptop in public areas like cafes or airports.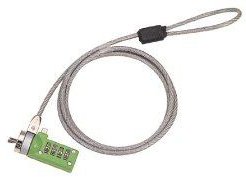 Price: As low as $4.25
5. Car Cigarette Lighter Universal Laptop Power Adapter
The perfect companion on your long road trips, this adapter fits into your car cigarette lighter port and can be used to charge your laptop on the go. There are multiple voltage settings, so you can choose one that's compatible with your laptop.
Price: $12.51
6. JLab Audio B-Flex 2 USB Laptop Speakers
This plug-and-play stereo speaker easily plugs into your spare USB port and has enough power and clarity to put most in-built laptop speakers to shame. An ideal travel companion, the compact and portable JLab USB speaker uses no wires or batteries and provides clear sound using its two 1-watt digital amplifiers. Its unique flexible design means you can position the speakers as per your wish.
Price: $39.95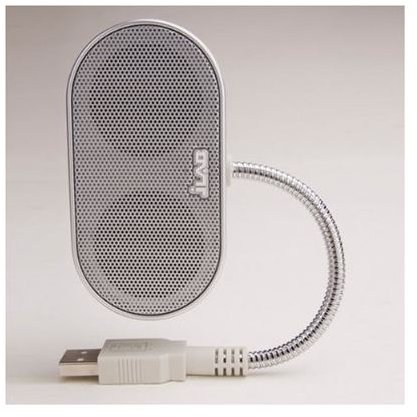 7. Travel Surge Protector and Powerstrip
Useful for those times when you're travelling and don't find enough powerpoints, or are simply unsure about the quality of power being supplied, the surge protector powerstrip serves the dual purpose of providing more points as well as protecting against electrical surges. A life saver for your laptop, I'd recommend you keep one while traveling at all times.
Price : $19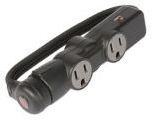 -$40
8. Mini Microphone
If you're a regular user of VoIP or telephony services like Yahoo voice chat or Skype, then you'll immediately appreciate the utility of this nifty little laptop gadget. This Mini Flexible Microphone connects to the 3.5mm port on your laptop and has a flexible cable design for ease of positioning and handling. A steal for the $3 you'll be paying for it!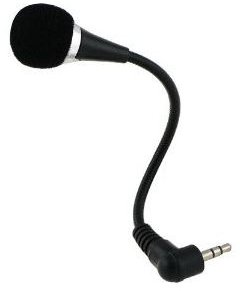 Price: $3
9. Belkin Cush Top
Taking the laptop stand one step further to human comfort, the Belkin Cushtop is a soft cushioned stand which one can place on one's lap, and put the laptop on top of it. The Cush Top provides a perfect flat, slip-free surface for your laptop and also prevents it from overheating or burning your lap. Some Cush Tops also have extra pockets to store accessories in.
Price: $50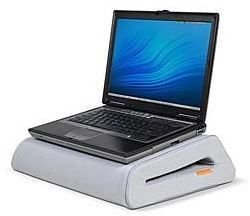 10. Laptop Cooling Fan
Now this is one gadget which I'd rate as a must-buy, especially if you have one of the higher powered laptops which run really hot. Even my netbook gets warm enough to dissuade me from keeping it on my lap. The laptop cooling fan is a USB powered device having a surface on which you can place your laptop, with one or two fans mounted beneath, to suck away the warm air. There are also versions available with one, two or even three USB ports on board. Amazon retails a cooling pad which also sports a card reader apart from the USB ports.
Price range: $8-$15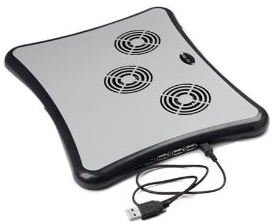 11. USB LED Lights
Just the device for those times when you're using your computer at night and you don't want to disturb everyone else at home by switching on the main lights, this small USB powered LED lamp is sufficiently bright and extremely handy. There are models having three up to 10 LED lights in a single unit. Simply plug it in your spare USB port and it lights up! The neck is flexible and can be adjusted according to one's need.
Price range: $3-$5, depending on the number of LED lights.

12. Microfibre Glass and Screen Cleaning Cloth
Another necessity, this cheap and affordable cleaning cloth is made of microfibre and is ideal for cleaning glass and delicate surfaces like your laptop screen, LCD monitor or TV, touchscreen devices, etc.
Price: $1.80 for a pack of 6.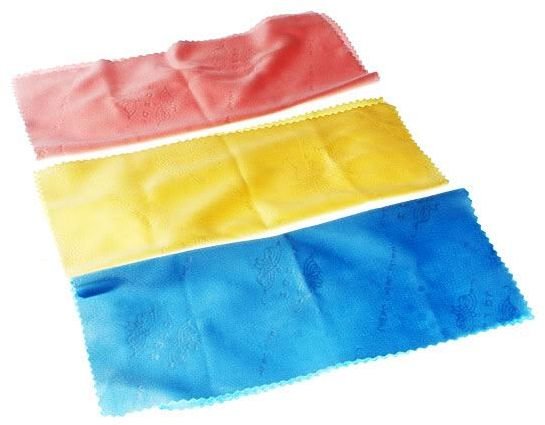 13. Mini Vacuum Cleaner
This USB powered vacuum cleaner is ideal to keep your laptop keyboard clean for dust, finger dirt or food particles that may accidentally fall between the keys. There are soft bristles at the top over the vacuum pores which help in cleaning.
Price: $5-$8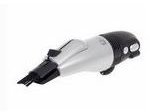 14. Hama 2-in1 Mouse and Numeric Keypad
This smart and versatile laptop gadget solves the two main features almost all laptops lack - a mouse and a numeric keypad. A unique device, to say the least, the Hama 2-in-1 Mouse and Numeric Keypad would soon be the favorite for people who do a fair bit of accounts/number entries on their laptop.
Available at Amazon.co.uk for £25.71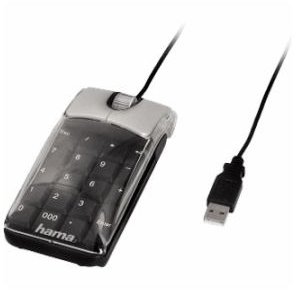 15. USB Portable Hard Drive
Let's face it, the hard drive included in a laptop is usually not enough for one's complete collection of songs, photos and movies. With prices of external hard drives heading south each year, it would be perhaps prudent to invest in one of these little wonders. A compact USB hard-drive, in the 320GB or 500GB range would be lightweight, sturdy and portable. There are models available with or without one-touch backup buttons. Look for a reputed brand like Seagate, Toshiba, Transcend or Western Digital.
Price range: $50-$100, depending on brand and size.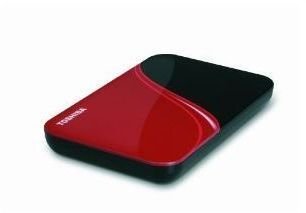 16. USB Hub
As you would have noticed, most of the laptop gadgets on this list are powered by USB, and laptops offer not more than 3 USB ports. The Macally Mini 7 Port USB hub is just the solution for the issue. This simple and elegant hub offers 7 USB 2.0 high speed ports, spaced sufficiently apart yet part of a compact module. This hub comes with an AC adapter too, so that your laptop battery is not drained while powering all those USB devices!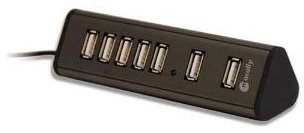 Price: $22
17. Bluetooth Laser Mobile Mouse
Another solution to address the lack of a mouse in a laptop, the Bluetooth mouse uses the built-in Bluetooth connectivity increasingly found in most laptops, to wirelessly connect the mouse, without the need for a USB receiver. This scores over a normal wireless mouse, whose dongle occupies a USB port of your laptop. The HP Bluetooth Laser Mobile mouse is available at Amazon for $43.
Price: $43
18. Bluetooth Headphones

A perfect companion for listening to music on the go, at night at home or within the airplane, the Bluetooth headphone is a perfect laptop gadget that enables one to listen to music without the hassle of wires. Quality of these headsets have improved tremendously and many offer sound quality at par with their wired counterparts. Widely available in a range of brands.
Price range: $18-$120
19. Screen and Keyboard Protectors
Silicone based protective films for protecting your laptop screen from scratches, grease or damage as well as for protecting the keyboard from spills make for a very good investment in insuring your laptop.
Price: Around $20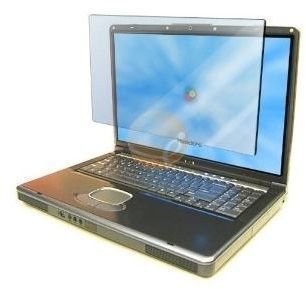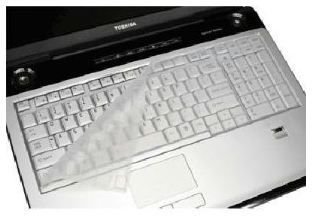 20. Laptop Wrist Rest
And to end with my favorite of all laptop gadgets, the GENII Soft Foam Wrist Rest is a light weight and portable wrist rest that sits on your laptop just beyond the keyboard and provides much needed support for your wrist. This gadget is designed to reduce incidences of carpal tunnel syndrome and other strain injuries. Be sure to buy yourself one, and you'll thank yourself forever!
Price: $14