Ten Funny Kitchen Gadgets that will Make you Laugh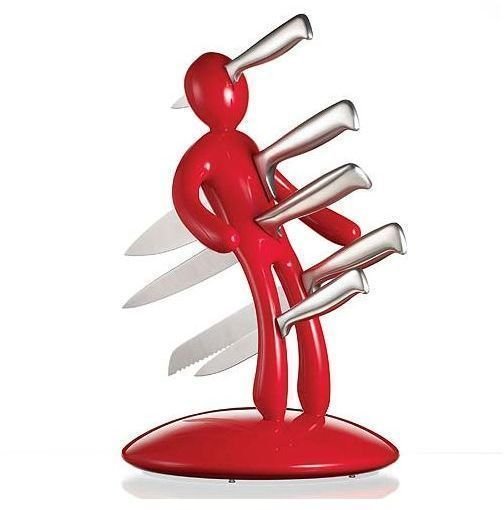 Top 10 Funny Kitchen Gadgets
1. The "Ex" Knife Holder
For the woman who has suffered heartbreak, this knife holder will give you a bit of comic relief. Designed by Raffael Iannelo, it is a plastic man figurine with five knife slots in strategic areas of his body. The stainless steel knives include chef, bread, carver, utility and parer. You can [purchase one through Amazon.com](https://www.amazon.com/5-Piece-Unique-Designed-Raffaele-Iannello/dp/B000IXINLC/ref=sr_1_1?ie=UTF8&s=home-garden&qid=1278020599&sr=8-1/ brihub02-20) for $70.
2. Dog-End Kitchen Towel Holder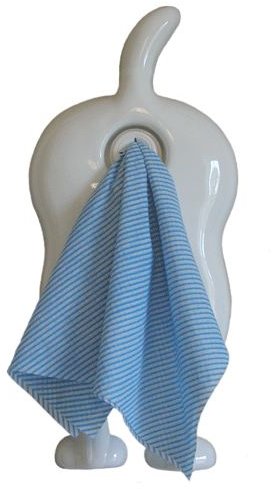 This is one of those funny kitchen gadgets that you will either love or hate. Towels are held secure by the sphincter end of a dog. It can be mounted to a wall by a sticky pad or screw. Size is 13" tall by 5x5" wide. It was created by Slam Design in the UK. You can get a spotted or white colored one. Purchase from PerpetualKid.com for $20.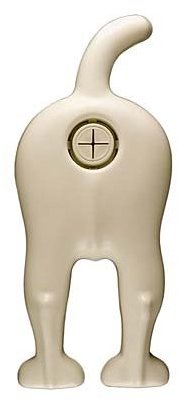 3. Monkey Peeler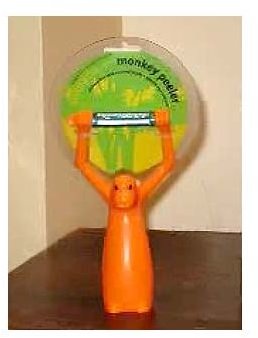 The monkey won't peel any veggies for you, but will watch you as its attached swivel blade and potato eye remover does the work. It is a dishwasher safe item. Buy one through Home Rule.com for about $7.00.
4. Handyman Toothpick Man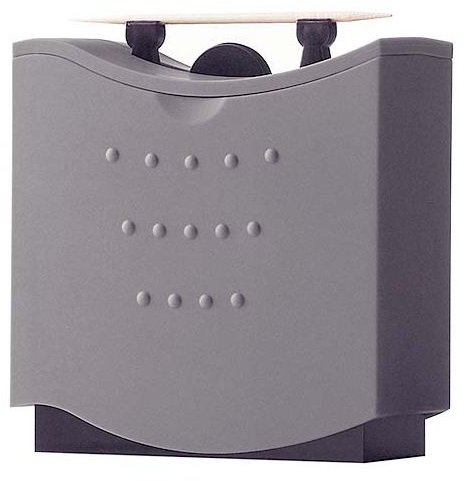 Toothpicks are placed inside this whimsical holder. After the cover is lifted, a mini-man pops and lifts up a toothpick above his head. Size is 3.26" H x 3" W. It was designed by Torben Rasmussen and made in China. Find it at Uncommon Goods.com for $40.00
5. Table Saw Cake Cutter
This is an unusual shaped knife that is suitable for cutting cake and other soft foods. It is plastic and 11 inches long. Find one through the FredFlare.com website for $11.
6. Tea-Boy Penguin Tea Timer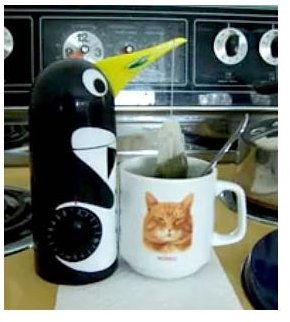 The Tea-Boy is a timer that can be used for tea or other everyday use. This tuxedoed bird dunks a tea bag or ball with its beak into a cup when set for a specific amount of time. When the timer goes off it rings and the bird lifts its beak to lift the tea out. It was made by the KUCHENPROFI Company. The dimensions are 6.9" x 6.9" x 5.7 inches. Buy it through Amazon.com for $30.
7. Pig Cooking Lid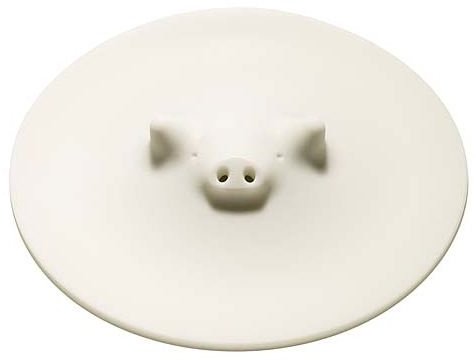 This is a unusual looking cooking lid is made of soft silicone. The pig face is in the center of the lid. Use it for placement on a pot for the stove. This dishwasher and microwave safe lid will not only help you cook food more evenly, it will emit steam through its pig nostrils. Its dimensions are 1" h x 6 7/8" in diameter. This funny kitchen gadget was made in Japan and can be found through MomaStore.org for $18.
8. The Love Toaster
Nothing says "I love you" like toast? The online sellers at BimBamBanana.com seem to think so. The toaster works like any other conventional model except it prints the words "I Love You" as it is being cooked. Buy one through this website for $62.
9. Hog Wild Twirling Spaghetti Fork
For kids who like to play with their food or for the truly lazy, this battery operated spaghetti fork will twirl pasta so you don't have to. Their dimension is 1.2 x 1.2 x 8.2 inches and is powered by two AA batteries. Find and purchase on through Amazon.com for $15.
10. Fred Banana Gripper
Instead of using a boring pot holder, use this banana shaped silicone and heat resistant handle for your cast iron pans. It measures 6.2" wide and 2.25 inches tall. Find one through PerpetualKid.com or [Amazon.com](https://www.amazon.com/FRED-BAHA-Fred-Bananahandle-Gripper/dp/B00143Z6D8/ brihub02-20) for about $7.00.
Image Credits
Images for the Top 10 Funny Kitchen Gadgets article were provided by the following sources:
Dog-End Towel Holder images provided with permission from Slam Design.
The Ex Five Piece Knife holder set image provided with permission from Amazon.com
The Handyman Toothpick Man image provided with permission from Uncommon Goods.com
The Pig Cooking Lid image provided with permission from www.MoMAstore.org.
Tea-Boy Penguin Tea Timer and Monkey Peeler image by Sheila Robinson.