Mini Sports Spy Cam USB Camera Camcorder Gadget: Looking at The MD80 DC Mini DV DVR Sports Video Camera Spy Cam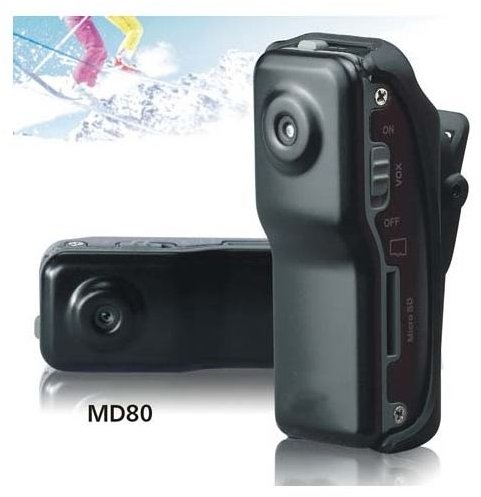 There was a time when nobody suspected anything when you pointed a mobile phone at someone and recorded video. Today, it's a well-known fact that most mobile phones are also miniature video recorders. Point one at someone and he or she knows you're up to something fishy.
Today you would need spy cameras, once the realm of James Bond flicks, to capture surveillance video. Manufacturers have come up with spy video cameras in the form of watches, pens and even tie pins, among others. Usually, they don't require you to point and shoot as you would with a camcorder or a mobile phone. Also, since the camera is embedded in common items, they don't arouse suspicion.
While most of these cameras are good for surveillance work, not many are cut for sports or outdoor adventure video. You would find it difficult to mount them to record sports footage or record video where fast motion is involved.
MD80 Mini DV DVR Sports Video Camera
The MD80 Mini DV DVR Sports Video Camera Spy Cam - a mini sports spy cam USB camera camcorder gadget - is an exception. It looks very much like a spy camera and its design is in such a way that your attention is drawn to its lens. You can't be blamed if at first look you think it's not ideal for capturing surveillance video where people are involved.
But then if you're after sports video that would be impossible to be captured with a conventional video camera, then it would be the camera you would go for. Strapping it to your knee, you can capture footage of you playing football. You can strap it to your helmet while maneuvering tricky terrains with your mountain bicycle. A sports strap mount is provided.
Sports use aside, you can attach it to your laptop and turn it into a webcam when engaging in a video chat. If you want to get away with capturing surveillance video, you can wear it around your neck (neck strap provided) or clip it to your jeans pocket (clip provided). It would feel comfortable on you because it weighs a mere 50 grams.
Specs
If you are wondering whether you would end up with choppy video when using the camera, rest your worries. The MD80 has the capability of recording video at 30 frames per second at a resolution of 720 x480. Of course that resolution would take up much storage space. If you're concerned, then you could record AVI video at 640 x 480 or better still at 320 x 240.
Talking about storage space, it supports up to 8GB of storage space via a micro SD card (TF) which you would have to buy separately. It comes with a built-in lithium battery that allows you to record up to two hours of video continuously. You won't need a charger to replenish battery power. The MD80 allows you to charge the battery via USB.
Other features that would impress you are voice-activated recording and recording in low light.
So, if recording outdoor pursuits with a surveillance option with a minimum of fuss is what you're after, give MD80 Mini DV DVR Sports Video Camera Spy Cam a try.
It's available at digimartz for $17.90.