Can the iPod be Used as an eBook Reader? Tips on Using the iPod to Read eBooks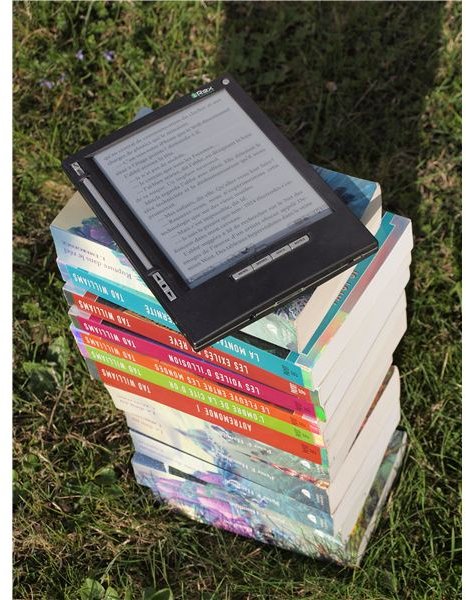 What is an eBook Reader?
eBooks have been around for quite a while now, with PCs and mobile phones being the primary means of consuming their content. However, the latest fad is to have a portable gadget that helps you read your eBooks at leisure. Any electronic device designed primarily for the purpose of reading digital versions of your favorite books and periodicals can be called an eBook reader. So what's on the market that can satisfy your needs? The Kindle, the Nook, Bebook Neo, the iRex Digital Reader, and the Sony Reader all specialize in this task. However, if you already own an iPod, buying a separate eBook reader would be redundant. Here we examine how one can utilize Apple's wonderful iPod to do a lot more than just play music and video.
Using the iPod as an eBook Reader
The initial iterations of the iPod did not have the app ecosystem present in Apple's iPod touch. Reading an eBook on them was done through the "Notes" section on the device. When I had one such iPod several years ago, I would copy the contents of the eBook into a Note and scroll through multiple notes. A Note however is limited to 4096 characters, so that effectively means you'll have to split your eBook up into a number of notes. Feasible? Most certainly. But if you do this with an iPod Nano, just the thought of reading on such a small screen will make your eyes water.
The advent of the iPhone, and its extremely successful spin-off - the iPod touch - changed many things. The introduction of downloadable apps has brought a new dimension to reading books on a handheld device. The Kindle may offer an e-ink display, but the iPod wins when it comes to flexibility despite its significantly smaller screen size. Below, you'll find a selection of the best eBook readers for the iPod touch.
Bookshelf
Bookshelf is available straight from the App Store for $4.99.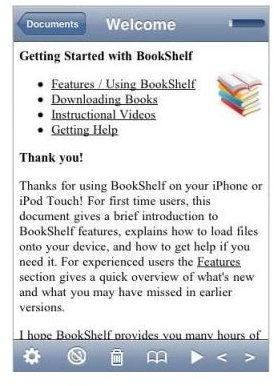 Supported formats include:
Plain Text [.txt]
HTML with images [.html]
FictionBook2 with images [.fb2]
ePub archives
PalmDoc / AportisDoc [.pdb]
MobiPocket with images (unencrypted, not HuffDict compression) [.pdb, .prc, .mobi]
Plucker with images [.pdb]
Compiled HTML with images [.chm]
MIME HTML with images [.mht]
Rich Text (currently with limited characterset support) [.rtf]
Word DOC - only Word 97+, not DOCX, translated to plain-text (formatting is lost)
ZIP Archives - internal folder structure is flattened, but supported files can be extracted
Once you've downloaded the eBooks to your iPod, you do not require an internet connection to read them. The software's color theme can be customized completely, auto-rotation of the screen can be prevented, finger scrolling is available as always, and if you would prefer a hands-free approach, Bookshelf can autoscroll for you.
Stanza
Stanza for iOS is a completely FREE app you can download from iTunes for your iPod touch. Features such as stopping auto-rotation, changing background and foreground colors, justification, font size, etc. are available here too. Stanza links to Project Gutenberg's online library of more than 27000 free eBooks. ePub format books can be downloaded directly from any website. And eReader and PDF files are among other readable formats. This app can also take on the role of an RSS reader.
Minor problems with Stanza include the fact that it will not open the last read book when you launch it. Stanza can also display your library in a Coverflow style interface when you turn the iPod touch into landscape orientation.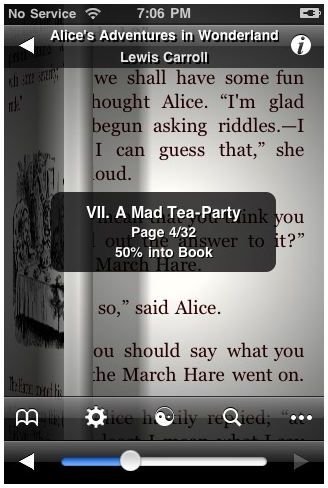 If you do, however, buy a book from the Fictionwise store that Stanza's developers favor, then you'll be in for a bit of a shock since prices are on average twice what you would pay for the same book if you bought it from Amazon's Kindle.
Kindle for the iPhone and iPod touch
Kindle for the iOS is an app from Amazon. Kindle might not be the best reader around but the app is free and the prices are lower than the Fictionwise store. You get access to the vast library from the Kindle store, but the app does not let you read newspaper and magazine subscriptions. As early as a week ago, Kindle 2.1 was released that supports in-book searching on the iPod touch too. If you already own the Kindle, you can use Amazon's Whispersync to sync between your libraries on the Kindle and the iPod touch.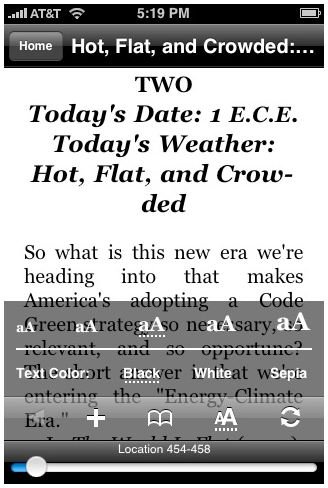 One thing to remember, though, is that Kindle lets you download a small sample - a few pages, sometimes a chapter - of a book and then lets you purchase the full book if you so wish, at the end of the sample.
It may not be as feature rich as Stanza, but it delivers if you want the hottest new releases for cheaper prices.
eReader
Like its namesake, this app from Fictionwise is one of the older eBook readers for Apple's device. eReader is a free download, and the app leads you to either the eReader.com library or the Fictionwise library initially (that includes access to 'Manybooks'), unless you set up further online eBook store URLs. Transferring your own eBooks from your PC is not as straightforward as it is with Stanza and Bookshelf, requiring you to put your eBooks in the PDB format.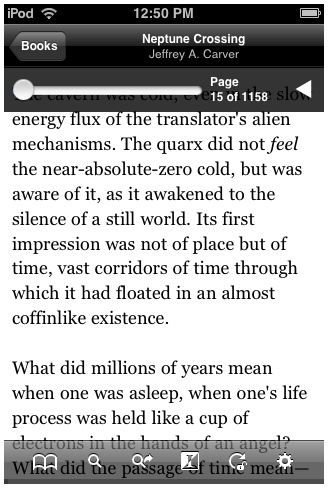 eReader makes you swipe to turn pages and tap to bring up the menu. When you swipe, the text moves to one side like a sheet of paper that's been pushed aside. A plethora of font size options are also provided. Titles are reasonably priced.
Classics
This app is the closest you might get to really reading a paper book. The wonderful page turning animations (along with the appropriate sounds) and gorgeous design are highlights. Opening the app leads you to a wooden bookshelf with the books neatly placed on it. When leaving a book, the app places a red bookmark on the page you were at. However, a serious thing to note here is that updates have not come for Classics for almost a year now. The same 23 books at launch still populate its library. That is certainly something you should consider before putting down $2.99 on the app.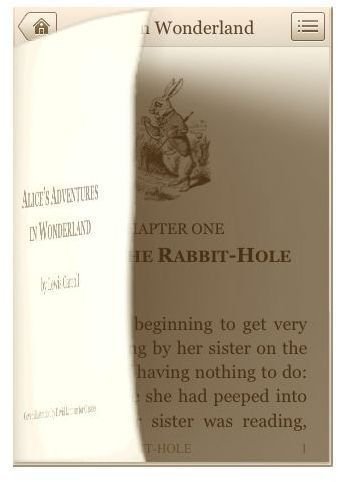 The developers have apparently started selling their books outside the app for a separate fee. So do look into those if you ever purchase the app.
Alternatives and Conclusion
This is by no means an exhaustive list. Barnes and Noble's eReader does a decent job, and you get six eBooks free with the app. iPDF and Eucalyptus offer you a good reading experience, and Apple's own iBooks, though having a number of drawbacks, is sure to get better as time progresses.
Stanza and Bookshelf certainly come out on top, but full-fledged hardware alternatives like the iPad and Kindle 2 may question why one would use the smaller sized iPod touch as a tool to quench your thirst for eBooks. However, for that bit of time when you're caught in a long queue or traveling, the little screen estate on your iPod touch can be your savior if you don't mind a bit of eye strain.