What is a Kindle? Information about the Kindle eBook Reader

When asked the question, "What is a Kindle?" the response may be hard to explain. This is such a magnificent and advanced device, but great for any reading level. eBook readers have become a very popular phenomenon very fast. eBook readers, like the Kindle, make reading fun, new, and convenient.
Having a Kindle means no more needing lots of storage space for favorite books, it can hold up to 1,500 books on its 2GB memory! The Kindle also allows reading favorite newspapers, magazines, and blogs all on one lightweight device. It has an all white, very sleek design, and is extremely user-friendly straight out of the box.
The Kindle is not required to be connected to a computer to download eBooks, since it is 3g capable. There are no extra fees for the 3g coverage. 3g is defined as third generation, meaning it is fast wireless technology. Having 3g coverage in over 100 countries means searching and shopping for new publications on the Kindle is very easy and very fast. Entire books can be downloaded in as little as sixty seconds. There are also many eBooks available for free download.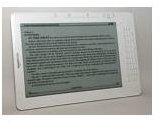 The very slim Kindle is only 1/3 of an inch thick. It has a very large screen with adjustable text size; ranging from small to large. The Kindle also allows you to change the screen view from portrait to landscape to ensure a flawless viewing experience. The unique electronic ink display makes for an amazingly crisp and clear view no matter the lighting. The images are extremely pure and there is never a glare. Unlike many computer screens which may tire the eyes easily, the Kindle will not to that. It is like reading from paper.
Other great features the Kindle has to offer include a keyboard, which makes searching for a publication much easier. It also makes searching for a specific word or phrase within a book effortless. Also the ability to add notes to the bottom of the page while reading is a great tool. An easy to use dictionary is also included. The last page read is saved, no more trying to remember the last page read when a bookmark falls out or gets miss placed. The Kindle also allows you to download MP3 music files to play as background music while browsing favorite blogs, newspapers, etc. The battery may last approximately one week and only takes about four hours to fully charge.
Whether you love to read or love the newest gadgets, you cannot go wrong with the Kindle. It is an amazing product and very user friendly for the whole family. Reading has never been easier or looked so cool.