9 Cool Gadgets to Keep Cool on Hot Days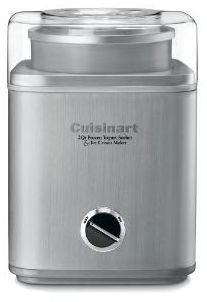 Beating The Heat
There are some great products on the market today that can help you stay cool on even the hottest of days. Having these gadgets to keep cool on hot days can be important to a lot of people as well as the discerning traveler. A hot summer's day can have us running for cover and searching for the best way to chill out and cool off. There are a lot of gadgets to keep you cool on hot days, but these ten cream of the crop gadgets can help you beat the heat and survive summer.
Frozen Yogurt, Sorbet and Ice Cream Maker
The Cuisinart ICE-30BC Pure Indulgence 2-Quart Automatic Frozen Yogurt, Sorbet, and Ice Cream maker is a great addition to help cool things off in your kitchen. This product is small, sleek, and comes with a recipe book to help you make the aforementioned cool treats, gelato, and frozen drinks. It retails for $64.
This product has a heavy-duty motor and is guaranteed to be reliable as it has a three-year warranty. It also has a spout so you can add in all of your favorite mixings, such as nuts and chocolate chips, without halting the mixing process.
Self-Cooling Seat Cushion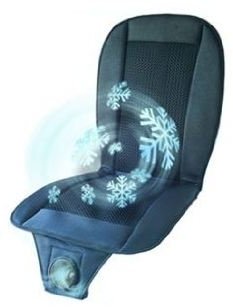 This little gadget is for those who hate hot vehicle seats after putting in a hard day's work. This self-cooling seat is constructed microfiber, is cushion, and circulates air throughout the seat.. It plugs into your car's cigarette lighter and runs off of 1.5 volts. It comes with an auto shut-off that shuts off after an hour. This product retails for $54.75 and is made by Wendy's Green House. It can be used with or without your car's air conditioner, depending on the level of cooling power that you need.
Hammacher Cool Mist Umbrella
This market umbrella (made by Hammacher Schlemmer) is a cool new product.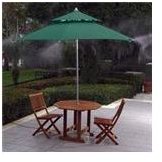 It's a traditional market umbrella that features a unique cooling mist. It provides 95 square feet of shade and connects to a simple garden hose. Cooling off on hot humid days has never been easier and it just might keep the bugs away as well. It retails for $139.95.
The Handy Cooler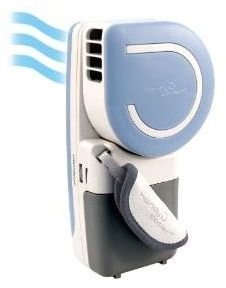 This personal cooling device works by blowing moist air in a small workspace or outdoors. Super convenient, small, and retails for $49.95. This cooling device operates off of four "AA" batteries or can be attached to a USB . This also allows people in the workplace to regulate their personal space when consistency in temperature is an issue, especially as this device is whisper quiet. You can also add water to it to take advantage of the moist air feature and cool the air up to 30 degrees Fahrenheit.
Lacrosse Technology Wireless Temperature Station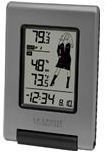 Ever want to know exactly what to wear for the weather? This gadget can help you determine just that. It features an icon of the lady who changes her clothes depending on the weather. The icon changes into a bikini when the temperature heats up. This is a fine all-around gadget for those who like to keep an eye on the weather. It retails for 19.95 and is a great gift idea for those weather watchers.
LaCrosse Technology: Wireless Temperature Station
The Bedfan Personal Cooling System

This gadget is for those who have trouble sleeping on hot summer nights. The cooling system sends a stream of cool air between your bed sheets to help you stay cool throughout the night. This is a godsend for menopausal women or for those who experience night sweats. This is a truly useful gadget which has received good reviews. This gadget retails for $79.95 and Bedfan.com also offers free shipping which makes this deal even sweeter.
Solar Safari Cool Hat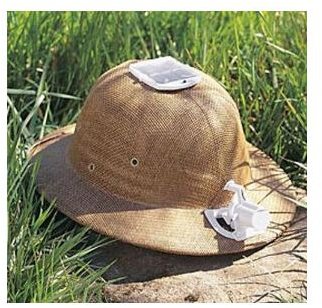 This is the hat to grab during super hot days or while scouting animals on Safari. It features solar panels to power a small fan to help keep you cool. This Pith helmet can be used at the beach, while hiking or just lounging in your backyard. The motor is said to be whisper quiet and the hat itself is made from weather resistant linen straw to assist in the cooling process.
The hat offers the option of operating from battery power as well, for cloudy days. it allows the user change from tube battery power by the flip of a switch. The hat retails for $23.95.
Amazon.com: Solar Safari Cool Hat
Editor's Note: This item is currently listed as unavailable. Hopefully it gets restocked soon!
Big Wave Trampoline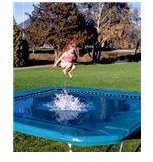 Combine a swimming pool with an added jumping benefit and you get the Big Wave Trampoline. It's summer fun that never ends and will keep the kids busy for hours on end. The trampoline is 13' across and splashing is a requirement. The Big Wave retails for $1695.
Trampoline.com: 13` Big Wave Square Trampoline.
USB Eco Wear Shirt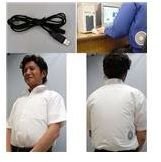 This invention takes the cake as far as the coolest gadgets of the year. Saving the best for last, this air-conditioned shirt plugs into your USB port on your computer or uses your cars cigarette lighter for power. It also can operate from batteries if away from home or your car. This cool cotton shirt is sold from a Japan Trend Shop online and retails for $258.00 with $26.00 shipping and handling. If you don't mind looking like the Michelin man while working then this gadget is for you.
JapanTrendShop.com: USB Air Conditioned Shirt By KuchoFuku
Final Thoughts
There are a number of trendy gadgets available to keep you cool this summer, ranging from gag gift to luxurious. Consider your price range and where you will be spending your time this summer and you can find the gizmo that is right for you!
Resources
CBS News, Hot Gadgets to Keep You Cool, 2007
Goldstein, Marianne, CBS News, Chill Out With These Cool Gadgets, February 2009