Our Top 10 Picks for Novelty Flash Drives: These Funny USB Drive Gadgets Make Great Gifts for the Nerd in Your Life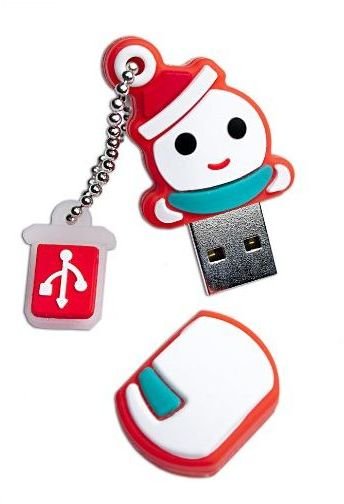 USB drives are handy, and come in many utilitarian varieties. Sometimes, we want our tools to do more than function well. There are many USB drives made as a novelty, but after you try them, are so slow you end up putting them on a shelf. Others fall apart after a few uses. But you don't need to sacrifice form for function.
In this selection of novelty USB drives, each has something to recommend them beyond their appearance. Some are waterproof and cute, and others are distinctive enough that a child bringing one to school will always be able to pick out their own. Do you want to show support for your favorite NASCAR driver, and yet not sacrifice functionality? A few have a donation sent to WWF when you make your purchase. And some are just very clever.
Here are the top 10 novelty flash drives, starting with number 10 and working our way up to the number 1 best novelty flash drive. First, though, is a seasonal special drive.
A Holiday Flash Drive Stocking Stuffer
This rubberized and shock resistant 8GB flash drive, made by Patriot, is a great bargain at any time of year, but is especially appropriate for the winter holidays. This cheerful snowman can be attached to your key chain and will remind you of winter all year around. This drive is found on Amazon for $22. They are limited editions, 8GB for the snowman or 4GB for the reindeer, and if you drop them in the snow, neither your drive nor your data will freezewith the water resistant casing.
The product specs call it a Hi-Speed drive, but do not give the speed, saying "Transfers files faster than

Santa can eat a cookie." They are both Plug and Play, work with Windows, Mac OS 9 and later, and Linux 2.4 and up. The December 2010 offer for free photos is still listed in Sept 2011, but there is no information when the offer ends. Both the 8GB snowman and the 4GB reindeer are extremely cute, but the reindeer is the better deal, as the 4GB reindeer costs $12 less than the 8GB snowman. The 'hands' on the snowman and reindeer will take up a little extra width when plugged in.
Valentine's Day Themed Drives - a Kissing Couple
If your valentine is a bit of a geek - or just enjoys a useful and cute present, consider A-DATA's set of Kissing Octopus theme drives for the two of you. As usual, these are available on Amazon as well as from the manufacturer. On Amazon they cost $23.98 for the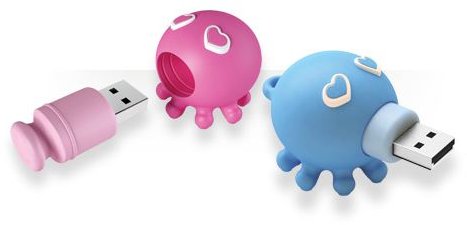 pink and $24.66 for the blue octopus, a bit of a discount off the MRSP of $33.99.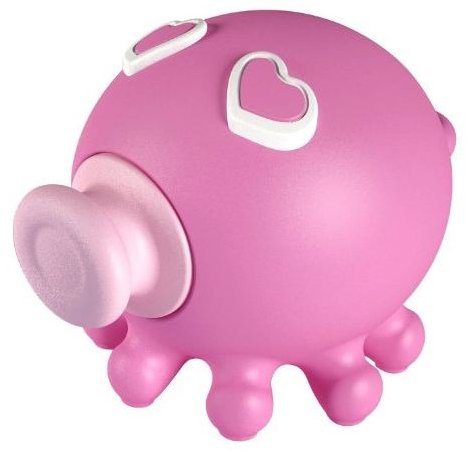 These amusing drives have magnets in the nose, to facilitate data exchange - or something. The magnets are set to attract, not repel. As you can see from the picture, you can use the drive either in the octopus body or in the narrower form factor of the nose, so you are not blocking other USB ports on your PC.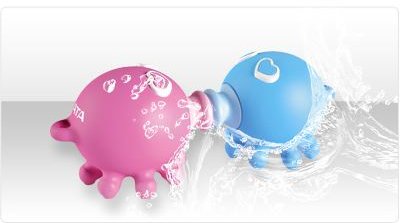 A-DATA is a well-known name in storage and memory, and stands behind their novelty drives as well as their more utilitarian drives. Both
kissing octopus drives have a lifetime warranty, and the drives are USB 2.0, 4GB, and recommended for Windows and Mac users. I expect there should be no problem on the Linux OS as well, but it is not mentioned specifically.
The rubber casing making up the octopus bodies makes them waterproof and shock resistant.
Cool Cub Dessert USB Flash Drives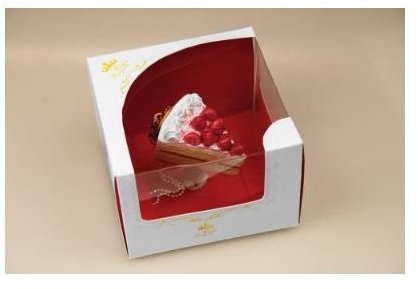 10.
Cool Cub has a line of dessert and snack novelty drives, and they are among the lower speed drives reviewed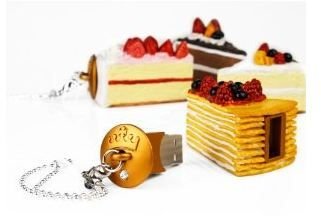 here, at 8 MB/s read speed. They all seem to be 2 GB drives and the price has dropped to $19.99 from $25.01, which makes them a little less pricey for what you get. The food does look great, and might trick someone if they saw your USB drive sitting next to your computer when you were not using it. Their black forest cake USB drive, packaged in a gift pastry box, does look good enough to eat.
They are USB 2.0 drives, plug and play and hot swappable, according to their specs, and can be used with Windows and Mac OS. A few of their listings say they have a speed of 480Mbit per second instead of the 8MB/s for other drives, but I am afraid I take that with a grain of salt.
The actual USB drives pull out from the piece of food, so you do not have a slice of cake blocking several ports, but the circular plug holding the USB connector does look it might cover part of a port close by.
Flash Drives Your Child Will Enjoy
Here are a couple USB flash drives you can give to your child for school. They won't get lost in a crowd of similar drives on the teacher's desk, and your child is more likely to keep track of them too.
9.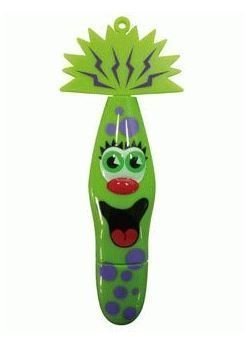 EMTEC's Kooky drives are available in one size – 2GB. They are plug and play, and can be used on Windows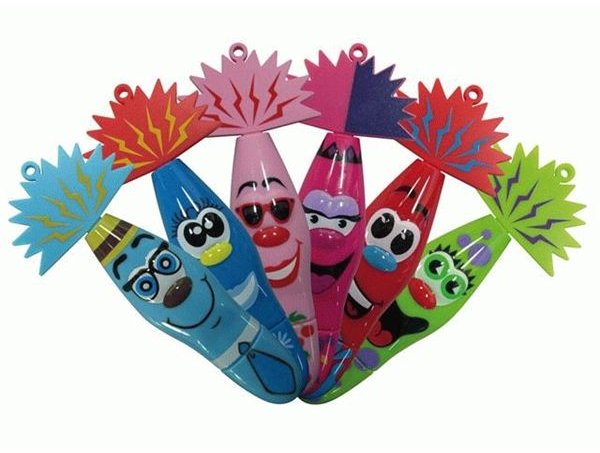 and Mac OS. They have read speeds up to 10 MB/s, and write speeds of 5 MB/s. Not anything exceptional, but certainly usable. The EMTEC Kooky is USB 2.0, and backwards compatible. It is a bit longer than most USB drives, at just over 4 inches, and a bit under 2 inches at the widest part of the hair. It costs $15.24 from Amazon.
8.
Another drive your child might enjoy if they need a little more capacity is the AMP Koala 4GB USB flash drive, from their endangered
species series. It is made from silicon rubber, and guaranteed to be PVC, lead and mercury free. When the cap is on the drive it is waterproof. Another useful and child friendly feature is the drive is shock resistant. It looks almost stubby compared to the Kooky, at 1.7 x 1.3 inches. This does mean that if the drive is plugged in next to another USB port, it will cover the port while it is being used. You can actually pull the drive out of the koala to use if that causes a problem. If you don't want a koala, they also offer a panda and a polar bear in the series, all 4GB. The drive is $16.95 from Amazon.
A Flash Drive for a Popular Sport
7.
A-DATA's National Team Flash Drive Quartet celebrates four great soccer teams with 4GB drives for Brazil, Germany, Italy and the USA. The drives are (roughly) shaped like soccer players, with shock and spill resistant rubber casings. The players have a national flag on their front, and are all a perfect number 10. They are approximately $22 to $24 each, and come with lifetime warranty. The drives are hot plug and play.
An extremely nice feature of these novelty flash drives is the bonus of Free Norton Internet Security,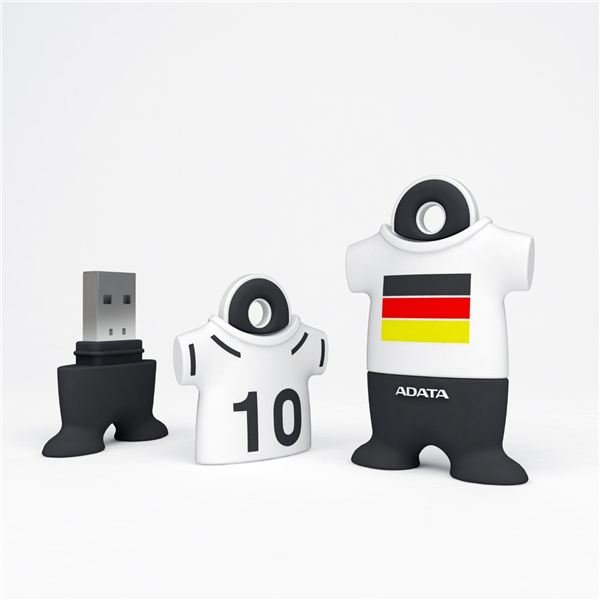 UFDtoGO and OStoGO loaded on each drive. You should be aware though, that the hips on these players will get in the way of closely placed USB ports.
AMP Endangered Species USB Drives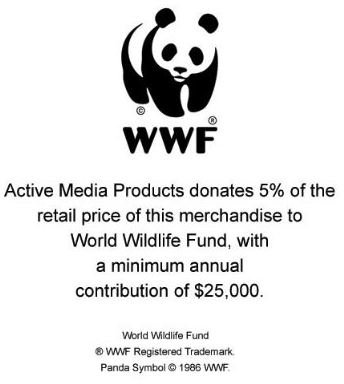 6.
AMP has a line of more realistic endangered species USB drives. They come in different size drives, and AMP donates 5% of their profits from selling these drives to the WWF.
The panda is 4GB and $14.95, USB 2.0 and plug and play, as are all of this line. I was not successful in finding the speed for these drives, but they can be used with Windows, Mac and Linux OS.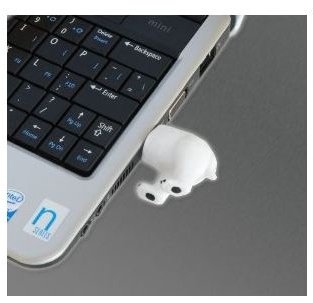 The polar bear is 2GB, and 12.95 from Amazon. On 1/21/2011, the polar bear was out of stock.
The polar bear and the panda can both stand on all four paws when not in use. Unfortunately, while in use they take up a lot of space, as the feet project both out and sideways. Half a polar bear sticking out from your laptop is eye-catching…
AMP Endangered Species Drives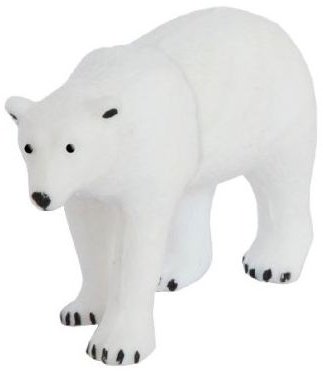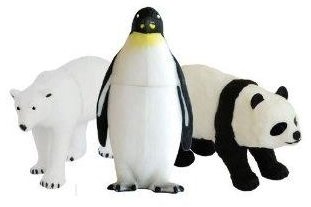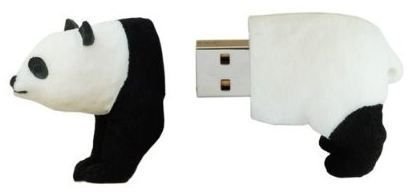 Star Wars
5.
Do you have a fondness for scenes in a galaxy far far away, a long time ago? Your fondness for Yoda, Boba Fett, Darth Vader and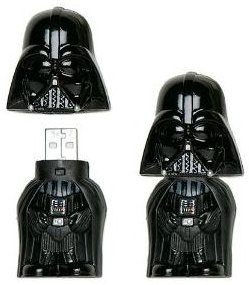 storm troopers can be satisfied with licensed novelty USB drives from Tymemachines. These drives are 4GB, and can stand on their own. The Funko 4GB USB drive storm trooper's head pops off to show a USB connector coming from his neck. They do not show a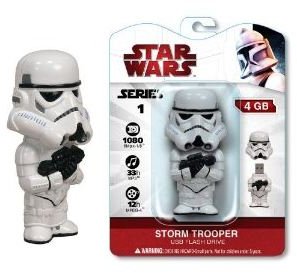 connection for a key ring or lanyard in any product photos.
They are somewhat expensive at $28 each, but diehard Star Wars fans will be pleased. These novelty flash drives are about three inches tall and a faint red light shows when the drive is in use. They do not list a speed, but a user review called it fast.
NASCAR Flash Drives from Centon
4.
Centon is a well know maker of USB drives, and these novelty flash drives are up to their usual standards. You are going to pay more for these drives because of the tie-in, but if you are a true Dale Earnhardt Jr. or Jeff Gordon fan, you can use the drive with the pleasure of knowing that your support is visible to anyone who sees your flash drive. Jimmie Jonson and Tony Stewart editions are also available. Different vendors are selling them on Amazon for quite a variety of prices for the identical drive.
Each drive has video and pictures - and sounds - for the driver of the car. No one mentions how much room on the drive is taken up with the special material. The cars are 1-88 scale replicas and their tail lights blink when the flash drive is in use. Much to my relief, they decided not to provide racing sounds while the drive is being used. User reviews said the replicas were neat.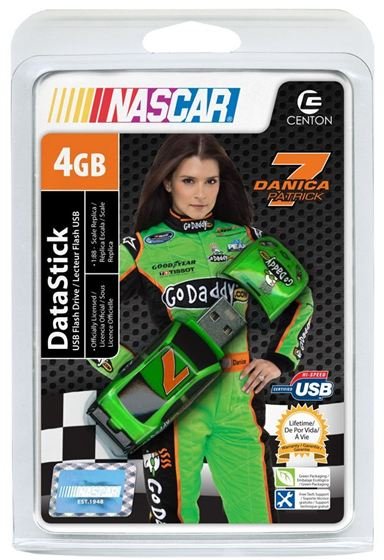 While the listing on Amazon does not specify Ready Boost capability, a user review reported that it is fully capable. Centon says they are standard speed, but I could not find what standard speed was when browsing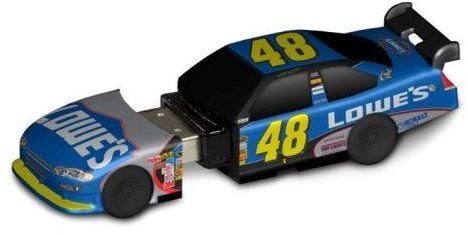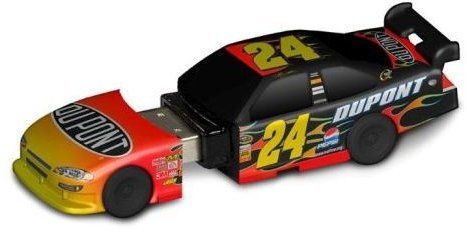 their site. However, USB Flash Drive Speed Tests has measurements for other Centon drives listed as standard speed, so I am giving their results. Tests show a read speed of about 15 MB/s, and a write speed of about 5 MB/s. The results might be more reliable than the manufacturer's as well, although they do point out that the tests on their site involve a single large file, and multiple small files will slow the speed down.
Dale Earnhardt Jr. # 88 NASCAR USB 4GB Flash drive
Jeff Gordon # 24 NASCAR USB 4GB Flash drive
Jimmie Johnson # 48 NASCAR USB 4GB Flash drive
Tony Stewart # 14 NASCAR USB 4 GB Flash drive
Centon Electronics Danica Patrick Edition DataStick Replica
Bling! Axxen Swarovski Crystals USB Flash Drive
3.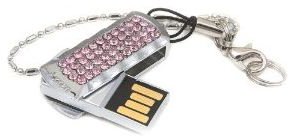 If you want a USB drive with Bling! appeal, consider this Axxen flash drive with Swarovski crystals. The 2GB drive comes in light rose, aqua marine and crystal gold. It is set up as a key ring, but a user review said it was easily made into a necklace, At $15.99 for 2GB, it is nicely priced for a novelty flash drive - and this one is fairly fast. It has read speeds listed of 22 MB/s and write speeds of 12 MB/s, putting it at the higher end of the novelty flash drives. It is USB 2.0 and compatible with Windows, Mac and Linux.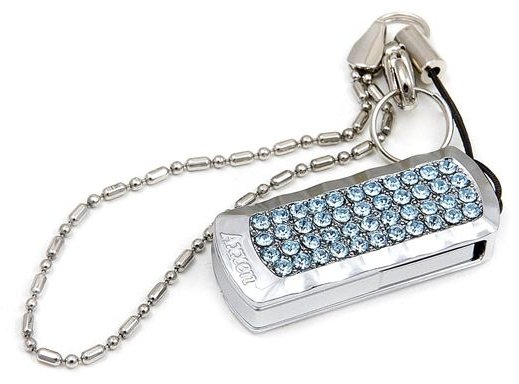 If the 2GB drive is out of stock, which happens occasionally, consider getting the 4GB aqua marine drive for $19.99.
Transformers USB Drive
2.
I think the idea of the Transformers USB drive is an entertaining concept, but it has a few issues. The licensed Transformers USB drives are all 2GB, with a read speed of 12 MB/s and a write speed of 7MB/s - not mind boggling specs. They run about $40 each for the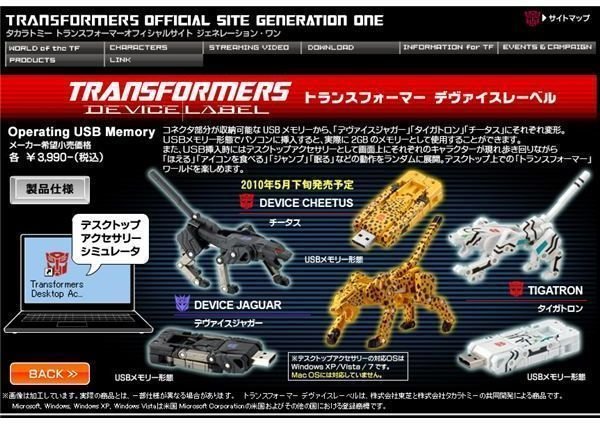 Takara TOMY product, and the USB drives were just re-released, as of May 29, 2010. As of this writing, I was not able to find a US sales outlet who had them in stock. There are Ravage, Tigratron or Cheetah transformers. They fold into a brick like oblong, and transform into their characters. The drives are USB 2.0, plug and play, and the listing only gives the names of Windows OS.
The drives are physically large. Space for a USB drive, and then space for legs on either side of the drive takes up quite a bit of room. Forums for Transformers fans discuss the drives, and many seemed to conclude that Takara is not expecting the drives to actually be put to use.
However, the biggest problem is the flood of fake Transformer drives pouring out of China. Comments on the page for Ravage on Amazon said the first picture shown was the original drive, and the next two pictures were of a Chinese knockoff.
Since that drive is listed as having 4GB capacity, and Takara TOMY only manufacture a 2GB drive, it seems self-evident that it is not an authentic Transformers drive. The fakes are also said to be even larger than the originals - which would make them quite big. Takara TOMY has some pictures on site, but there is no scale given.
I looked on eBay and saw over a hundred listings for the Transformers USB drive - many of them starting at 98 cents - not a good sign. They also had a variety of sizes listed. Because fake USB drives often have altered sizes, and sometimes do not work at all, I'd advise against getting a knockoff unless you just want to place it on a shelf - and even then, the detail may be lacking.
A Triumph of Form and Function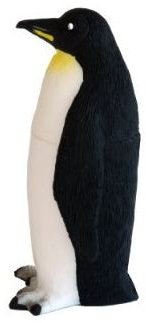 1.
The last, and my favorite, novelty USB flash drive reviewed here is clever, useful, and enjoyable to see. AMP's emperor penguin is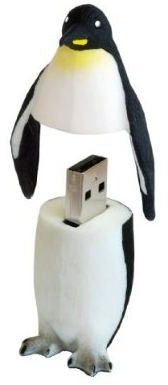 available in sizes of 1, 2, 4 and 8GB, preloaded with a bootable version of Ubuntu. User reviews were very positive, with several reports of using the drive. Booting from the drive, it does not matter what OS is on the computer, or even if there is a OS.
If all you want is a bootable USB drive with Linux, then the 1GB size is all you need. If you want to carry around more applications or any media, one of the larger drives will be more suitable. They are very reasonably priced, which makes sense for a free OS, but some Amazon pages have them selling for less than the equivalent sized empty drive. The drive is 2.2 inches tall and 1.2 inches at the widest point, and made of rubber. There is a red activity LED. The listed Ubuntu Linux version was 9.0.4. It is a USB 2.0 drive, plug and play.
It comes with a key ring. A user reports that Open Office is also on the drive. 1GB is $17, 4GB $30 and 8GB $34. The link provided above is for the 8GB penguin.
Novelty Flash Drives
Novelty flash drives can be found almost anywhere, with drives in the shape of chicken feet, light bulbs, cockroaches, sushi, the Statue of Liberty and bracelets. However, many of these drives are more flash than anything else. Some have read speeds as low as 3 or 4 MB/s, and writing something to them could take hours and hours. Other novelty USB drives have connectors that break after a couple of uses, making access to any data on the drive impossible. The novelty drives reviewed here have been selected to give you value for your money as well as a grin.
If you really want a USB drive in the shape of a rubber chicken, and you think the amusement value is worth the price, go ahead and get it - but don't store anything irreplaceable on it.
There are many more novelty drives made by reputable manufacturers, but these are my favorites. You may also note that all of these are available on Amazon. While Amazon is not perfect with its return policies, you at least have someone to complain to if your drive doesn't work. For the multitude of wacky USB drives available for promotions or on eBay, check the source before deciding to send any money.
References
Selections based on author's opinion. Leave a comment with your suggestions.
All images from manufacturer product images or product images on Amazon.